Decades ago bicycles lost their place as a primary mode of urban transport  in many cities from Los Angeles to Beijing, with a few exceptions such as Copenhagen and Amsterdam. Now, with the boom in bike-sharing, the bicycle is coming back to take its well-deserved role in cities. Unless we screw it up.
Since the early 2000s, bike-share systems started to pop up around Europe. China is now  host to most shared bikes thanks to public incentives in last 5 years. Recently, 3 bike-share companies in China, Mobike, Ofo and Bluegogo, have raised collectively $1 billion, igniting a bike-share boom around the country. In most metropolises of China there are now several networks of bike rental providers one can choose from, with tens of thousands of bikes belonging to each.
Until only two years ago, bike-sharing was not considered profitable without public subsidies due to expensive technology. However startups like Donkey Republic have managed to change that perception. It is likely we will see new bike-share systems spread in European cities in no time. So what's to worry?
The Bicycle's Uber Moment?
Digitalising the taxi industry with mobile technology and algorithmic optimisation seems like a good idea. But the path Uber took with its aggressive style has created backlash against sharing economy platforms. Uber simply ignored, or did not offer convincing solutions for, how the existing taxi companies were supposed to cope with the Uber cars in the market.
In the meanwhile, Uber poured money into their model to show traction with its drivers, and made huge losses in China, Europe and still in many of the states in the USA. While riders and Uber drivers benefited from the money invested to make the system look like a success, some knew that this was just predatory pricing to curb competition. Once Uber established dominance in a city, the rider prices went up, while drivers took less – the company started to show the world how it would look if they took it all.
So, it should be no surprise to Uber that regulators in European cities stepped in. Regulators want to provide market conditions for healthy competition, and achieve a long-term sustainable market.
Now 3 bike-share companies in China, Mobike, Ofo and Bluegogo look to be following the same path. They are engaged in a race to build the largest fleet and assert market dominance by pushing tens of thousands of bikes onto the streets of cities in Asia, Europe and the U.S.. Mobike is headed by an ex-UberChina executive, while Ofo is funded by Didi Chuxing which bought the UberChina operation in 2016. Like Donkey Republic, they have established a genuinely disruptive model that greatly reduces the costs of deploying share bikes. However, unlike us, they are driven by the ambition of  big capital to crush any other system by sheer force, price dumping and filling up the cities with bicycles. This approach, unregulated, compromises efforts for optimal use of city space as well as efficacy of transport solutions.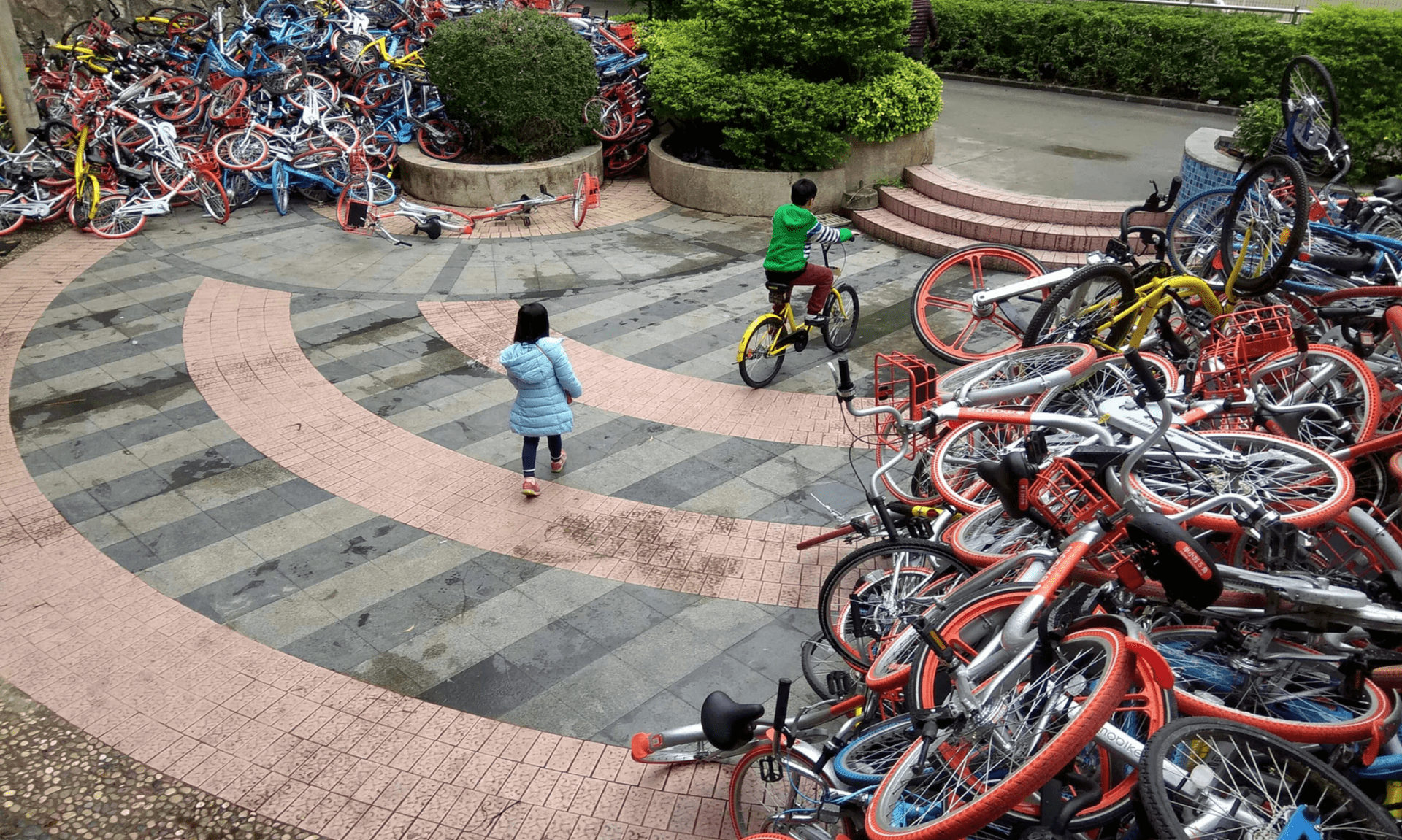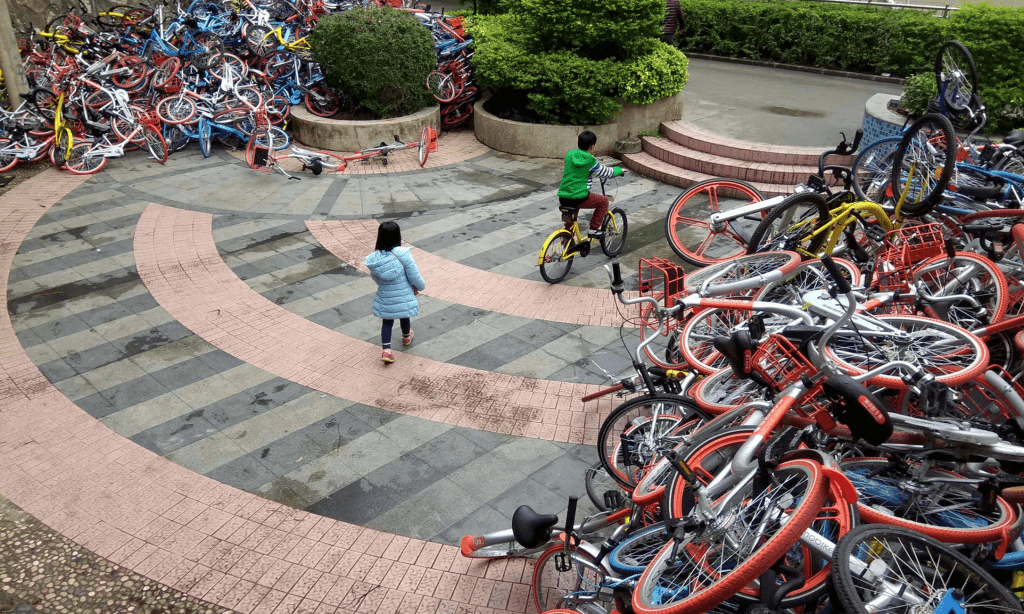 Three different bike-sharing companies compete in Shenzen where each placed tens of thousands of bikes. The result is that both users and public officials dealing with piles of metal dump. Photograph: STR/AFP/Getty Images.
The race in which these capital-rich companies are now engaged in will create a new backlash in European cities. Such backlash could easily end up with a ban on the privately-run bike-share systems. This would be a second death for the bicycle at the hands of capital markets. The bike-share industry needs the proper regulatory framework to allow innovation and value to arise.
At Donkey Republic, we take pride in our service thinking and collaboration with various stakeholders to create a bike-share model that benefits the city most. We believe that to create a great mobility solution, one doesn't need to be aggressive, but cooperative. Cities will soon need to regulate the bike-share markets, just like they did with taxis in the old days, and car-ride services more recently. We believe we can be part of the solution rather than creating a new problem.
How to regulate private bike sharing
Regulation of bike-share schemes should aim at the goal of creating long-term sustainable mobility options on bicycles. This, in our opinion, can best be achieved by providing the opportunity for bike-shares to place a necessary amount of bikes on the streets to provide a proof of concept and thereafter grow their scheme provided that the bikes are utilised. Regulators should seek to prevent bike-share systems from applying predatory pricing, that is, reducing prices below the long-term sustainable level.
To make matters more concrete, our suggestion is that cities should allow bike-share schemes to place an initial maximum number of bikes (for example, 1 bike per 1,000 citizens) and require a certain level of usage on the bikes to be achieved before the bike-share scheme can scale. Considering that cities would like to increase bike usage, permits should be allocated to bike-share companies without fees to ensure that cost is not passed onto users.
Cities should establish minimum pricing per daily rental and  half-hour rental (most systems' price structures are based on short and long term users). Avoidance of predatory pricing is important because even if citizens seem to benefit from the initial low prices, in the long-term this is a motive of investors to make a huge return, not to improve cycling.
In conclusion, cities need to be careful in asserting their power to regulate the newborn bike sharing market. Doing nothing now could easily lead to a backlash and missing out on a fantastic urban transport and mobility opportunity. Excessive restrictions would mean the same. At Donkey Republic, we are eager to work with cities; not only where we have presence (Copenhagen, Berlin, Barcelona, Amsterdam, Budapest, Munich, Vienna, etc) but in any city that is starting to think about what to do in the bike-share space.