Biking is lovely for countless reasons, but those of us who haven't reached bike junkie level just yet will find it has its occasional challenges. One of the most obvious ones is biking during winter (I mean real winter, not California winter). And since Danes seem to be holding the secret to riding effortlessly through blizzards, it's only logical that we should turn to them for inspiration when approaching our own wintry venture on two wheels.
The first thing any Dane will tell you about the winter outfit is not to try too much. If you look like you're about to drive a Formula One car or to set foot on Mars, then you're trying too much. What you ought to do instead is think like an onion and cater to each of your layers.
The base layer of clothing is the one no one will see, so it doesn't really matter how it looks. It should, however, keep you dry from your own sweat, so go with that ugly, polyester jogging shirt you forgot in the back of your closet. If a business meeting awaits at the end of the ride, you'll want to additionally rule out stinking like a pig. In that case, one of those magical t-shirts made out of Merino wool sounds like a good investment. Plus they're similar tight pants as well if you decide to go on a shopping spree – otherwise, any kind of leggings will work.
For the middle layer, I would say you can go with whatever you fancy, provided it keeps you warm AND lets air get between the two layers. You shouldn't feel too warm, though, since you'll be moving constantly. If when you go out you're a little chilly, that's perfect. You'll feel warm enough in 5 minutes' worth of pedalling.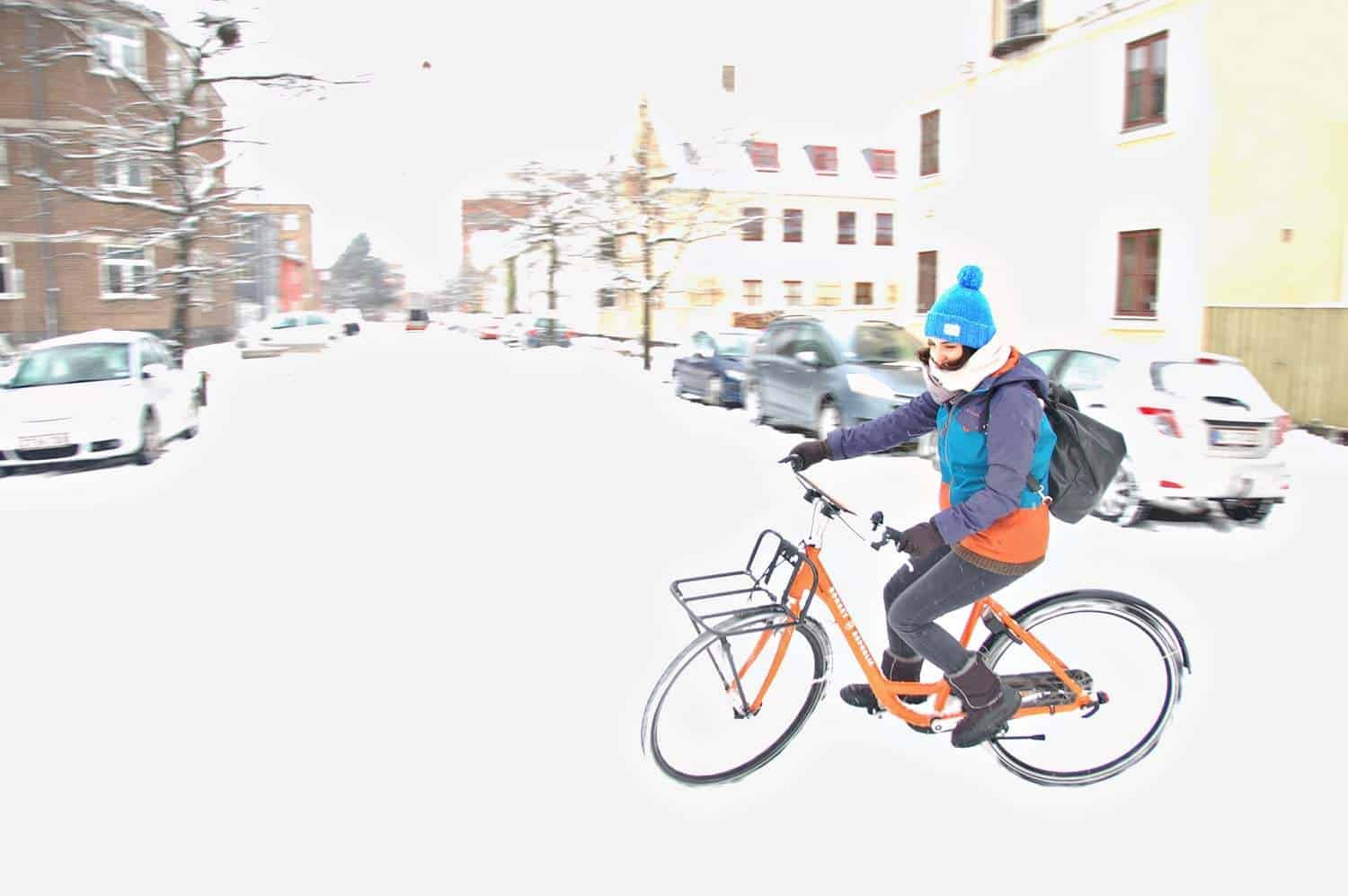 The outer layer is supposed to protect you from wind and rain / snow. Light, loose-fitting, water resistant jackets are pretty fashionable these days, and you need one anyway if you don't plan to hibernate through winter. If you want to go a little crazy, choose bright colours, which help you get noticed by cars on darker days. Just in case you have to face a serious downfall, keep a rain poncho at hand; or maybe the trendsetter in you prefers something like this cool BONCHO, so that you can always ride tall in the saddle. Speaking of interesting inventions, you could also give this Paper Pulp Helmet a try (yup, it's even water resistant!).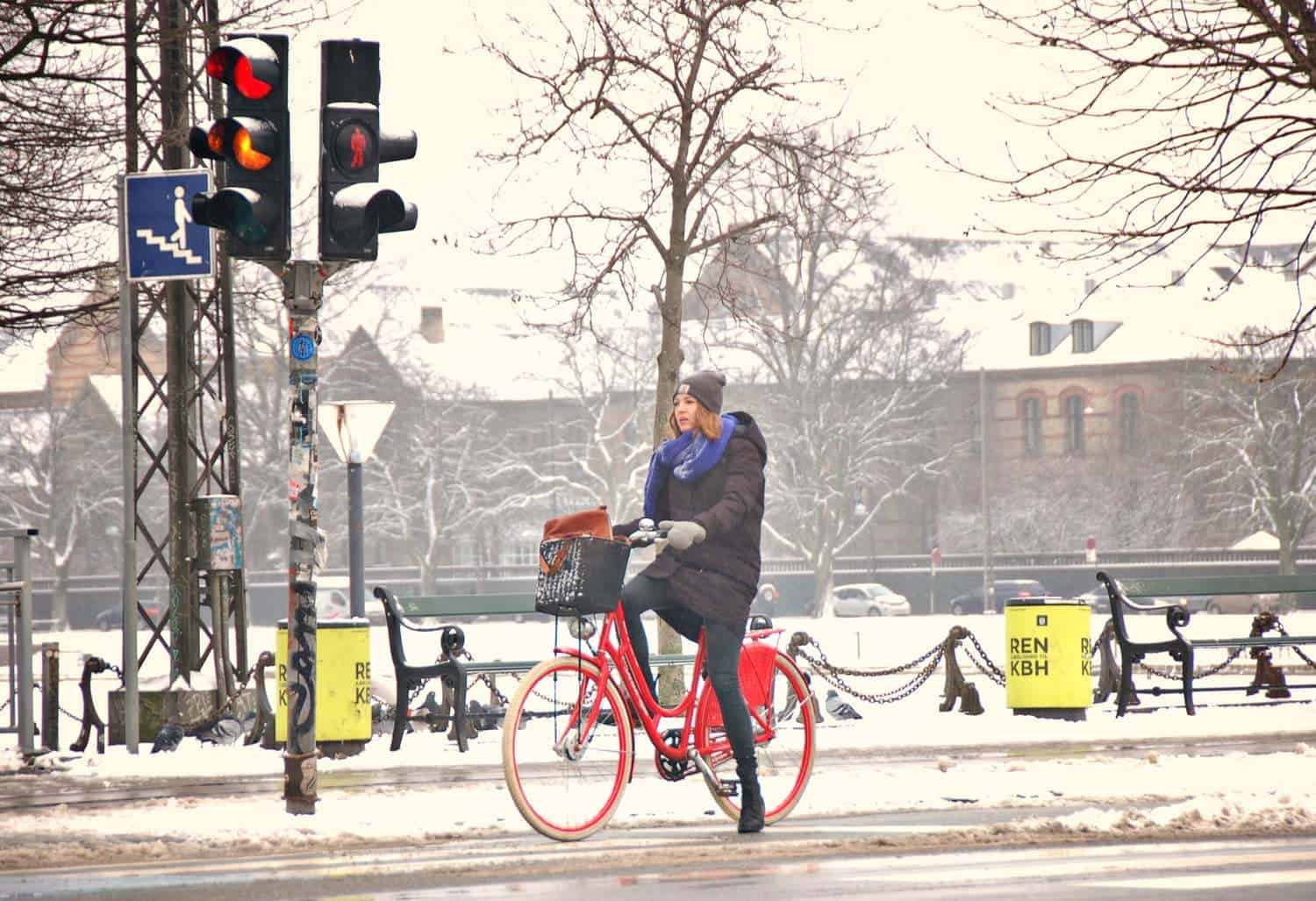 When it comes to protecting your precious brain, a headband can be enough in dry weather. A cap is also good for keeping rain and snow away from your eyes, but make sure you have your ears covered either way. For really harsh days, it's better to have one of those beanies made for winter sports that keep you very warm but are also kind of breathable. Similarly, you can borrow the ski gloves and neck warmer you probably only use like twice a year. Dry and warm feet are equally important, so tall, woolen socks are a good idea. As for shoes, I can honestly say I've seen Danes wearing really anything, regardless of the weather. I suppose it's a Viking thing. For the rest of us earthlings, I would suggest some hiking-type boots that are usually water resistant and pretty comfortable.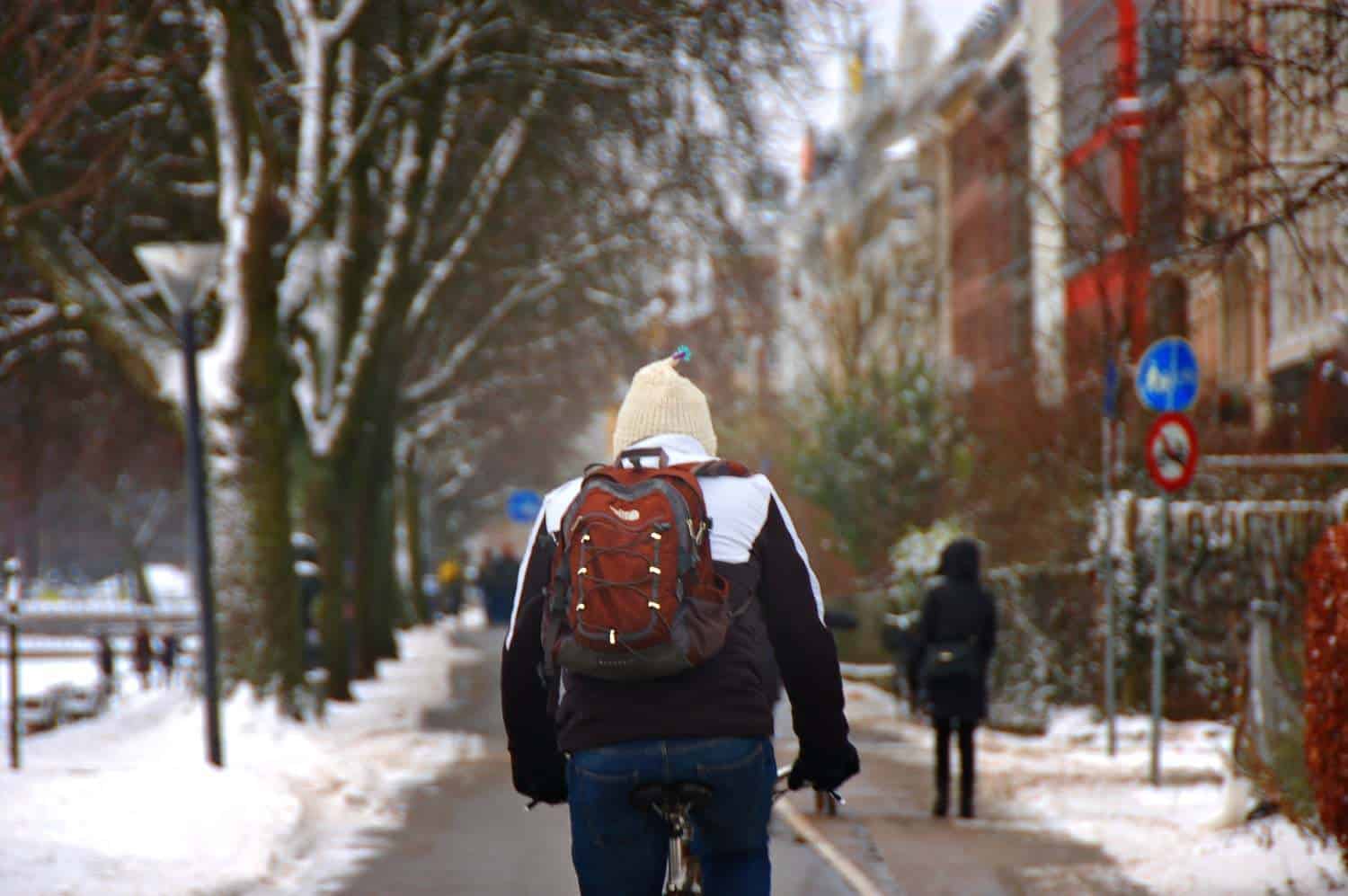 I will leave you with two extra pieces of advice: always carry nose tissues and never wear mascara, unless you're going for a rather dramatic look.