This is a guest post by Sabina, from MyCityHighlight, taking you on a one-day ride in Paris.
Biking through Paris is the best way to explore the magic of the city and make a truly remarkable experience. The French capital has a good public transport system except when there are constructions, late RERs … you get where this is going. Cycling has a lot of great advantages. It's less expensive than metro tickets or taxis, while biking, you make space for pastries, it is environmentally friendly and the list goes on. So I was thrilled to hear that MyCityHighlight is working together with Donkey Republic bike rental. My name is Sabina and I am the City Manager in Paris at MyCityHighlight, the most personal travel companion in Europe.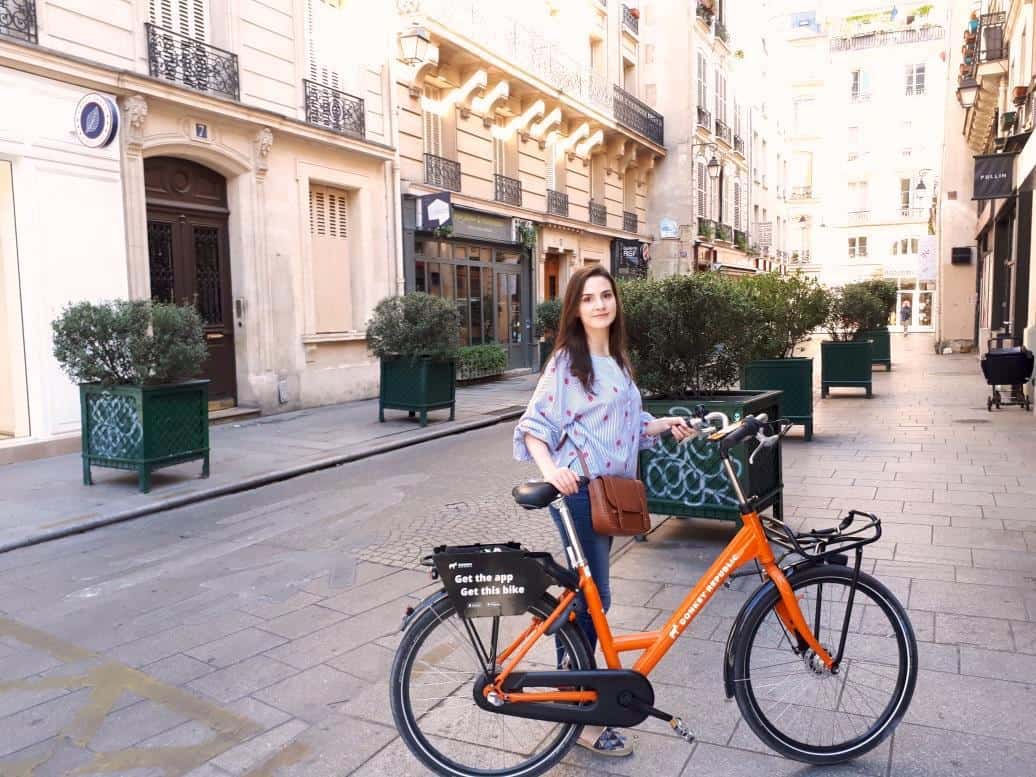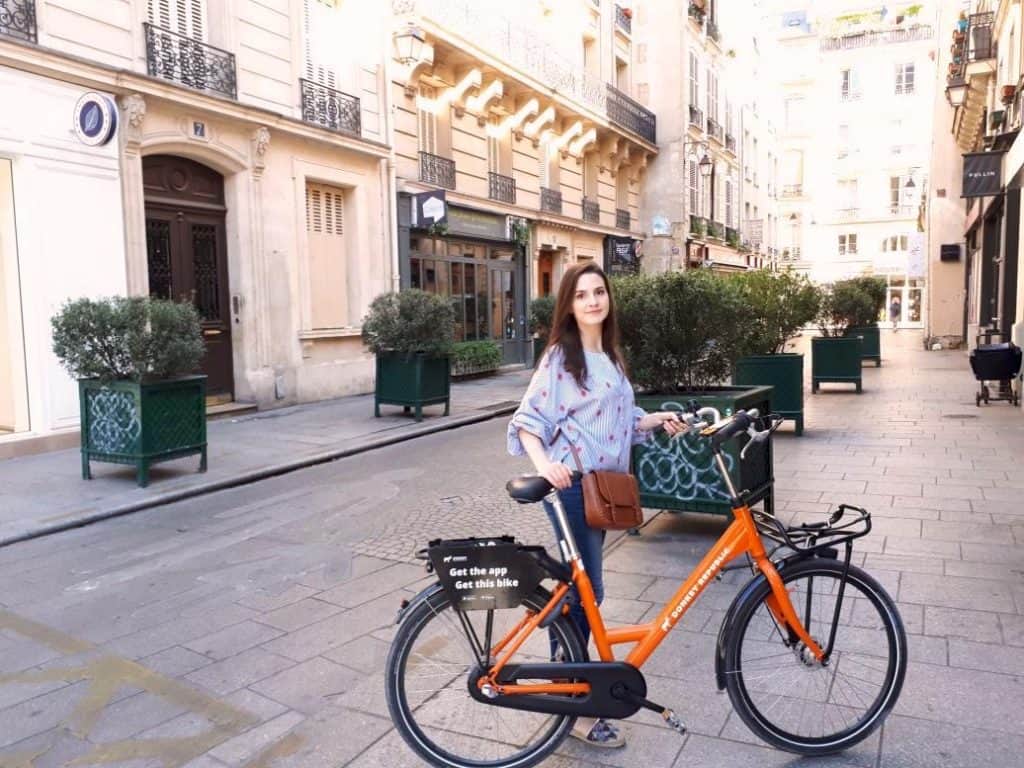 A lot of visitors think that Paris has heavy traffic where cycling is not a great idea. But did you know that the City of Lights wants to become the capital of cycling?  This grand ambition included an €150 million program investment to create an easier, safer environment for cyclists. By 2020, more than 80 kilometres (~ 50 miles) of new, improved routes and bike lanes will be added, about 10,000 new parking spots for bicycles and a lot more benefit for cyclists. So don't miss your chance to explore the hidden treasures of the city, the Parisian life and the extraordinary landmarks on two wheels.

Last weekend, I rented two Donkey Bikes, one for my sister and one for me. We downloaded the Donkey Republic app and checked the nearest available locations to pick up our bikes. There are plenty of pick-up and drop-off locations available around the city, which is awesome. We turned on GPS and Bluetooth and connected our phones with the smart lock on the bike. It only took a few clicks to rent the bikes in Paris and we were ready to ride to our first stop, a French croissant and delicious cafe at "Patisserie Stohrer".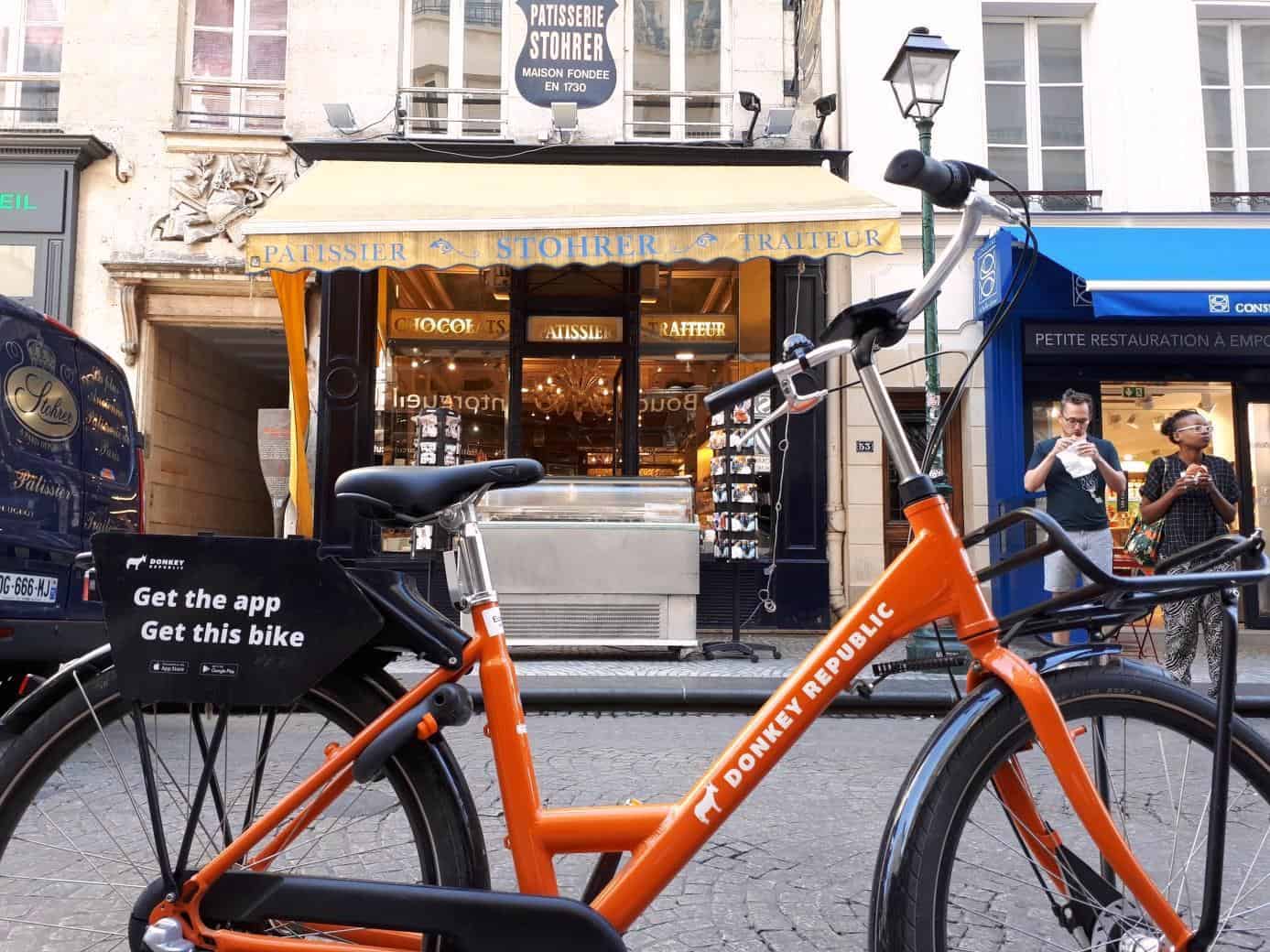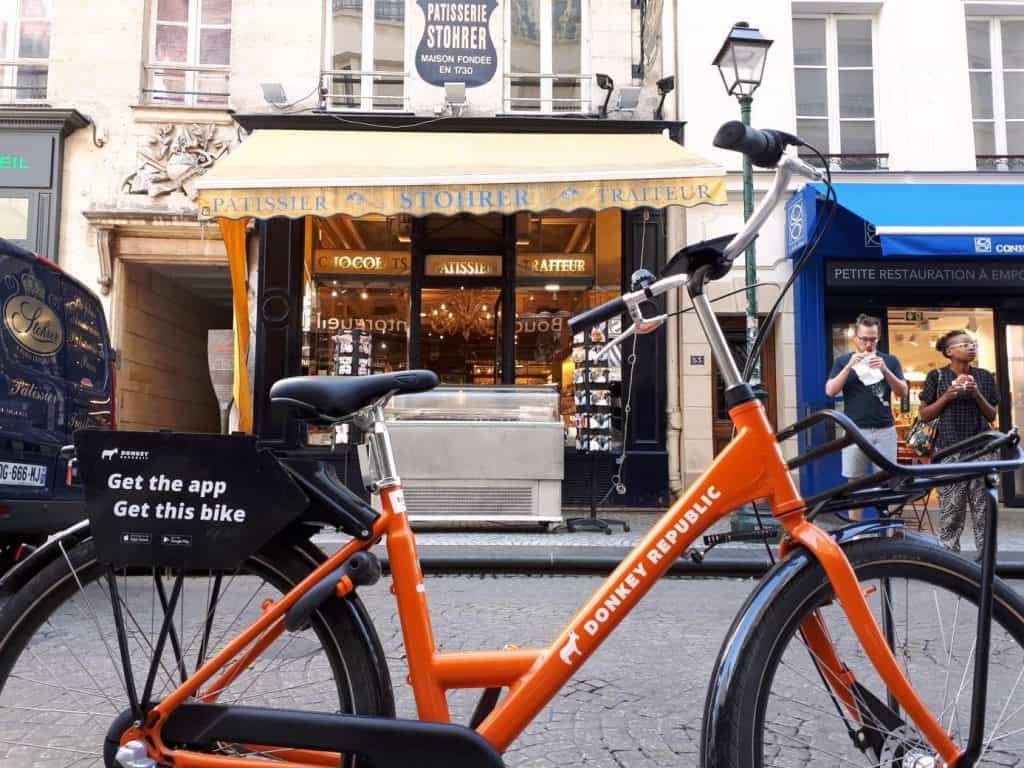 Stohrer is the oldest pastry shop in Paris, named after Nicolas Stohrer, the pastry chef of King Louis XV. It's well known for its rum babas and a lot of other sweet goodness.
After this delicious source of energy to start the day, we cycled to Rue Greneta, Square Georges Cain, Picasso Museum and afterwards Place de Vosges. We had so much fun cycling through the little Parisian streets and exploring the style and architecture of each one.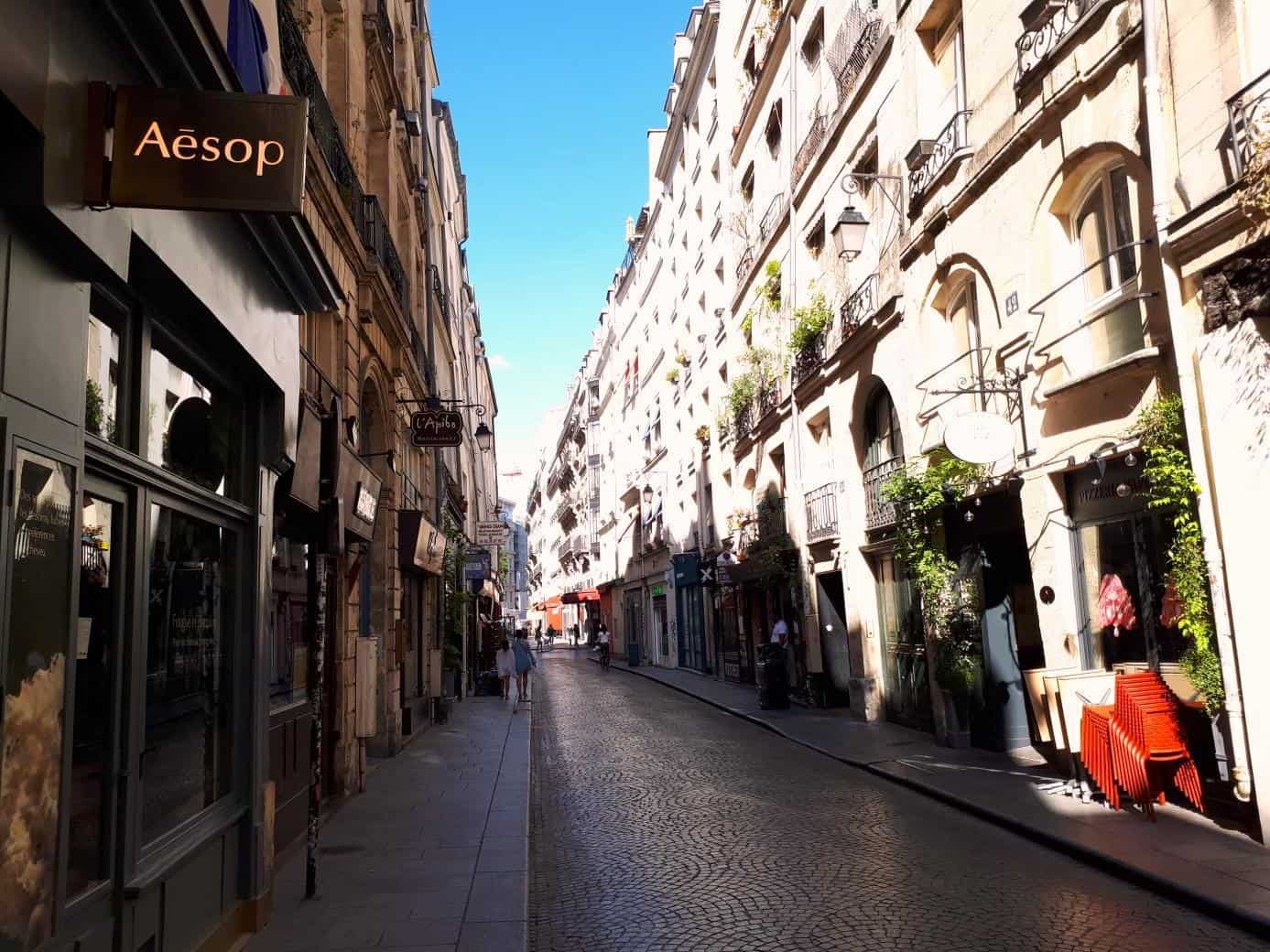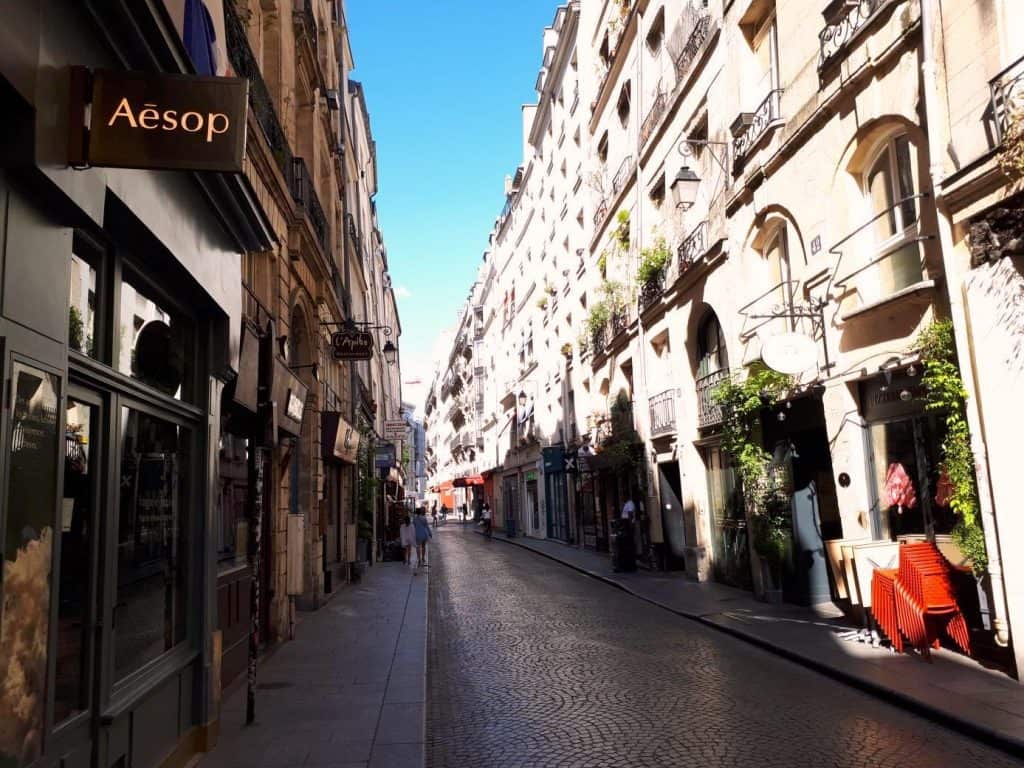 Place des Vosges is one of the oldest and finest squares in Paris. It was built from 1605 to 1612. The square was often the place for the nobility to chat and meet. It's a great place to relax. So we locked our bikes and enjoyed the architecture of this square for a little while. This district is quite unique and there is lot more that you can explore on two wheels. So place your phone in the bike's phone holder in front and keep MyCityHighlight App open to find different hidden places nearby.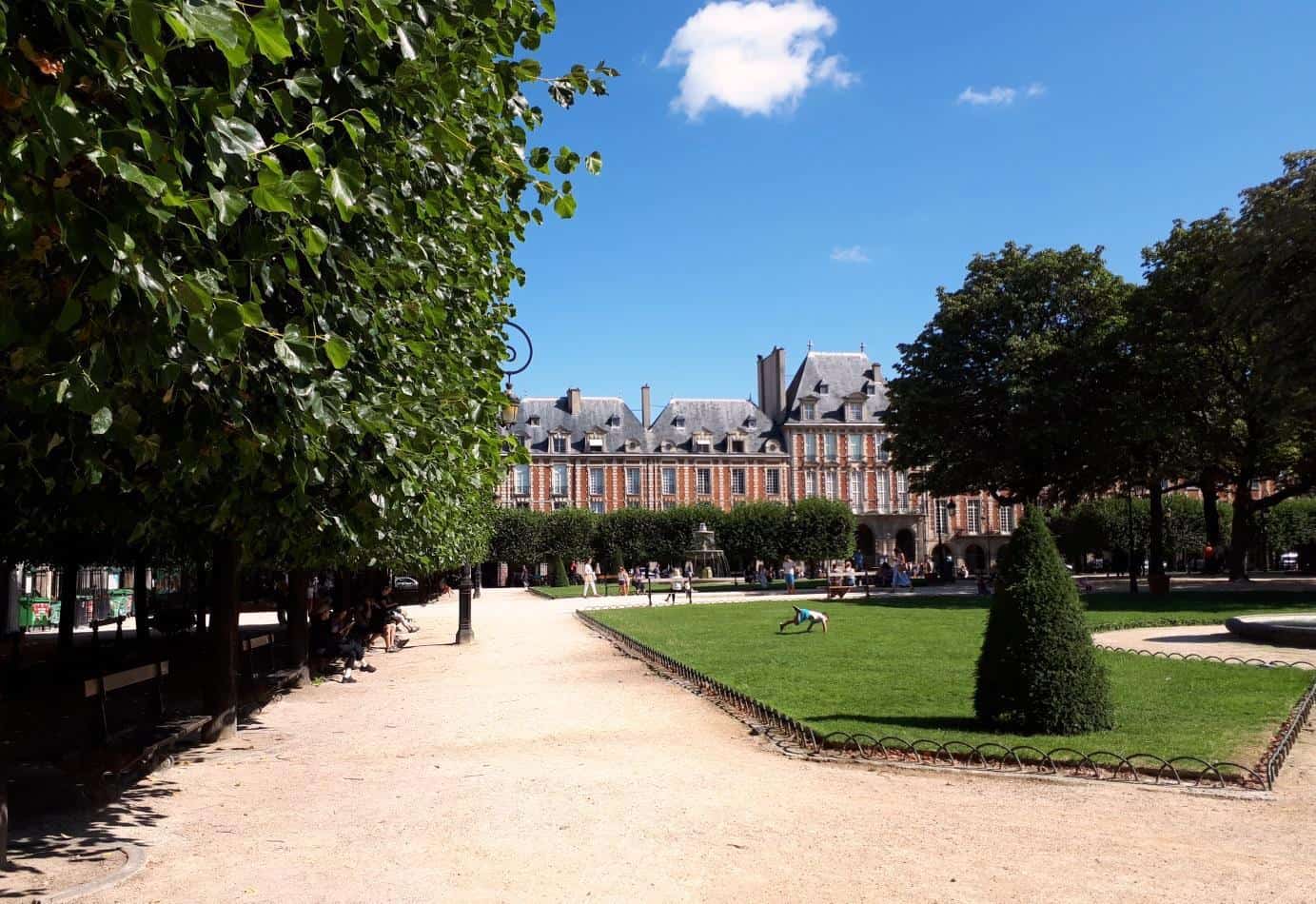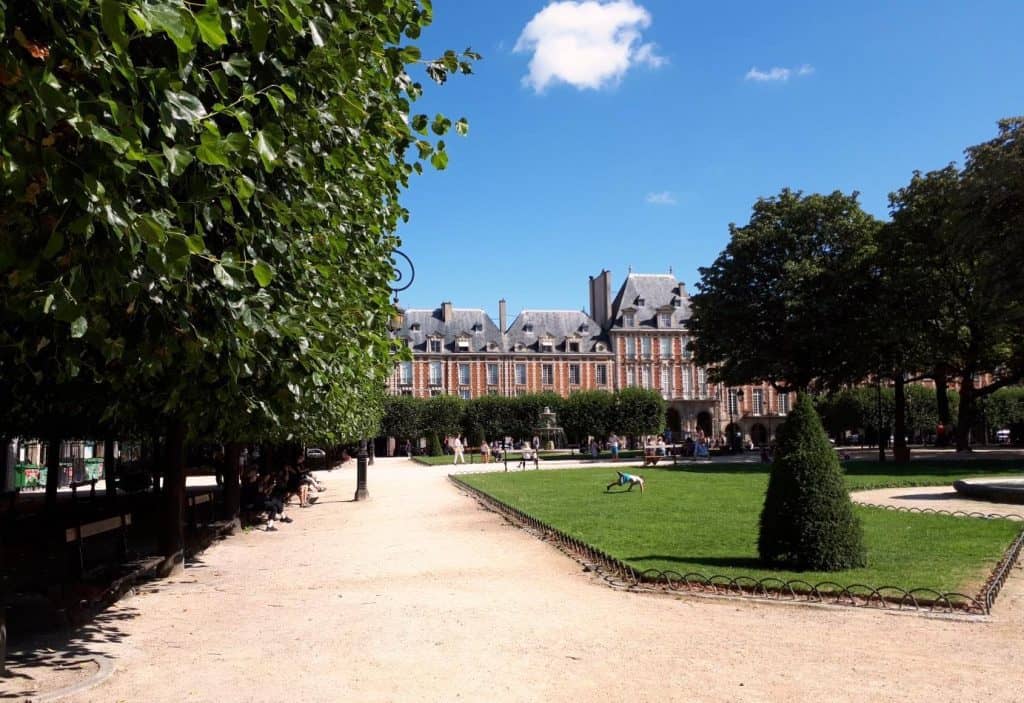 After Place de Vosges, we headed to Village Saint-Paul. It's a historic location in the heart of the Marais district. Village Saint Paul is home to vintage design and craft boutiques, art galleries and cafés. If you want to find unique pieces for your home, you are in the right spot.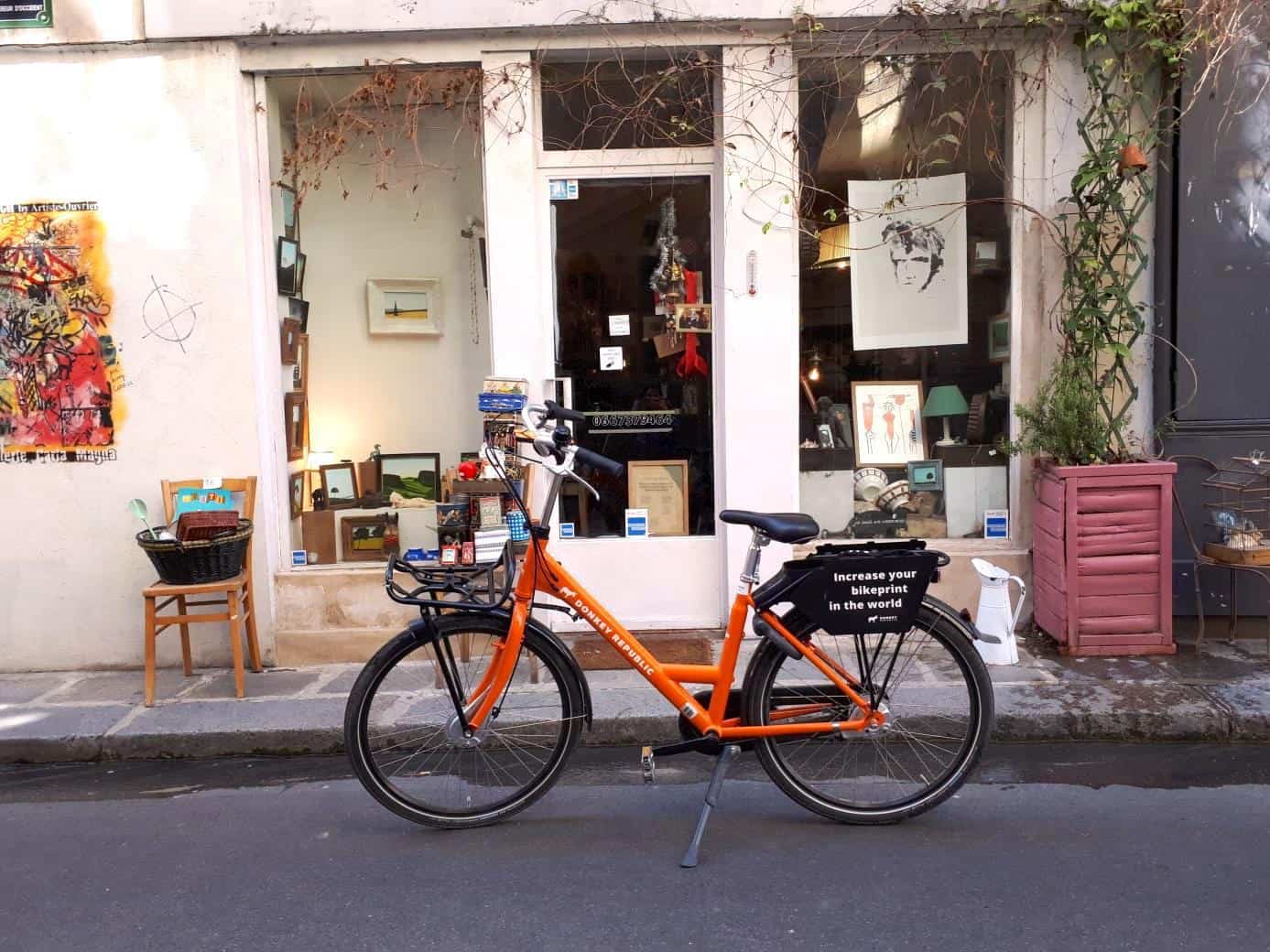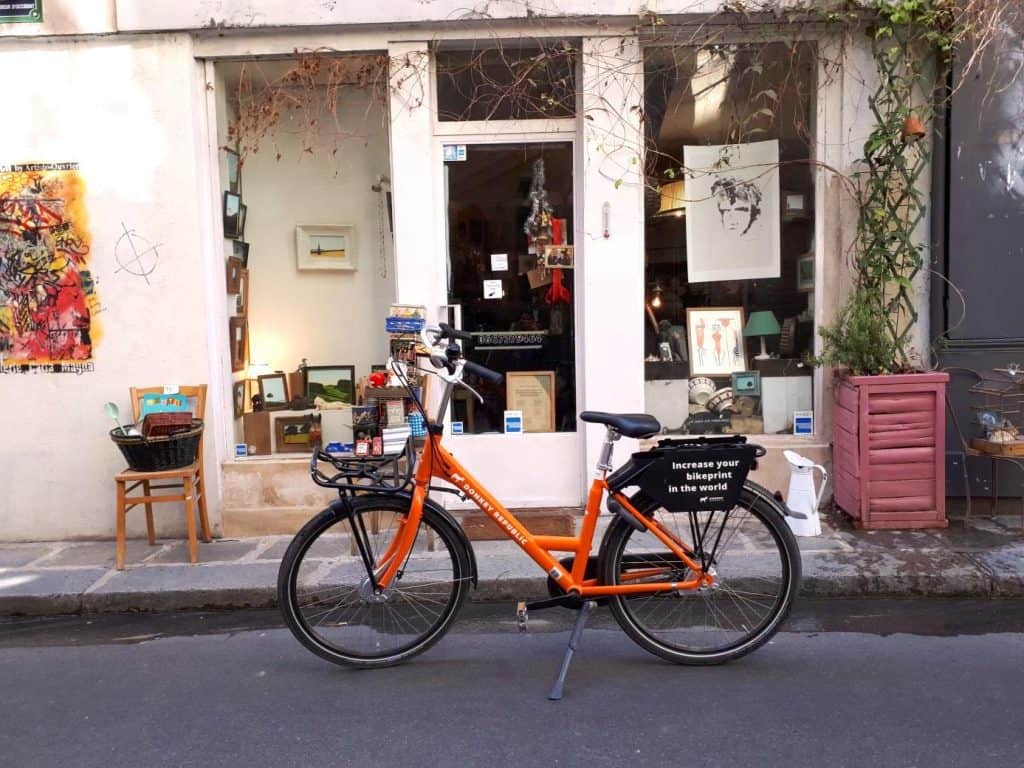 We continued to Quai des Célestins and Hotel de Ville. There is a really nice bike path all along the Seine, so cycling on a beautiful day near the river and through little Parisian streets is the perfect way to take our stress away. We finished our visit at the amazing 800 years old Gothic masterpiece Notre-Dame on the Île de la Cité.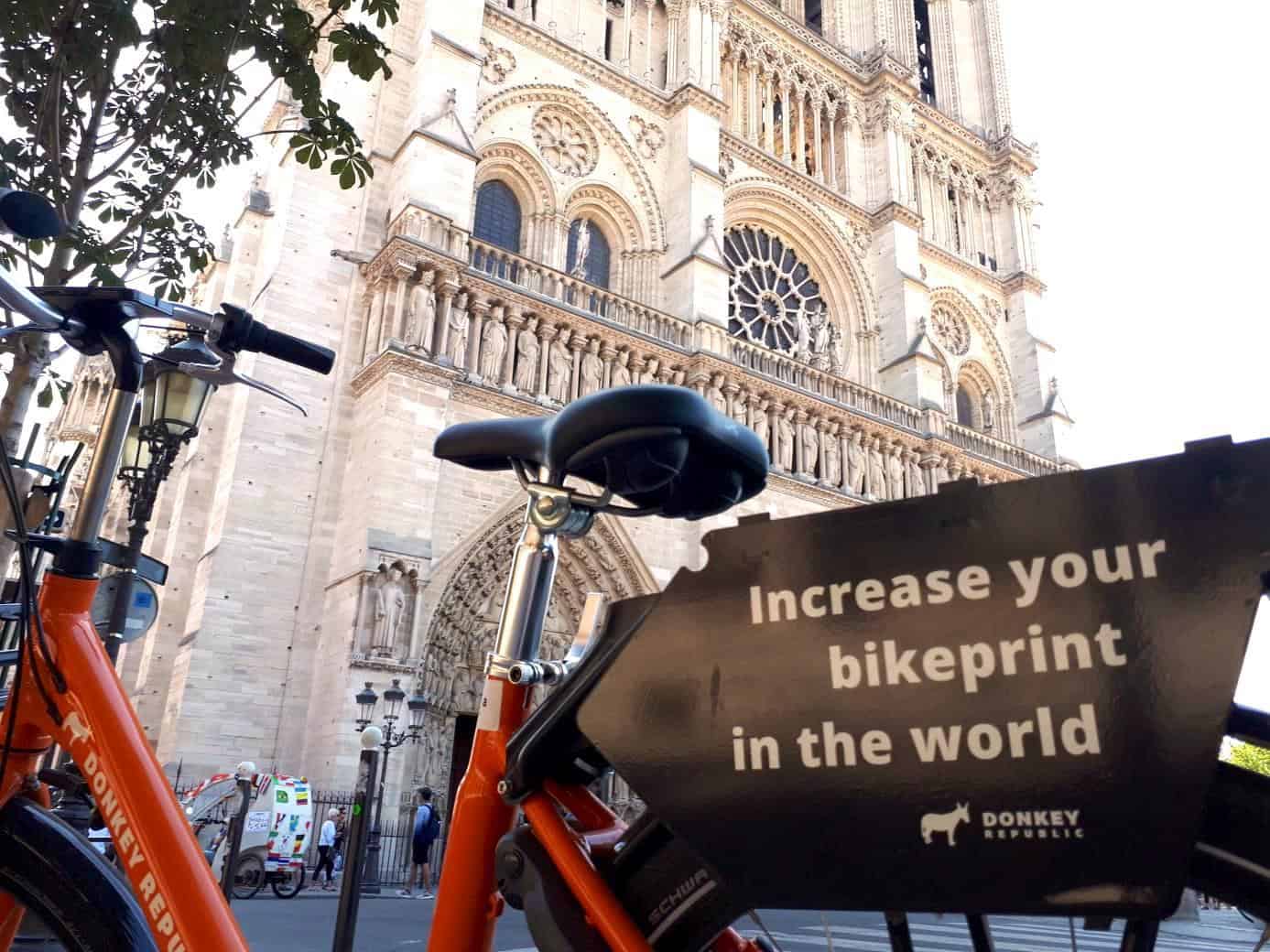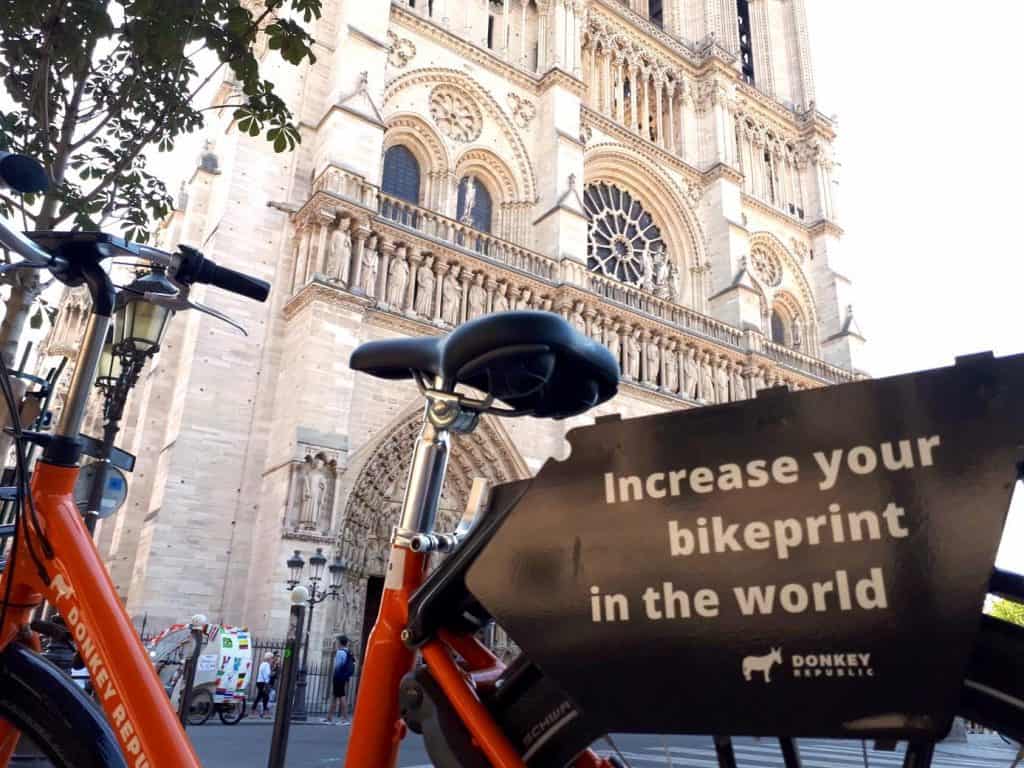 Likewise renting the Donkey Bikes, returning them was really easy as well. We just took them to the nearest drop-off location at "fountain Saint- Michel" and tapped 'End rental' in the Donkey Republic app. We totally loved it and getting around on two wheels really made our day fabulous.
If you are a frequent traveller, one of the great benefits of using Donkey Republic is that you can rent bikes in any Donkey Republic city with the same app and the same system. And if you sign up for a bike-share membership, you get to use Donkey Bikes home and away for the same prices.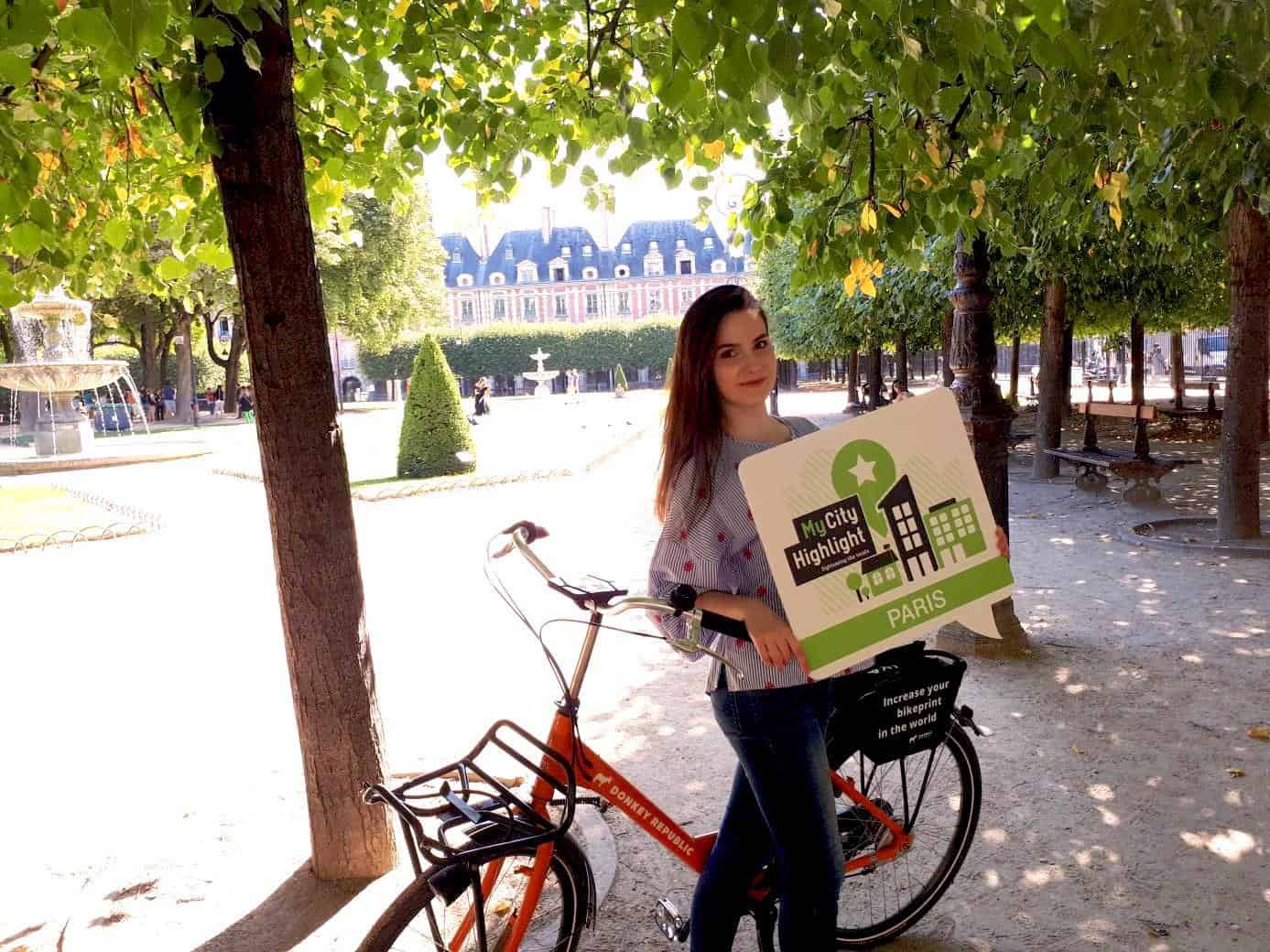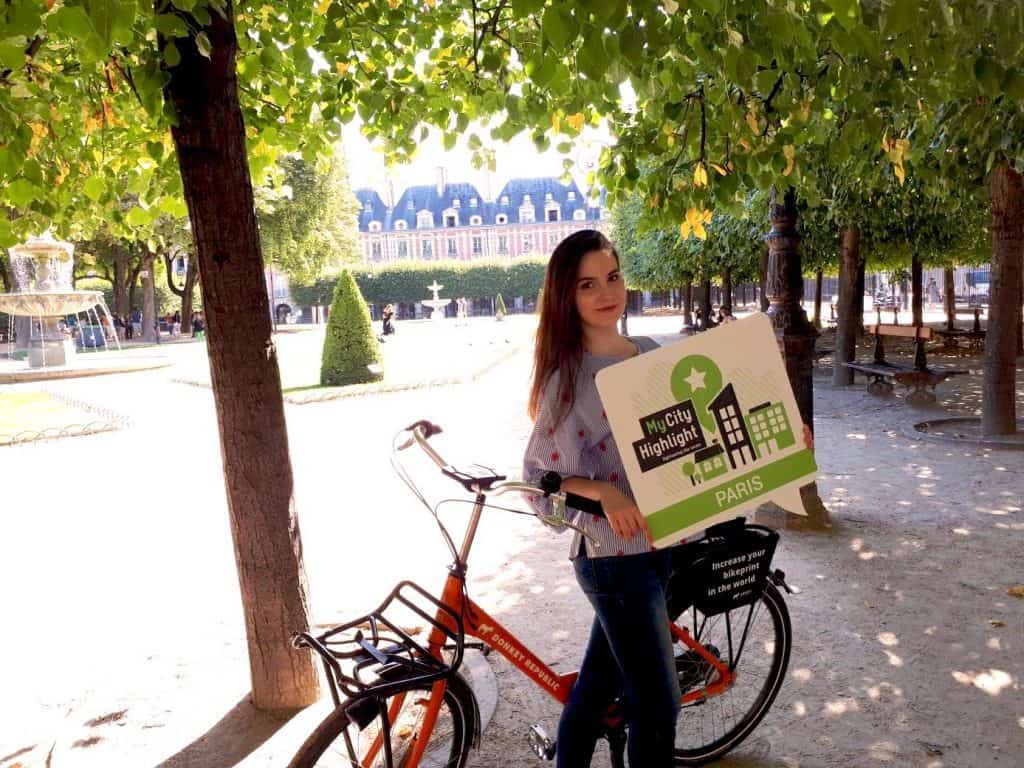 I can definitely recommend you to rent a Donkey Bike in Paris and explore the hidden gems of the City of Light with the MyCityHighlight App. If you have any questions or just want to say hi, let me know in the app's forum. I would love to hear about your experience in Paris.