Wherever you might travel in Scandinavia, you kind of have to expect it's not going to be cheap. Even so, there are plenty of ways you can enjoy the second largest city in Sweden on a budget; especially if you like the outdoors. As a popular hashtag in the cycling community says, #outsideisfree – so that's what you should do: take advantage of the city's beautiful landscape and tour Gothenburg on a bike in search of free fun.
That being said, I will begin this free-activities-in-Gothenburg bike tour with something that's not actually free. Unless you cycle here on your own two wheels, you'll have to rent a bike in Gothenburg. But let's look at it this way: you need a bike to get around Gothenburg anyway, because that's just the obvious best option. Also, the bicycle is a means to an end, not the free end in itself. So yeah, life is tough, and nothing is actually free. Now can we move along? Good. Thank you. Here we go:
Open the bike route in your Google Maps app
Pick up your rental bike at Götaplatsen
You should start nice and central, in Götaplatsen, where you can rent your Gothenburg bike in just a few clicks. Then off you go, towards the western Haga district.
I put the stair-climbing part of this Gothenburg bike tour first, so that you actually have the energy to do it. The fitness benefit comes completely free, and so does the gorgeous view over the city once you get to the top. As you look around, think that when the Skansen Kronan fortress was built, in the 17th century, it was actually outside the city and intended to protect it.
I don't recommend that you actually chase the animals, but looking, talking and generally making weird noises at them is all you should need to have a great time. After you get bored with that, you have the rest of 130+ hectares of green around you to enjoy. If you're extremely lucky, you might also happen upon a free, open air concert by the Gothenburg Symphonic Orchestra.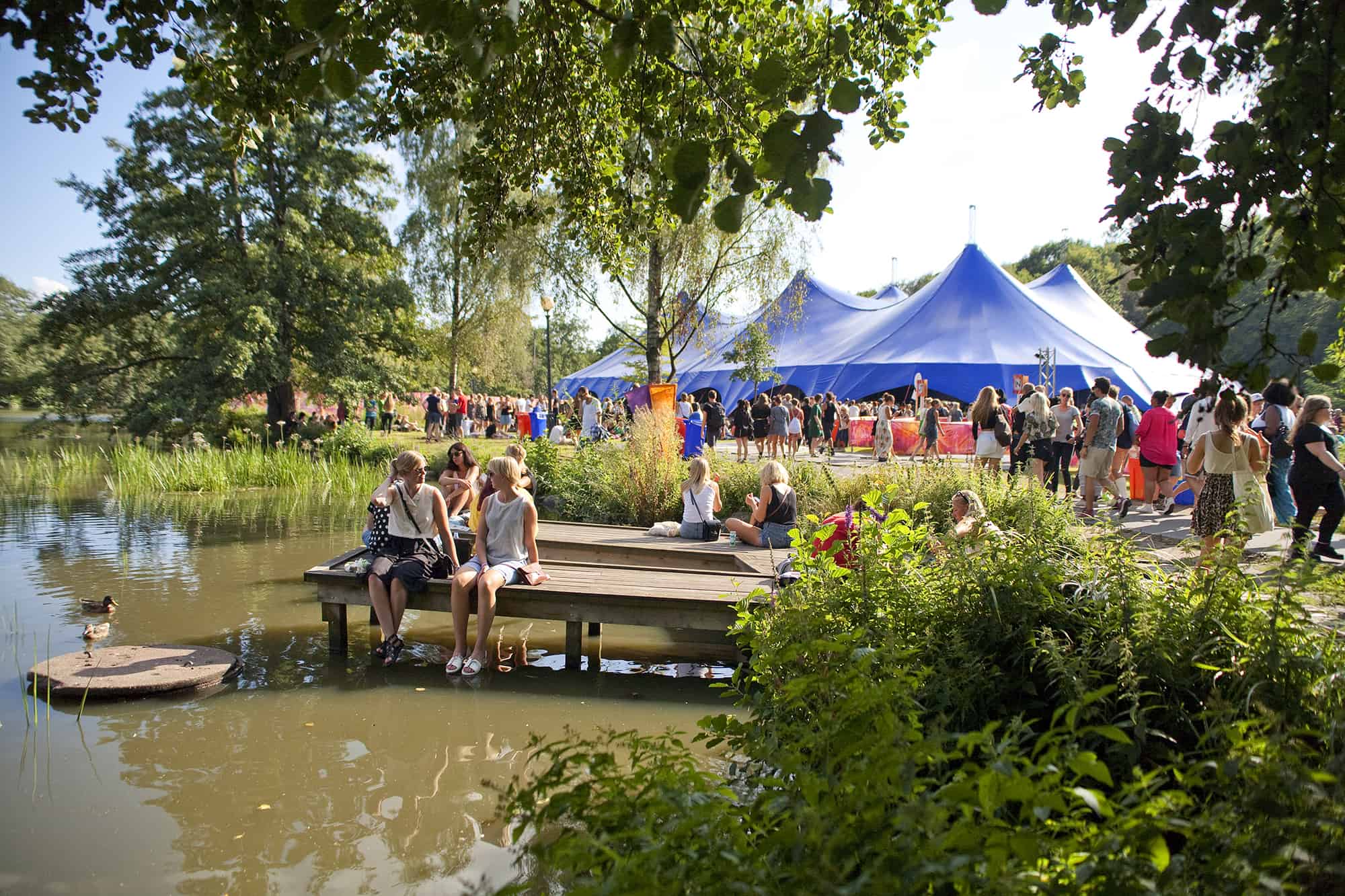 For the perfect lunch with a view, you can take your rental bike up to the beautiful church called Masthuggskyrkan to build your appetite. Then, assuming you realised you'd have to buy some food beforehand, you can have a lovely picnic overlooking the Göta älv river and then linger over, just because you can't get enough of the scenery.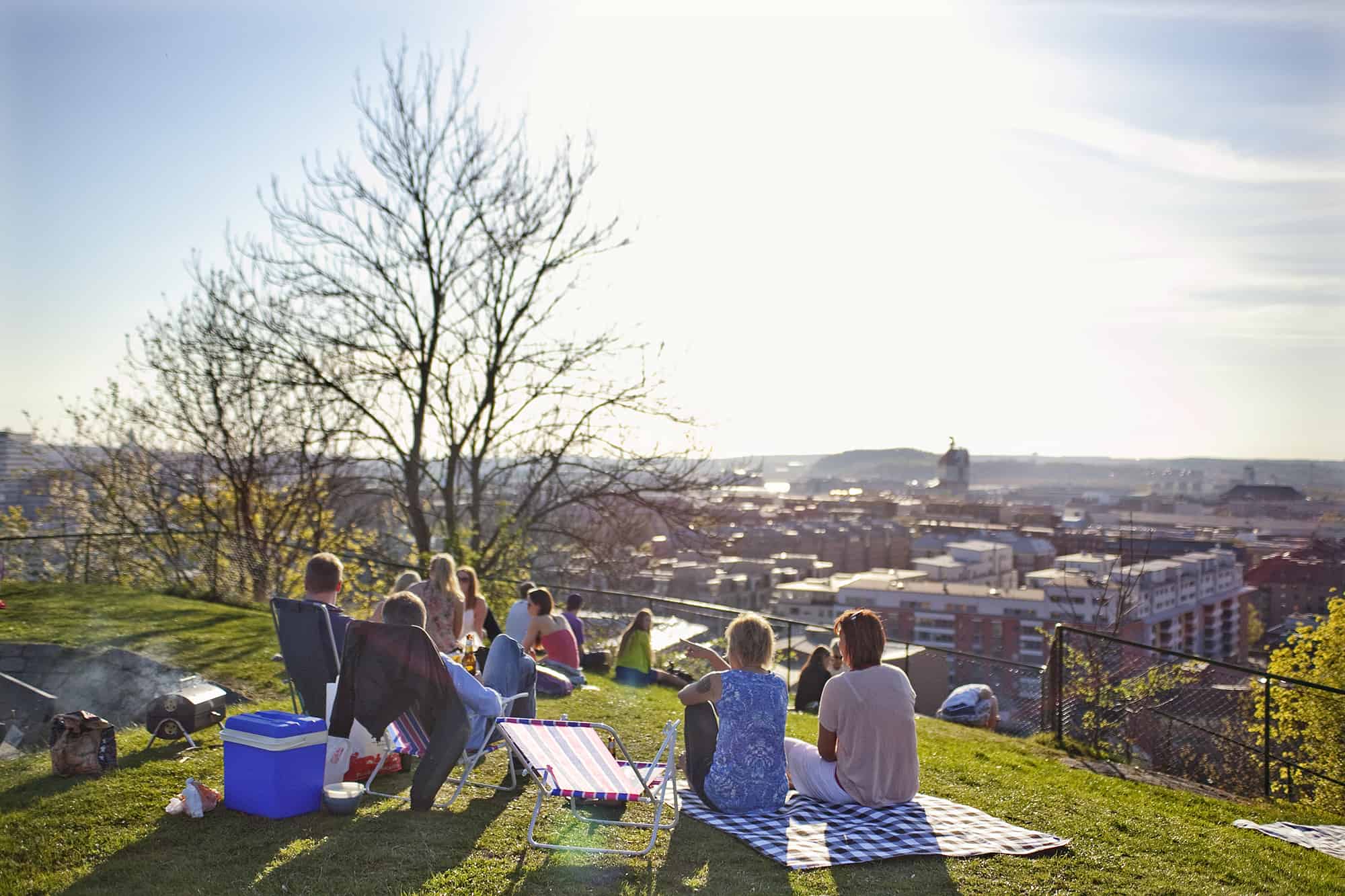 You'll be happy to hear there's a free public sauna in Gothenburg, at Jubileumsparken in the newly developed district of Frihamnen. You'll be less happy to hear that you have to book a spot in advance, on the Jubileumsparken's website. It's still definitely worth the effort, and the area itself is really cool to explore. This park is being developed for when Gothenburg will celebrate 400 years in 2021 but is intended as a long-term urban development project to bring people to spend more time on this side of the river and close to the water.
Take a bath at Delsjön
Now that you're all re-energised from the sauna, you can take the longer ride to Delsjön, which is a bit outside the city. This area is home to a nature reserve with a huge forest, two lakes, and even a beach by the Stora Delsjön lake, sporting bathing platforms and stunning views. You can have a dinner in the nature here, go for a swim, for a jog, or a hike. There are so many free things you can do at Delsjön, you won't want to leave – which is not such a bad idea, except you can only camp here in July. In any case, your Gothenburg bike tour starting point is only a 22-minute ride away, if you want to come full circle. After all that cycling, you'll sleep like a baby – and wake up super fresh, ready for a new adventure on two wheels!