The new year kick-off is meant to bring out the best in us: another chance to commit to a fresh list of resolutions, right? Everything seems to be in order – you even bought an office plant and placed it in the right spot, as your source of productivity and inspiration at work. Yet you can't seem to shake off the cold idle air, and the melancholy of the long gone holidays is not helping out either. Your daily filtered newsfeed reminds you that, by February, your energy level reaches its lowest point and, ironically enough, you're recommended to get plenty of sun, rest and the usual mix of healthy food and exercise. Just when you're on the brink of post-holiday stress disorder, it hits you:
How about a short trip to a sunnier haven?
To ease up the research part and countless hours spent scrolling through breathtaking Instagram pictures of your friends' latest city break, look no further because I already have the solution: how about a trip to Barcelona in February? Yes, I know it sounds atypical: it's not until late spring that tourists start piling up their mood boards to visit Barcelona, but if you're up for a less overcrowded getaway, one where you really get to explore the hidden places and mingle with the locals, this is what you're looking for, trust me.
What to do in Barcelona in February?
I can't promise you warm sand dunes and early morning swims, but February marks the time when Barcelonian beaches start recovering from cold winter breezes. The variety is large, you just have to decide what you're in the mood for: The Barceloneta beach is the best place for joining a local CrossFit team or a low-key volleyball match; if you're looking for bragging material, pick the Nova Icaria beach and sign up for a water sport class. Biking and roller skating are two other favourite activities enjoyed by locals, and let's face it: what better sight could you wish for than having the sea by your side?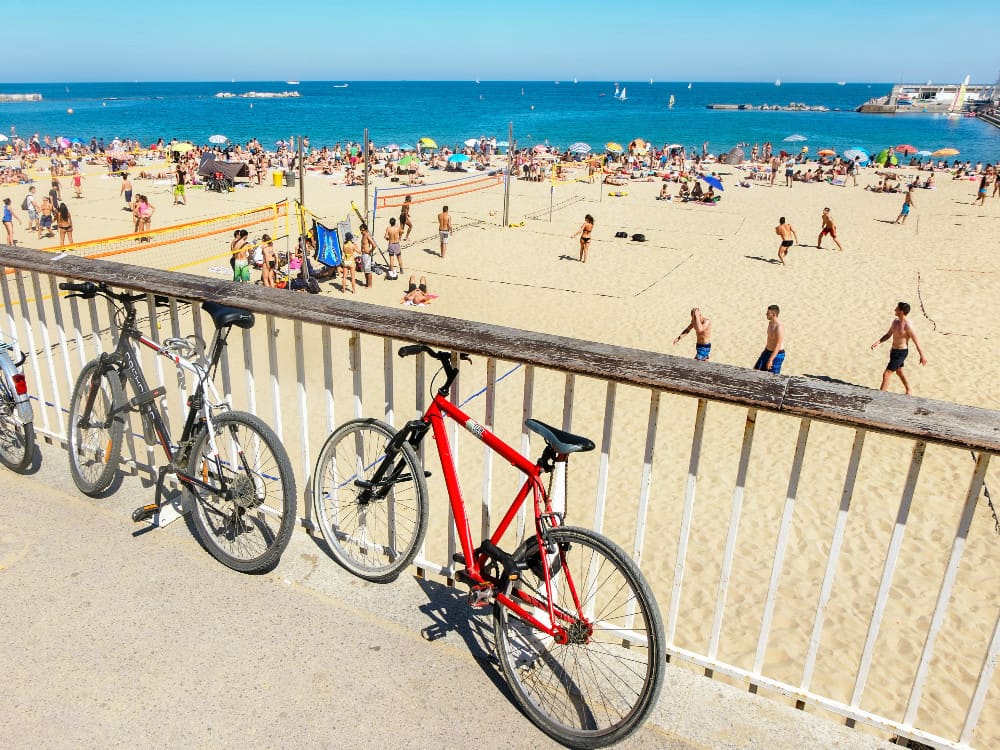 Blue is the warmest colour when in Barcelona
Chances are though you'll prefer a more challenging route for you and your bike, in which case you should follow the route all the way from the city centre to Montjuïc hill. I suggest you start from Plaça Espanya, from where you can already spot the National Museum of Catalan Art (El MNAC). At the end of your trip, you'll be earning a great view just from the top of the stairs that reach to the museum. You'll be overlooking Barcelona's main square, as well as the harbour. Did I mention the best thing about Barcelona in February? Clear blue skies and a panoramic vista including the Barcelona skyline and the pointy peaks of the Catalan mountains. I know it's going to be hard to leave this incredible spot, but biking back to city will mean pedalling along inclined pathways full of lush palm trees and aloe vera plants.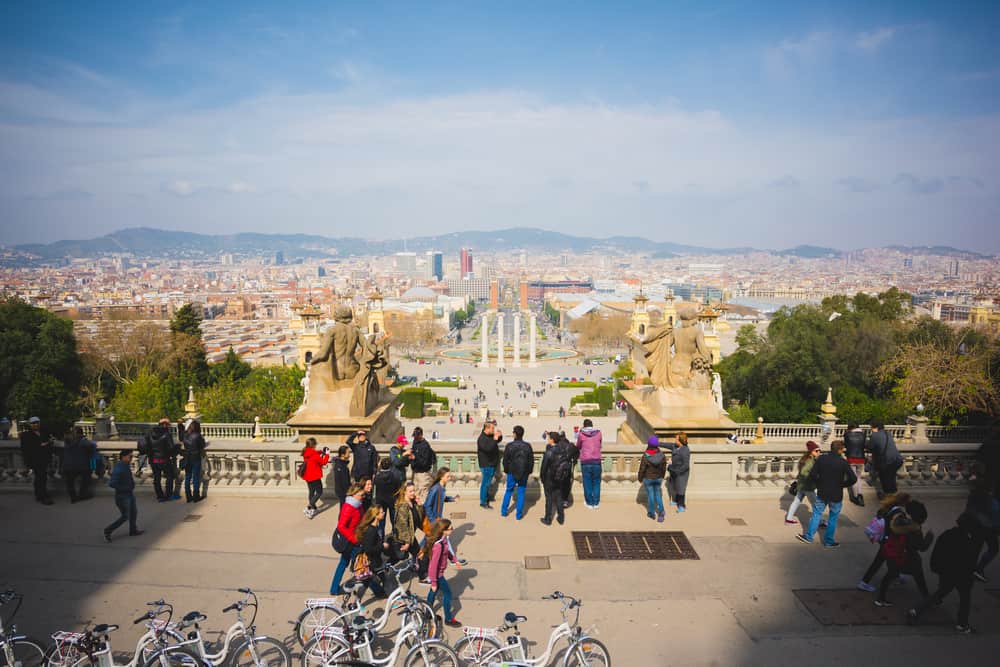 Capturing the view from MNAC
What to explore in Barcelona in February?
Barcelona's locals seem to live their lives at a completely different pace compared to metropolitan cities, phasing out of having a stressful lifestyle. And it's no wonder they manage to do it: Barcelona is far from being a rigid, damp place. Even during winter months, the city is animated by its people and a mix of past and present infrastructure, which depicts a casual shift from traditional to modern culture. Which is why the  best way to get around Barcelona in February is by renting a bike, and explore its hidden corners and neighbourhoods.
If you're a peace and quiet seeker, here's a guide to a one day tour through several hidden oases of nature by the end of which you should tap into the Barcelonian way of life. Another must see is Parque del Laberinto de Horta. It's a historical gem (oldest park in Barcelona) plus the title hint – yes, it does have a labyrinth. As it's not really close to the centre, it's a perfect occasion to pick up a rental bike and cycle your way there. The whole area is beautifully preserved and gives such a good throwback to garden aesthetics of the 18th century that you can forget about those Instagram filters, trust me.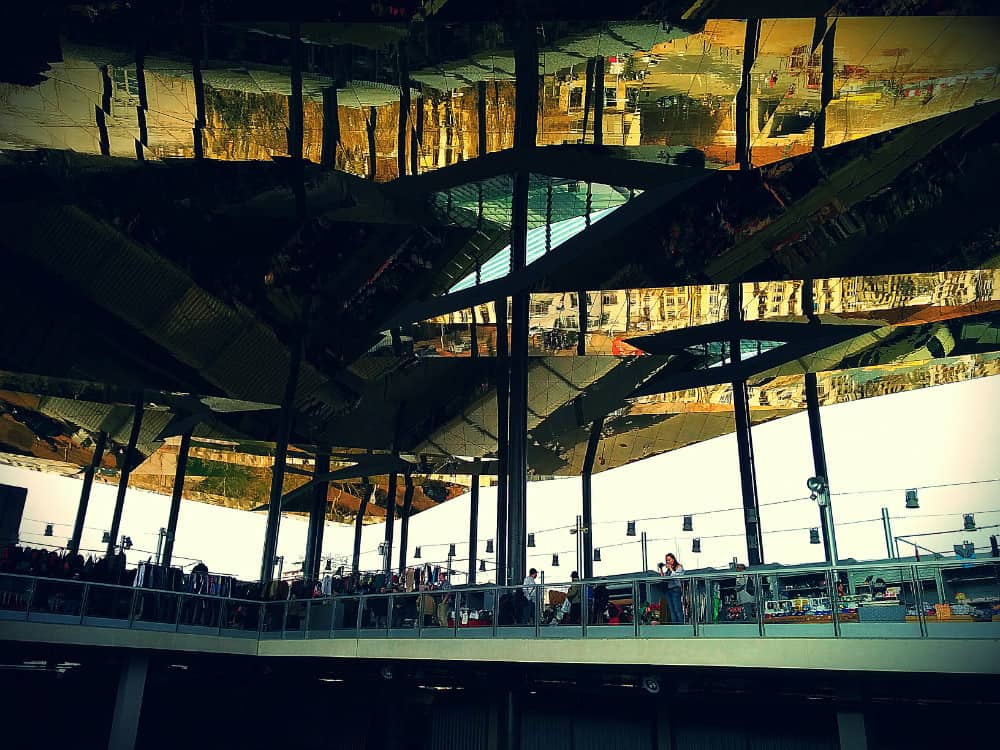 Getting lost in Barcelona's local flea markets. Photo
If you'd rather hunt for more animated areas of the city, there's no place like a street market. Did I hear you say "local markets bike tour"? Here is a well-crafted tour of Barcelona's best ones (yes, we covered food, antiques, art and vintage, no need to pick one!)
The oldest of street markets in Europe is Encants Barcelona, currently the largest flea market of the city. Your inner thrifty traveler will be excited to wander around, bargaining, almost buying a piece of furniture that is impossible to carry back home, and just capturing the full charm of the experience. Most delightful part? The public auctions, which take place every Mondays, Wednesdays and Fridays, starting from 8am.
Where to jam in Barcelona in February?
You can't leave the city without catching a gig. Barcelona is well known for its foot-stomping flamenco numbers and dramatic ways to put on a show. But the alternative music scene is just as hip, especially thanks its energetic audience. Barcelonians really love to have a good time and make you feel part of their local community, which is why you should seriously consider attending any of these concerts happening this February:
Trentemøller (18th February

Sala Apolo

, Barcelona, Spain

)

Tom Odell (17th February,

Razzmatazz 2

, Barcelona, Spain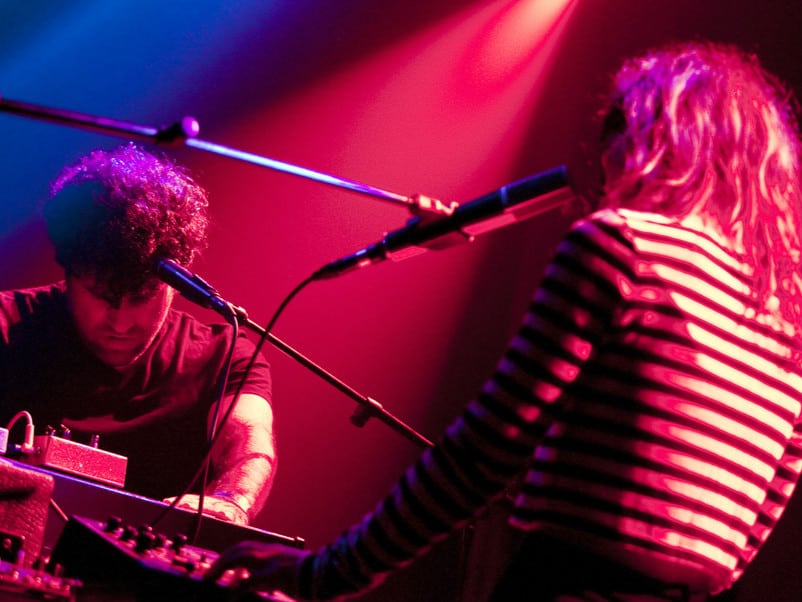 Tune in for Barcelona's music
If you're planning to see the unconventional side of Barcelona's music scene, Sala Apolo hosts a great variety of events both differing in genre and running time. If you want to start your morning with a fresh playlist, look for Morning Glory  – a classical music series that also focuses on improvising tones and mixes of electronic, pop, and even sounds from video games!
Another concert venue worth enjoying is JazzSí Club. Don´t worry, you don't need to pack your turtleneck for this one: this place has an etiquette for people who simply turn up to enjoy the music, whether it is classic jazz or a fiery flamenco evening.
Last advice, don't be afraid of being spontaneous as well. Take your time to just wander the streets and bike to unknown places, enter whatever bar looks quirkiest, try a dish whose name you can't pronounce. You'll surprise yourself and end your trip to Barcelona in February in full glory. And guess who's gonna be 10 times more productive at work after this getaway!