When you visit Copenhagen, there is truly plenty to see in the city itself, no doubt. Even I, having lived here for many years, can think of nothing better than exploring new corners of the city, finding new restaurants, the perfect brunch spot or shopping. But sometimes, I want to go see something else. And lucky for me, there are plenty of amazing things to do just outside the city.
I like to take my bike, mainly because no matter where you go, there's always quite a bit of walking involved, and I always get impatient and wish I'd brought my bike. So before we do anything, let me just explain the rules for bringing bikes on public transport. When you take the S-train, you can always bring your bike for free, however, during rush hour you cannot get on and off at Nørreport with your bike (and you probably won't want to). There are specific areas for bikes on the trains, in the front, middle and end of the train. Place the back of your bike into the strap, or your bike will be in trouble. For the regional trains as well as the metro, you will have to pay to bring your bike on the train. The regional trains also have specific areas for the train, the metro doesn't. Again, be aware of rush hour rules, unless you go on the weekends.
And now, let's get to the good stuff.
Frederiksborg Castle in Hillerød. Just north of Copenhagen, you'll find Hillerød and Frederiksborg Castle. It was built in the early 16th century by Christian 4th (you'll find that he liked to build stuff during his reign). The castle is placed in beautiful surroundings, and you can also do plenty of shopping and dining in this area. I  wouldn't personally bike all the way here, but I would definitely bring my bike, as there's a lot to see in quite a large area. Take the bike around the lake and enjoy the view. The S-train goes here from most stations in the city, so it's easy (and free) to bring the bike along.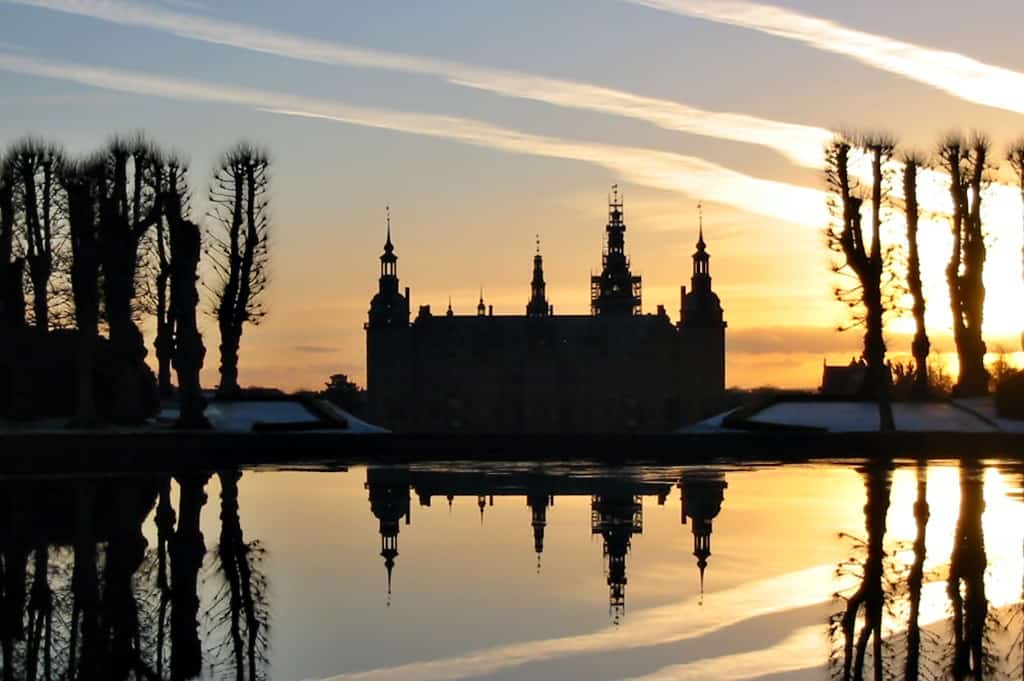 If we're going in the other direction let's go to the National Aquarium of Denmark. The Aquarium is based near Kastrup st., which you may remember from when you left the airport. This means that you could take the metro here, but I would take the bike, at least one way. Going here is simply a beautiful stretch along Amager. Make a stop at Amager Strandpark, an artificial beach, and enjoy the fresh air. The Aquarium is a place you will not regret visiting – it's absolutely beautiful. But a small hint: buy your tickets in advance, the line can be massive.
Since we're in the Amager area anyway, why not go a bit further and head out to Dragør. Seriously, this may be one of the most idyllic towns in Denmark (OK, haven't been to all towns, but this is really cute). Yellow houses, cobblestones, the harbor and everything in between makes this the definite go-to place on a sunny day. And if you need some extra tips, our CTO lives here, so get in touch. Dragør is not the easiest place to go to by public transport, but Jens (the CTO I was just talking about) bikes from Dragør to the office every day, so biking is the option I would go for too.
Dyrehaven (and Bakken). Again, we're going up north, to Dyrehaven. This was where the rich would go on their picnics back in the days, when Copenhagen was really just what we today call 'inner Copenhagen' and King's Garden really was the garden of the king and not the people. A little side-note; as Copenhagen grew and the poor people moved out to Nørrebro, they were also looking for places to picnic. However, they couldn't afford to go the Dyrehaven, so they ventured out to the nearby cemetery The Assistant Cemetery. So when you walk through this cemetery and you'll see people hanging out between the graves, don't fret. It's been a tradition for years.
Anyways, back to Dyrehaven. A huge park, that also holds the Hermitage Hunting Lodge, a beautiful old castle. Go here to find dear and many other animals, or go to Bakken, an amusement park in the park itself. If you're here during the summer, bring your swimsuit and head down to Bellevue Beach. You can take the train here, but I would bike. It will take you no more than 40-50 minutes, and you'll drive along the sea the entire way. You'll also pass some pretty spectacular houses that are definitely worthy of checking out if you're into the places that rich people live.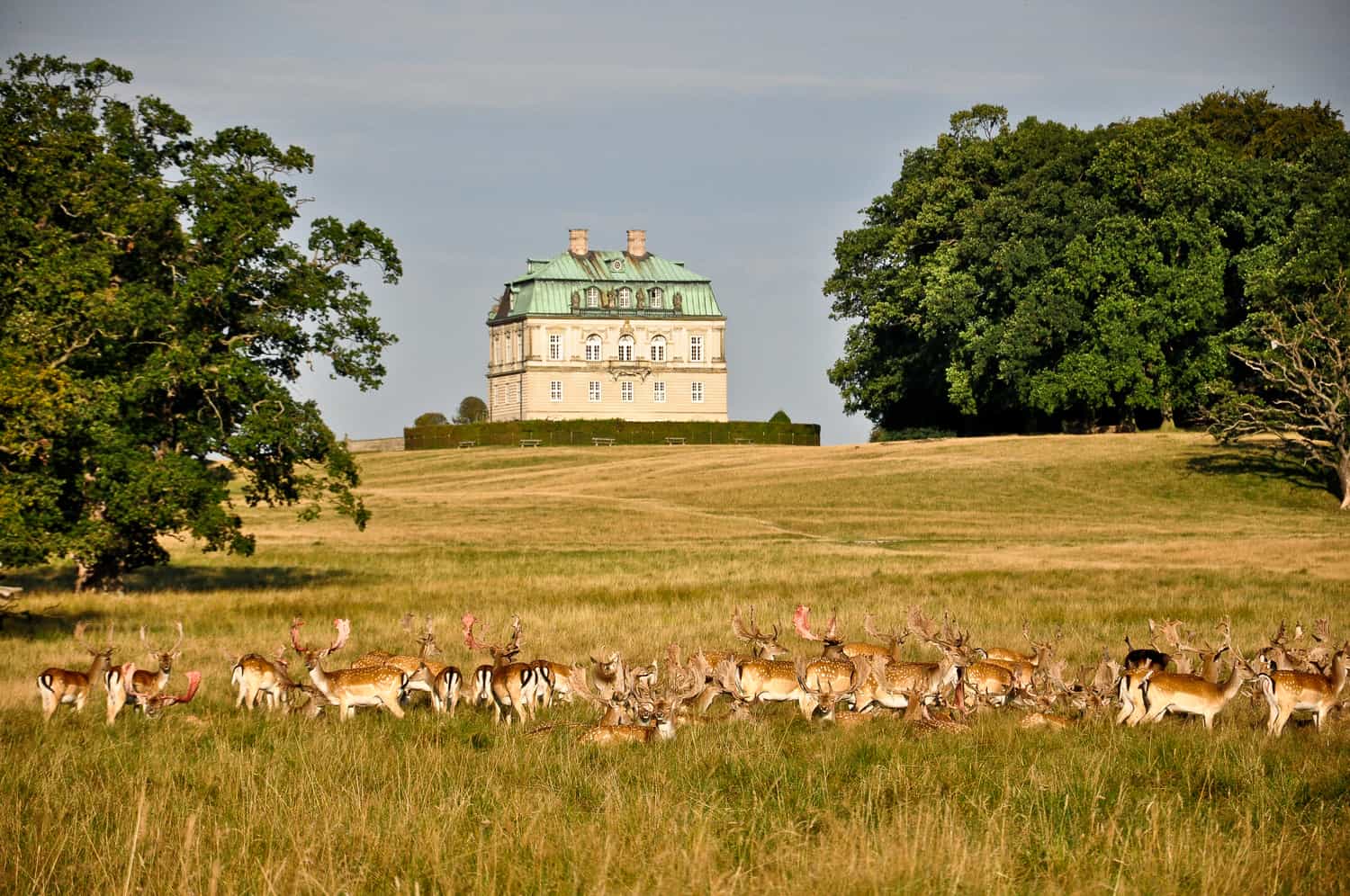 The last thing on this list takes us north, again, to the Louisiana Museum of Modern Art. I don't think I need to tell you too much about it because you'll already know. They have the kind of exhibitions that I want to go to, they have the most amazing outdoor space, plus the view is to die for. And don't get me started on their shop. Just go, seriously. You won't regret it.
You could bike here, if you wanted to, but I've never done it. It is quite far. However, I always bring my bike to Humlebæk station (where you'll have to get off), and I do it for two reasons. First of all, the museum is actually a bit far away from the station, so biking the last mile makes it so much easier. Second, in Humlebæk there's an area called Sletten. This small area/town has its own harbor, its own beach, an amazing restaurant and the best ice cream ever. It's filled with small houses in various colors and it's just so beautiful. I grew up nearby, so I like to take a bike ride here, sometimes just for a quick 'hello', to stay for lunch or just to jump in the ocean if the weather is good. GO.