Bike rental in Hamburg
You can rent a Donkey Bike for longer than just a single ride.
How it works
Rent a bike in a few clicks
Get the app to rent a bike from many locations, in many cities.
Unlock your rental bike
Find your bike at the pick-up location and unlock with the app.
Ride and keep the bike
Short or long rentals. Lock and unlock your bike as much as you like.
Return the rental bike
Return the rental bike to an available drop-off location, lock it and end your rental with the app.
Biking a lot? Get a Donkey membership!
Enjoy free time and included theft-insurance with every rental in all Donkey Bike cities across the world.
Hamburg cycling guide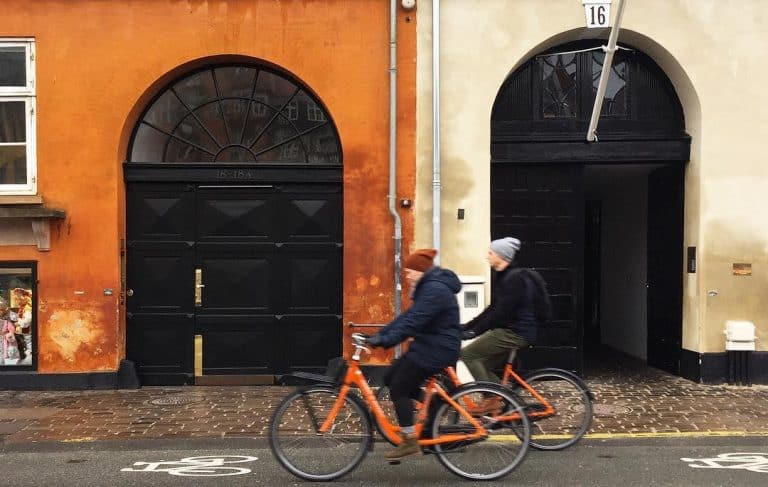 Bike rental in Hamburg
The city of Hamburg is considerably flat and absolutely ideal to explore by bike. Long cycle paths along and over the Elbe river make getting around quick and joyful, plus think about all those hidden spots near the harbour that you can only get real close to with a bike. Switch on the explorer in you and rent a bike in Hamburg with the Donkey Republic app.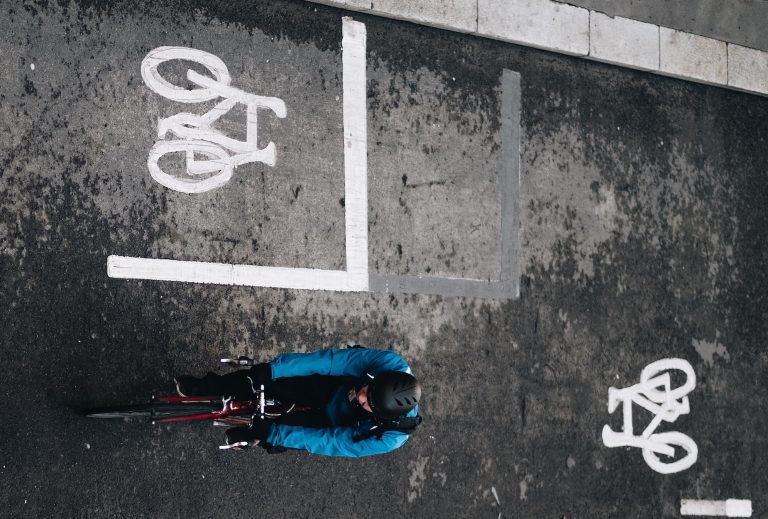 Get in the fast lane
Since cycling is the fastest and most cost-efficient mode of transport in the northern German city, it is also a very popular way for locals to get around. With more than 560 kilometres of cycle paths, Hamburg is continuously progressing to catch up with the world's most bike-friendly cities. You can easily find all of our bike rental locations in Hamburg by using the Donkey Republic app. If you need good tips on things to do in Hamburg, check out the blog or the instagram account of Frau Elbville!
How to explore Hamburg on a bike
Once you get your hooves on a two-wheeled companion, remember to take a look at the German cycling rules (see below) and off you go. Explore history in the old town, architecture at Hafencity then head for bars and walk through the red light district in the St. Pauli Quarter. Like Berlin, and Copenhagen, Hamburg has a cool street art scene too, hop on your Donkey Bike and find your favourite murals. Are you ready to see the chic side of Hamburg on your rental bike too? Dive into designer shops in the Karoviertel and mingle with locals in hip cafes and bars at Sternschanze!
Neighbourhoods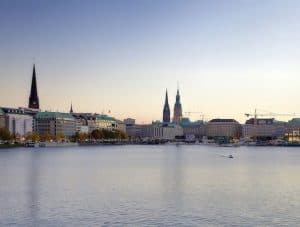 Cycling in Altstadt
Like with most European cities, you are off to great discoveries once you hit the oldtown. It's easy to get to the Altstadt area in Hamburg, just take your Donkey Bike around the inner Alster lake. The old town is always buzzing, when the weather is nice people promenade there and during the winter months too, when the Christmas markets light up the city and the Alster turns into a giant ice skating rink. You can find Europe's longest shopping street, the Jungfernstieg in the old town too, as well as the Townhall, and many cafes and restaurants. With just a very short ride on your rental bike, you can get to St. Georg, another popular district of Hamburg known for its multicultural cuisine and home to the city's LGBT scene.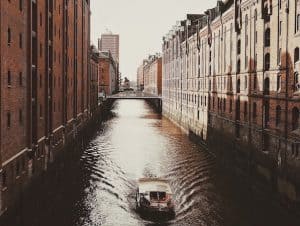 Cycling in Hafen City
Heading south from the Old Town, begins the quarter of Hafen City, a quite new area filled with stunning modern architecture pieces and beautiful waterfront spots you can easily reach on your rental bike. Part of the district is the UNESCO Heritage Speicherstadt, a century-old warehouse complex sitting on top of canals, knitted together with small bridges – the most known Hamburg site is definitely worth a visit especially at sunset. The dark red brick houses built on oak poles make a great contrast to the newly constructed area at the harbour. Once you are already at the harbour with your Donkey bike, the Elbpholharmonie -Hamburg's new concert hall- is only a short bike ride away. Make sure to take a snap of it too!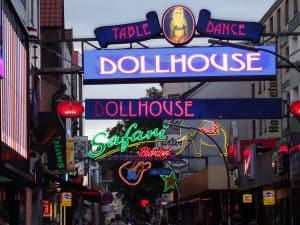 Cycling in St. Pauli and Reeperbahn
"The most sinful mile." The best thing about renting a bike in Hamburg is to have it with you even when you are heading for a night out. St. Pauli is a buzzing quarter partly because of Reeperbahn, the red-light district of Hamburg and partly because it's home to the city's fanatic football club culture. Prepare for an exciting tour down on Reeperbahn filled with blinking neon signs, bars, sex shops, clubs and live music venues. To get to some of the hidden local spots take a turn onto the side streets. Don't get too scared if you see pirate-like black Jolly-Roger flags around, that's just the symbol of the very passionate football supporters of the local FC St. Pauli. If you've had enough, you can always jump back in the saddle and get down to the floating dock in the harbour of Hamburg on your rental bike. If you find yourself in the area early (or late) enough on a Sunday morning, check the Fish market, a must see in Hamburg.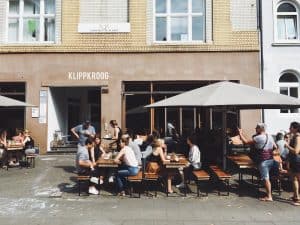 Cycling in Karolinenviertel, Sternschanze and Ottensen
To reach areas less crowded by tourists, take your bike to Karolinenviertel and immerse yourself in people watching from hip cafes then dive into designer and second-hand stores. Just around the corner, the area of Schanzenviertel offers an alternative, vibrant experience day and night. Sternschanze is where locals like to hang out – to blend in, go and explore the authentic bar scene of the Schanzenviertel in Hamburg on your bike. If you are a fan of the alternative vibe pedal to Ottensen, a sweet residential neighbourhood that has kept its multicultural character from the former immigrant population and where industrial buildings were turned into cafes, theaters and art centers.
German cycling rules
In safe hands
Always use hand signals to communicate your intentions while riding your rental bike. One hand straight up means stopping, right hand to the side – turning right, left hand to the side … you get the drill.
Fall in line
Riding two abreast is forbidden on roads – always ride single file even in a bicycle lane. I know, that sounds so German!
You've only got 2 wheels
It is illegal for bicycles to be on the autobahn, so don't be caught trying to race 120 Km/h traffic.
Stay sober or park your bike
Don't even think about cycling under the influence of alcohol or drugs – you'll face a hefty fine if you do, not to mention the risk of an accident. Also, well, we don't want a smashed up rental bike 🙂
Download the app to
rent a bike in Hamburg