Bike-share membership
A bike-share membership means easy access to thousands of bikes that you can regularly rent and keep for as long as you need, at home or on your travels.
Cities with membership plans available:
Why sign up for a bike-share membership?
The bike
You get access to thousands of light and comfortable city bikes you can unlock with a tap on your phone. They are always insured against theft and you never need to pay any deposits!
To keep for longer
Our system and pricing model facilitate renting a bike for longer than just a ride. You can lock the bike when you get to work/the supermarket/a party and have it waiting for you when you leave.

Always nearby
There are many pick-up and drop-off locations available around your city! Whenever you're in need, check the Donkey Republic app and find the nearest bike.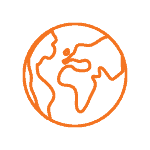 At home and away
With an active membership in your city, you can rent bikes at similarly cheap prices in any other city where we have bikes. Think about Copenhagen, Barcelona, Madrid, Berlin, Vienna, Budapest, and many more on two wheels!
@donkey_republic on Instagram