Street art is, in my opinion, one of the most inspiring and empowering forms of creative expression, often the one to assume the role of democratizing art, as well as that of turning its focus to the social discourse.
Luckily, Copenhagen is slowly shaping into a huge canvas for the visionary minds of street artists everywhere, making it an even bigger delight to explore the city. While this might come as no surprise, I believe there is no better way to discover urban art than on a bike. And since I'm committed to walkingriding the talk when it comes to my contribution to this blog, I decided to saddle up and embark on a street art discovery journey. Below, the first crop of the harvest, with more to come.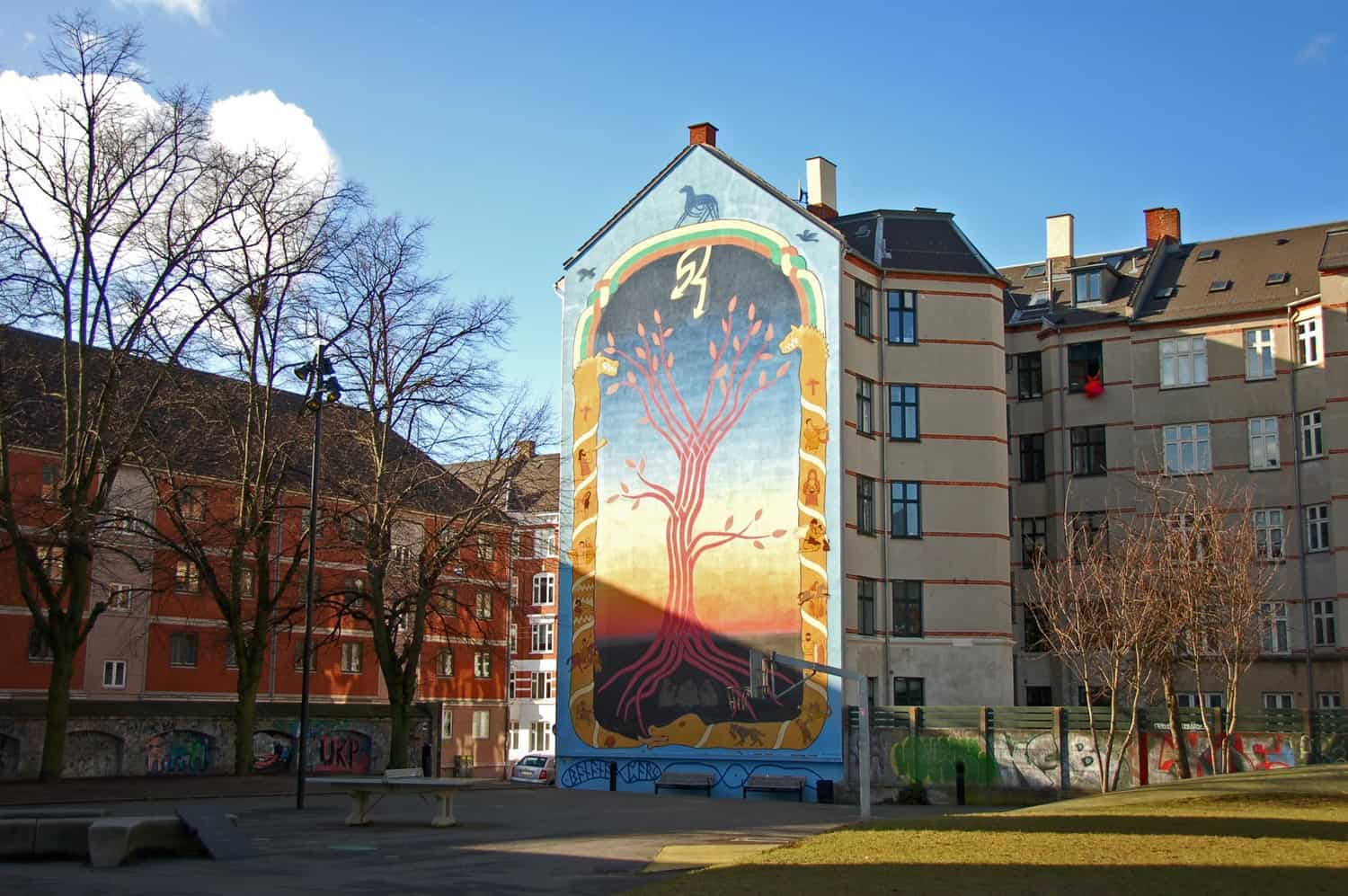 Somewhere in Nørrebro, there's this place called BaNanna Park (a cute pun to the name of the street – Nannasgade). It represents the happy end to one of those stories about how community involvement can save a valuable piece of green land from avid investors. Long story short, that lot is today a place dedicated to children – even those solely young of heart – and play. The mural is signed by Chr. Hansen, but I haven't found any information about him (or her?) or the story behind the piece. What I know is that it brightens the whole area in a beautiful way.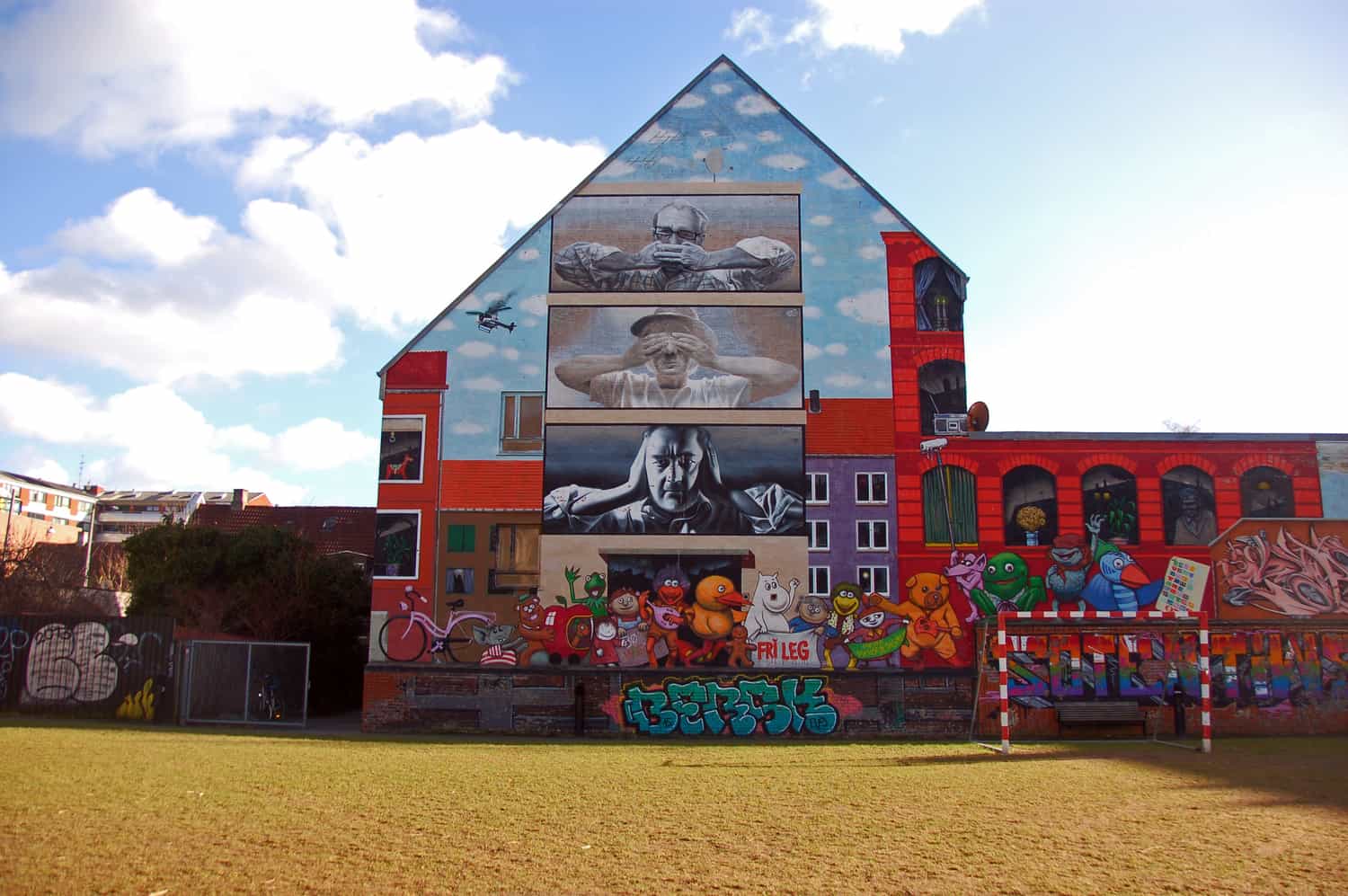 You'll find this on the other side of BaNanna Park and it's worth a good long look. You'll discover childhood idols and other Danish symbols, as well as deeper messages, subtly snuck behind the bright colours. Again, I am not very familiar with how the mural was made, but I found out from Sandra's blog  that the street art collective Copenhagen Cruise was behind it all. The artists' names are also mentioned on the wall, but I'll let you discover that on your own.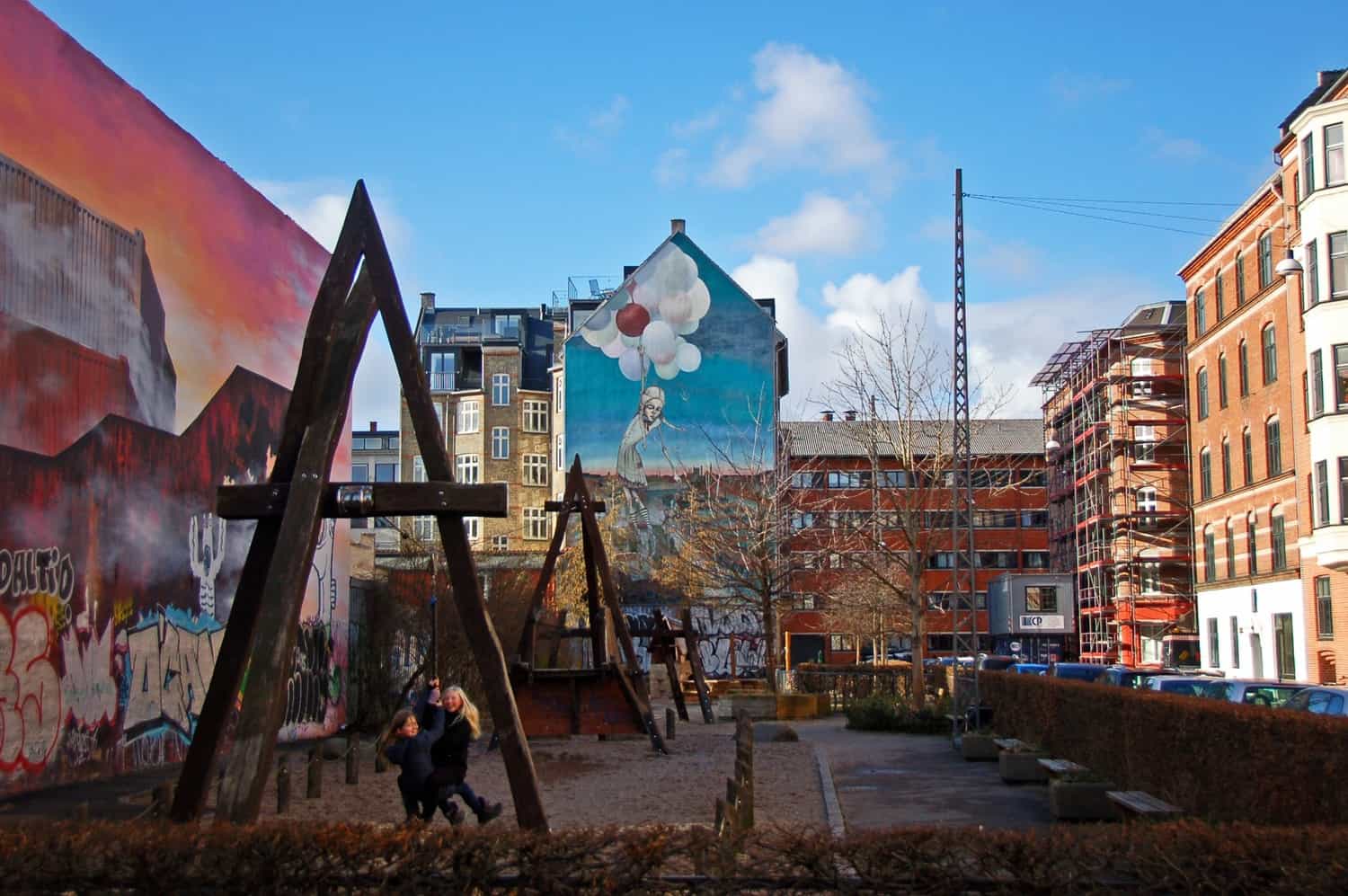 On Odinsgade I caught a glimpse of another project from Copenhagen Cruise, entitled "The Great Escape" (authors: Anne Sofie Madsen, Simon Hjermind Jensen and Claus Frederiksen). It was one of those perfect timing moments, with the two girls basically embodying the surreal image in the background.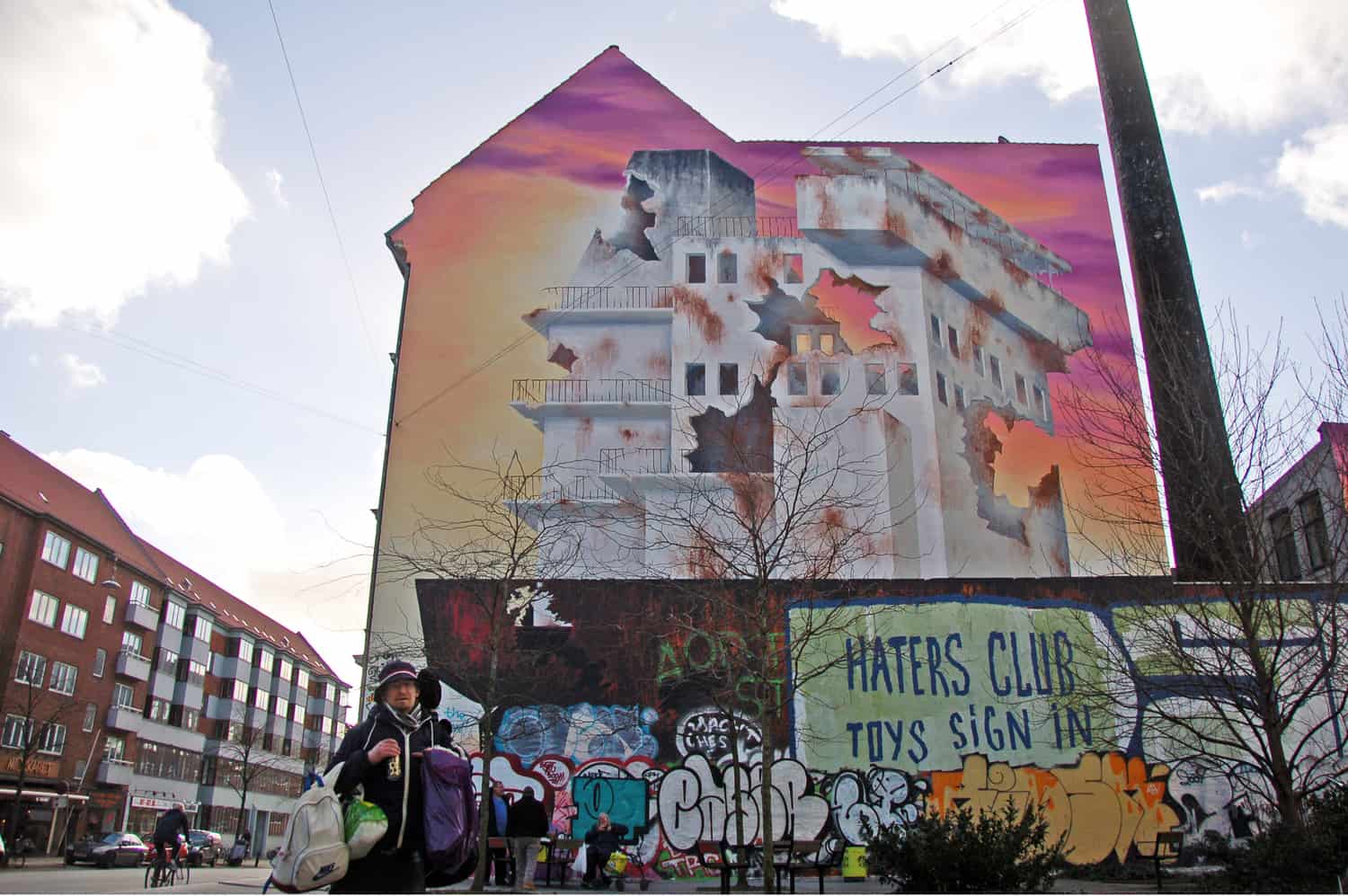 Still on the 'perfect timing' theme, here goes a shot of a mural that is very close to "The Great Escape". I don't know who the artist(s) is, but oh, what a striking image of the probably homeless people against the backdrop of a desolate building. The mural also continues on the right with a rusty shipwreck – see below.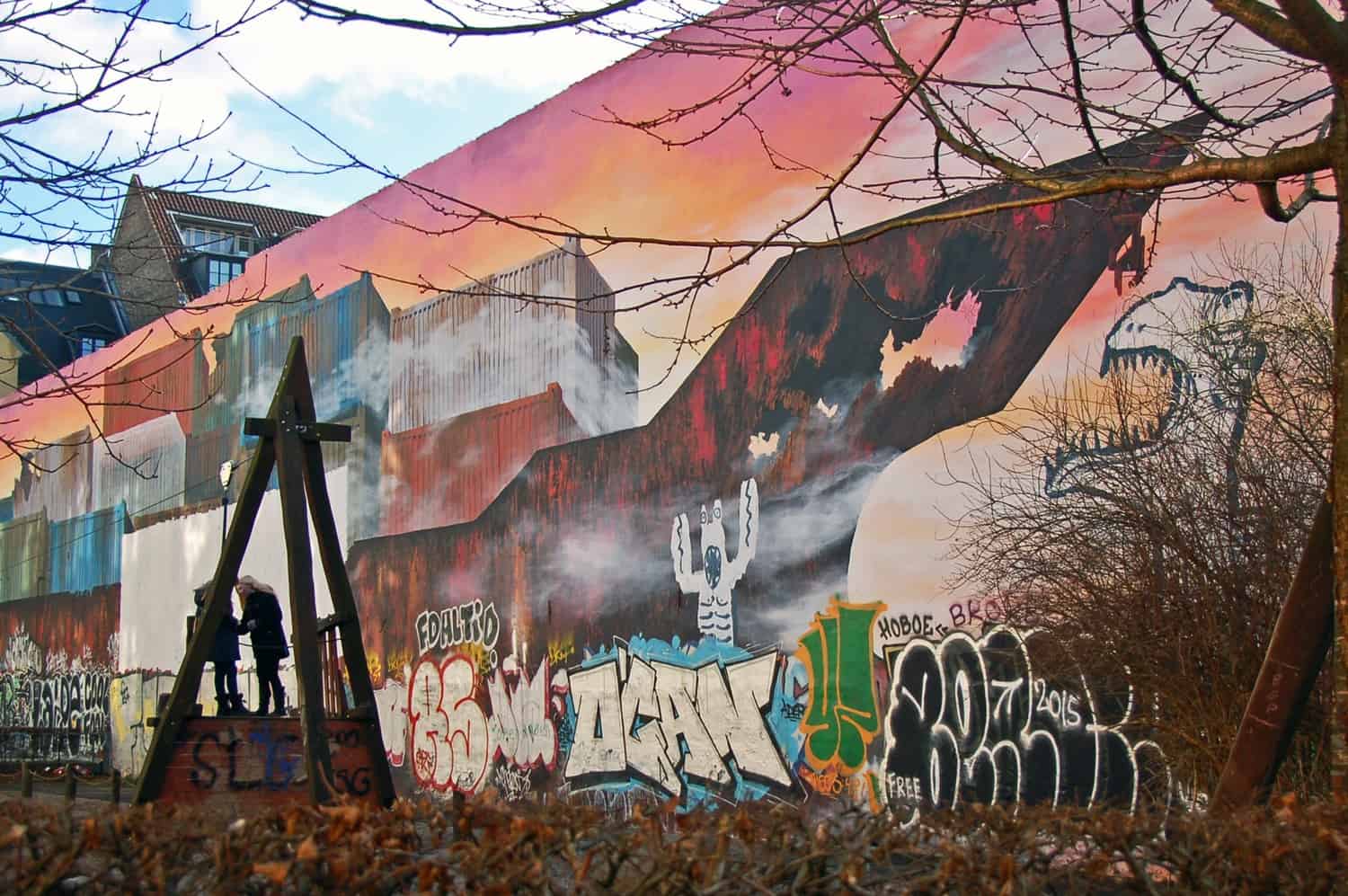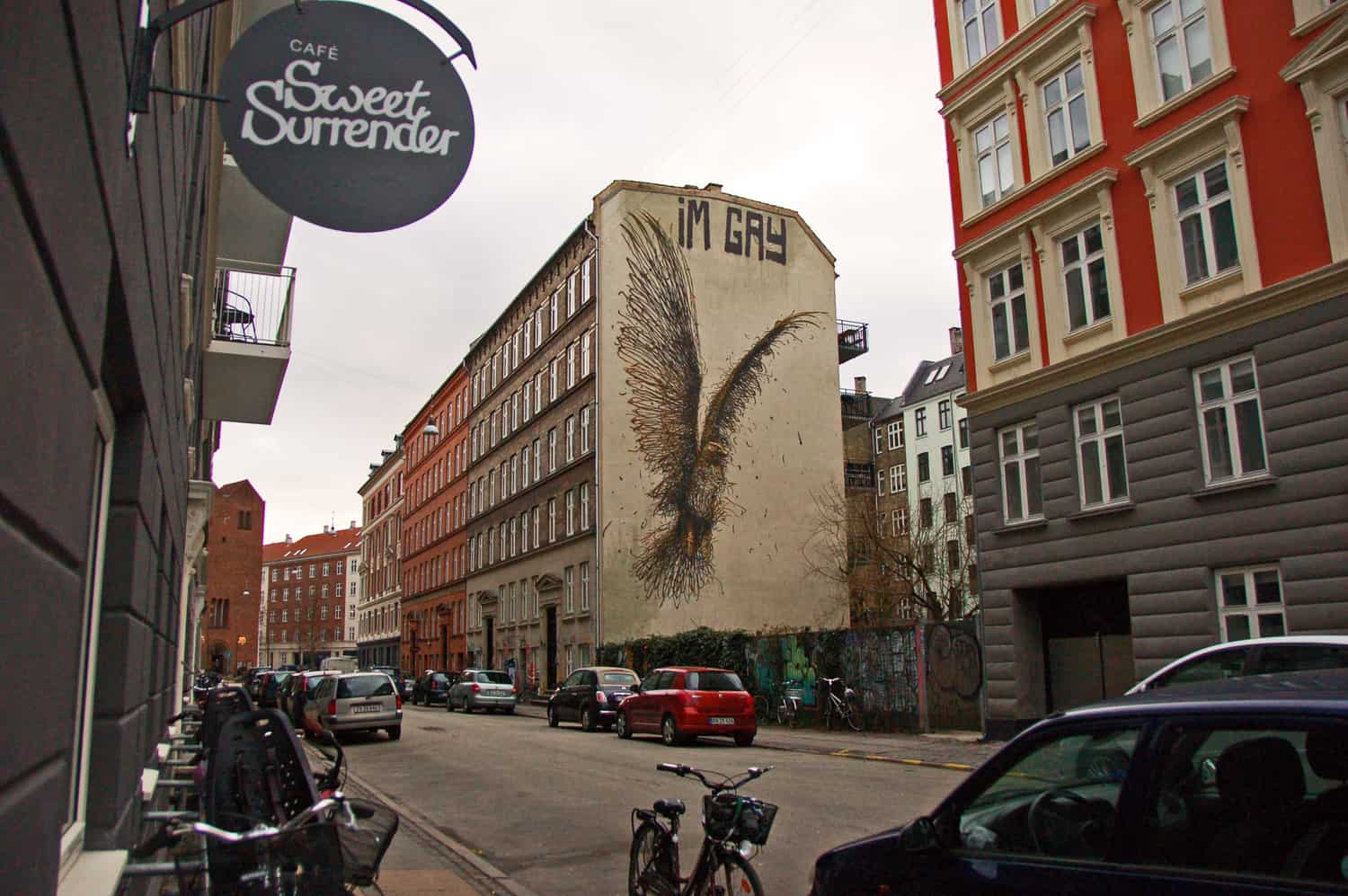 I found this on a quiet street with a (so far) unpronounceable name for me (Oehlenschlægersgade). This is a piece signed by renown Chinese-born artist DALeast. I am not sure, however, who is behind the candid disclosure that was added later on.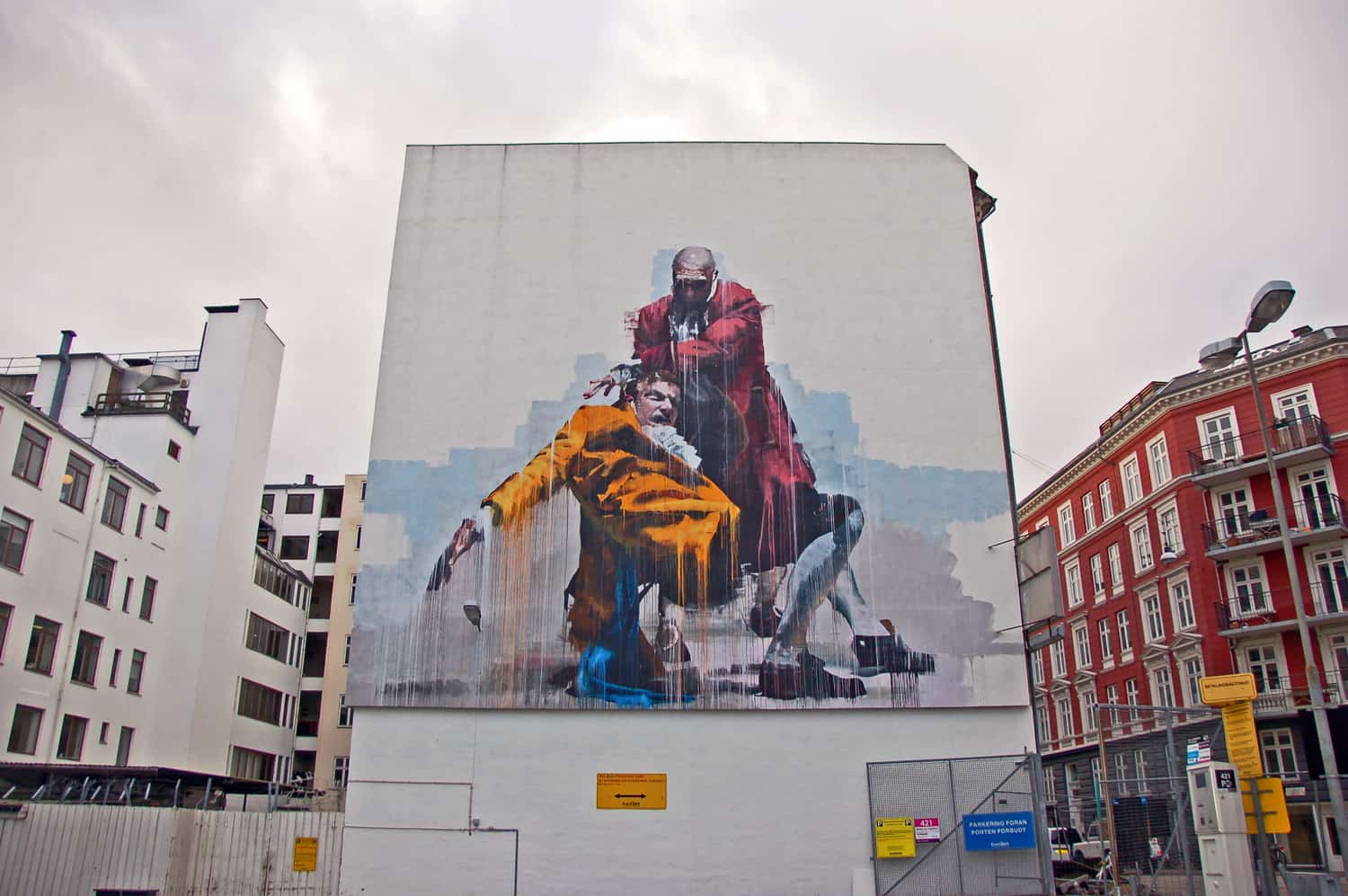 So far, this is my favourite mural in Copenhagen, discovered in a Føtex parking on Tullinsgade. I found out it was created, along with DALeast's bird and some other really impressive murals (including the next  one), as part of the 5th edition of the SURFACE project's show, last year. It is signed by Conor Harrington, who I'm pretty sure has a thing for Renaissance men fighting in one way or another, and he likes to convey the illusion of power. I just LOVE his vision and style.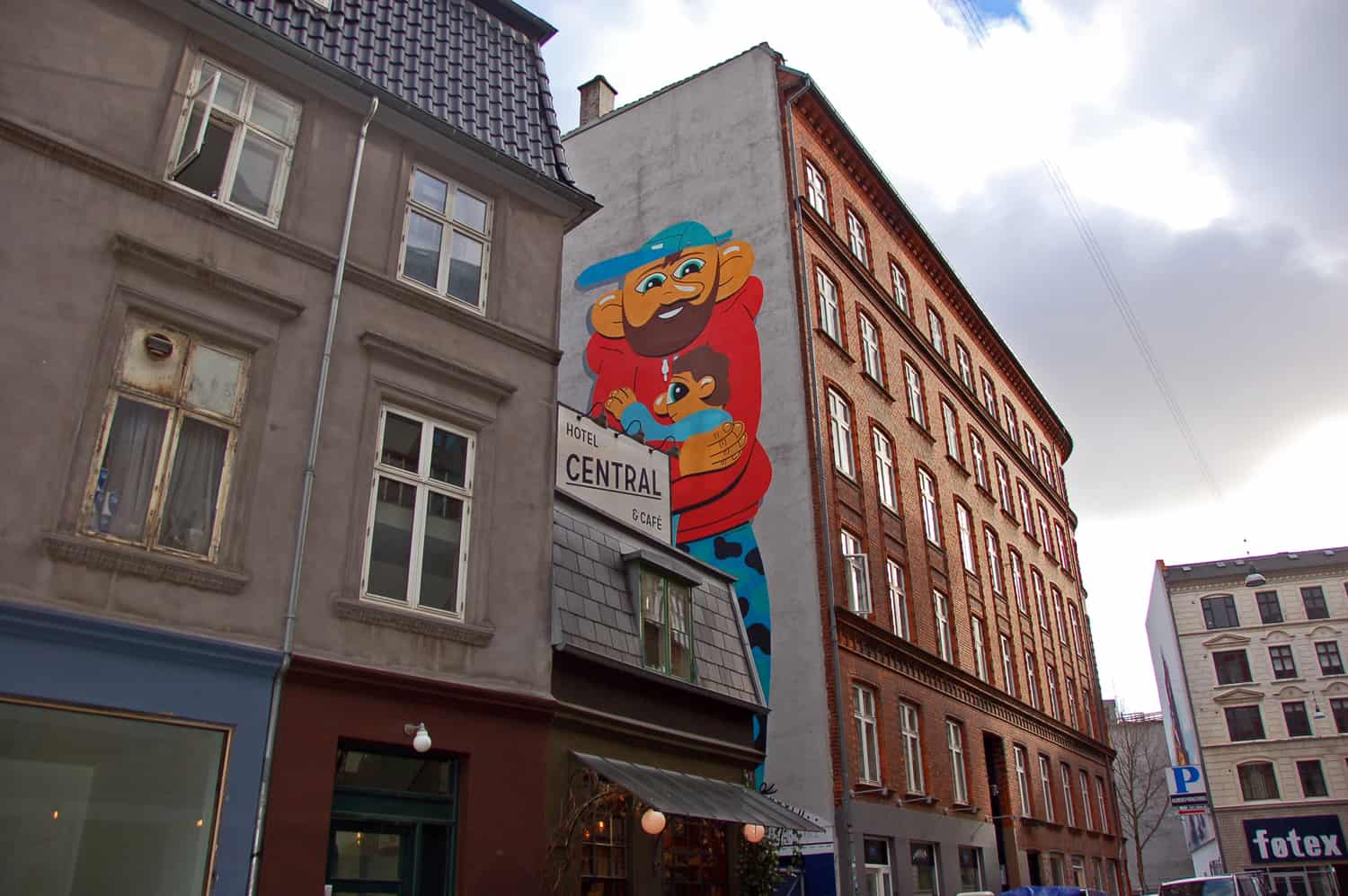 Very close to Conor Harrington's mural (you can actually see it in the background of the picture), you'll find another one, this time by Danish illustrator HuskMitNavn (which translates to 'remember my name'). It's just above the world's smallest, one-bedroom hotel, Central Hotel and recreates the Madonna and Child type of imagery for our hipster, shared-paternal-leave era.
If you ride by Griffenfeldsgade (cool street, by the way), you can't miss this colourful corner made up ofSolidaritetshuset's headquarters and a curious painting entitled "Kvindehavet" (roughly translated by my colleagues with 'Woman's ocean' or 'Female ocean'). Nowadays, the mural is partially covered by some tags, but in the initial version, signed by Mexican painter Gustavo Chávez, you could see the women bathing in said ocean.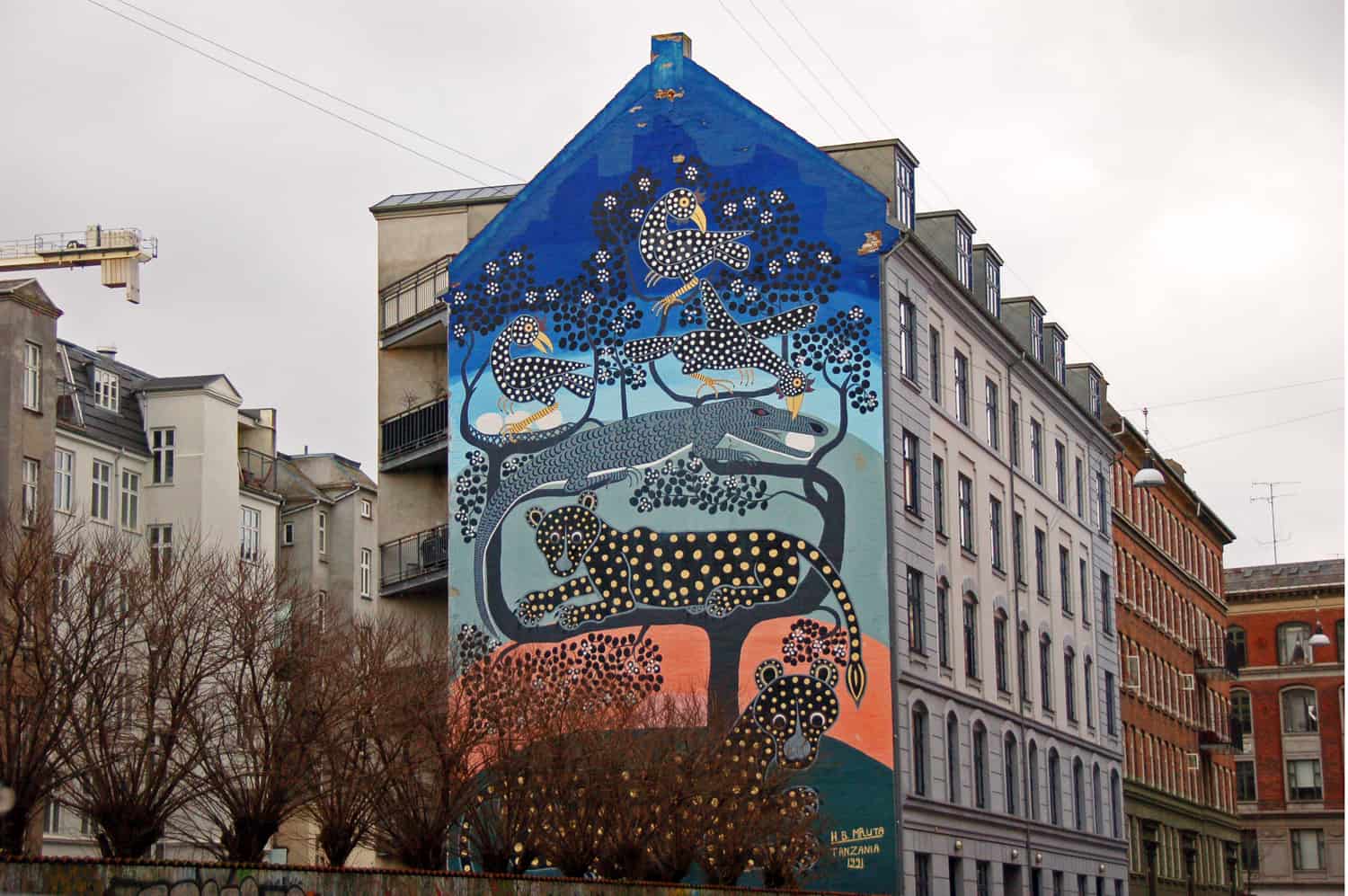 This is a piece by Hashim Bushiri Mruta, a representative of the Tingatinga painting style from Tanzania. He created this mural in 1991, as part of the Images of Africa Festival that took place in Copenhagen. It's been lightening up Sankelmarksgade ever since.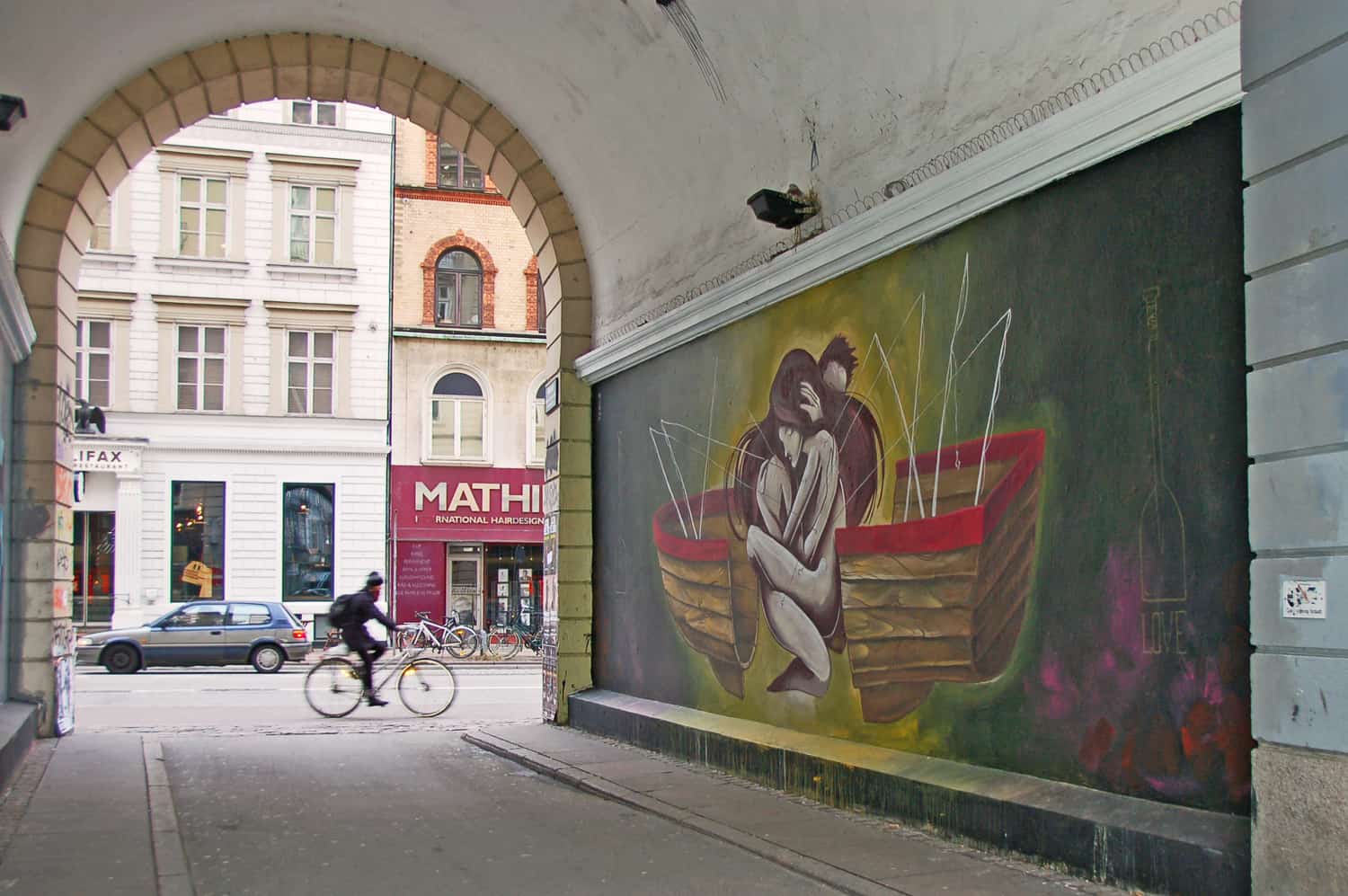 If you like this one, I guess you should hurry to go see it. As I discovered, this particular alleyway that takes you to the Westend area has developed over the years into an ever-changing gallery, with new artists covering its walls anew every once in a while. What you see in the photo was created by Malakkai somewhere around a month ago, so I'm assuming it won't stay this way much longer.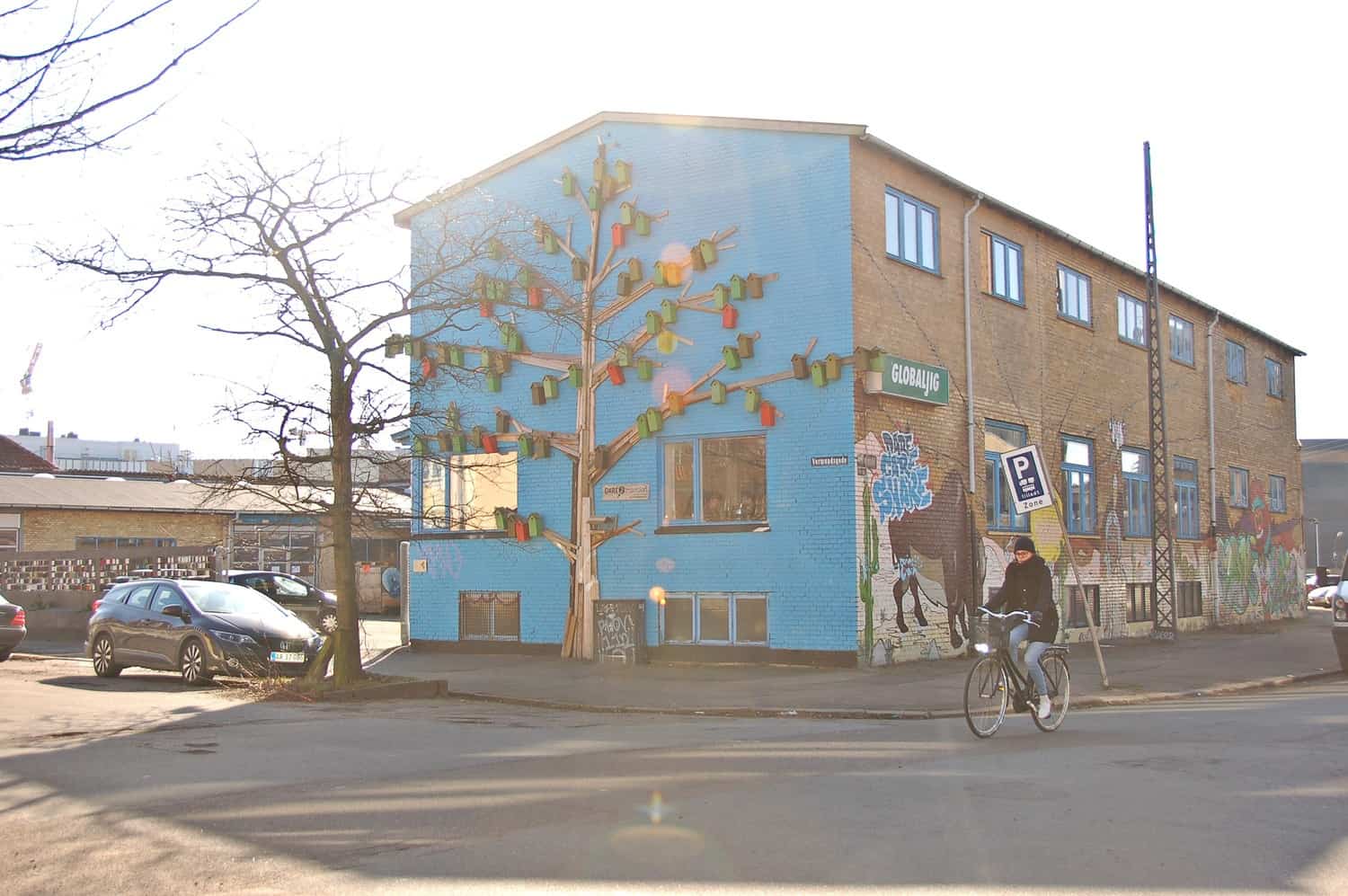 This one is particularly close to my heart and…my office. It's on the outside wall of Dare2Mansion on Vermundsgade, the co-working space that houses, among others, Donkey Republic and Thomas Dambo's workshop – the artist behind this birdhouse tree. It's part of a super-nice project of his, called Happy City Birds. You should deffo check his work out. Also, there's much more street art around here, but I'll leave that for a future episode (or your own personal discovery).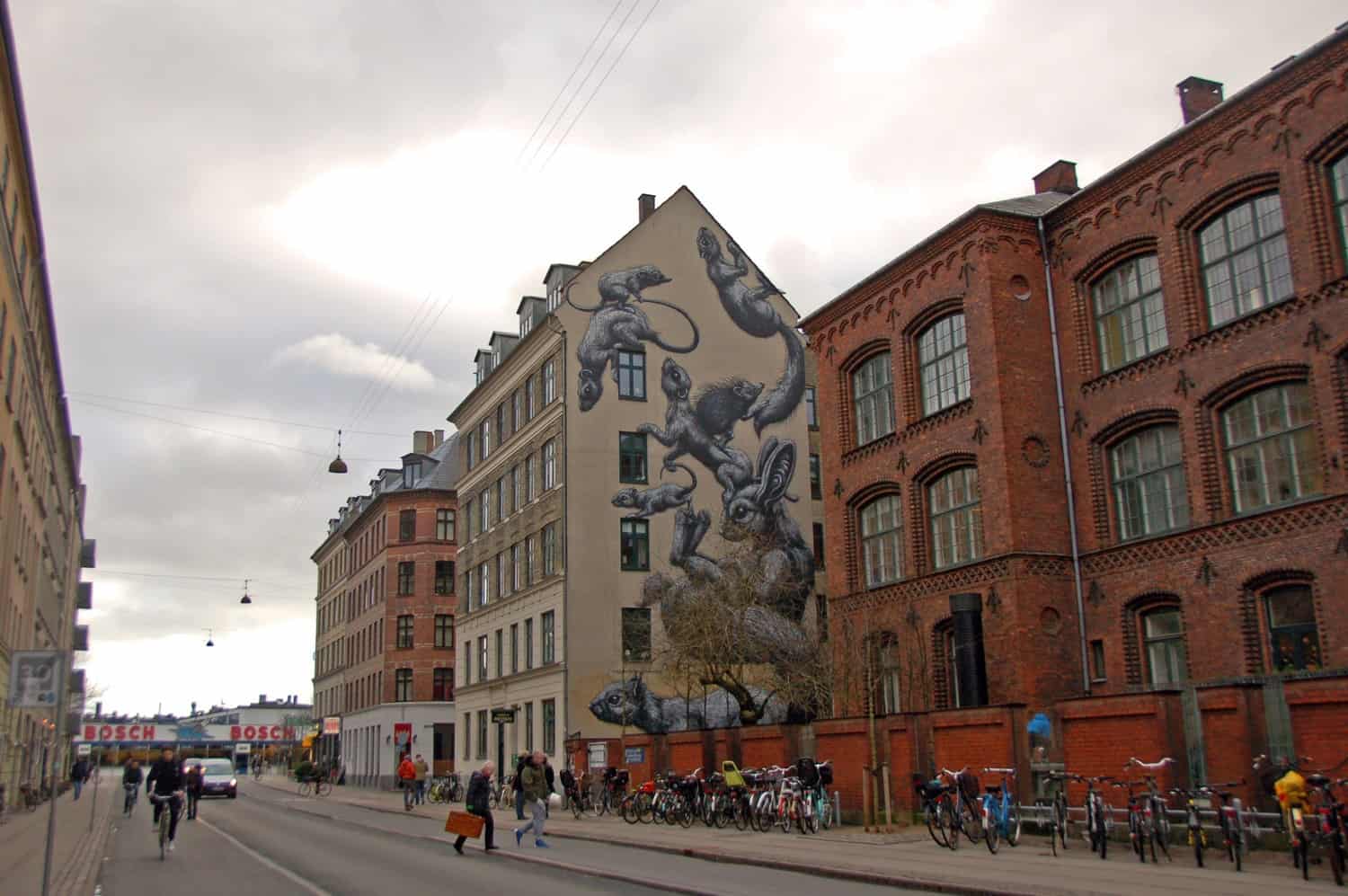 Another piece we can all enjoy by courtesy of Søren Solkær's SURFACE project, this is a representation ofROA's passion for rodents or, generally, for the underdogs in the circle of life. Interestingly enough, this mural sits right next to a school (was this on purpose?), which I find pretty…educational.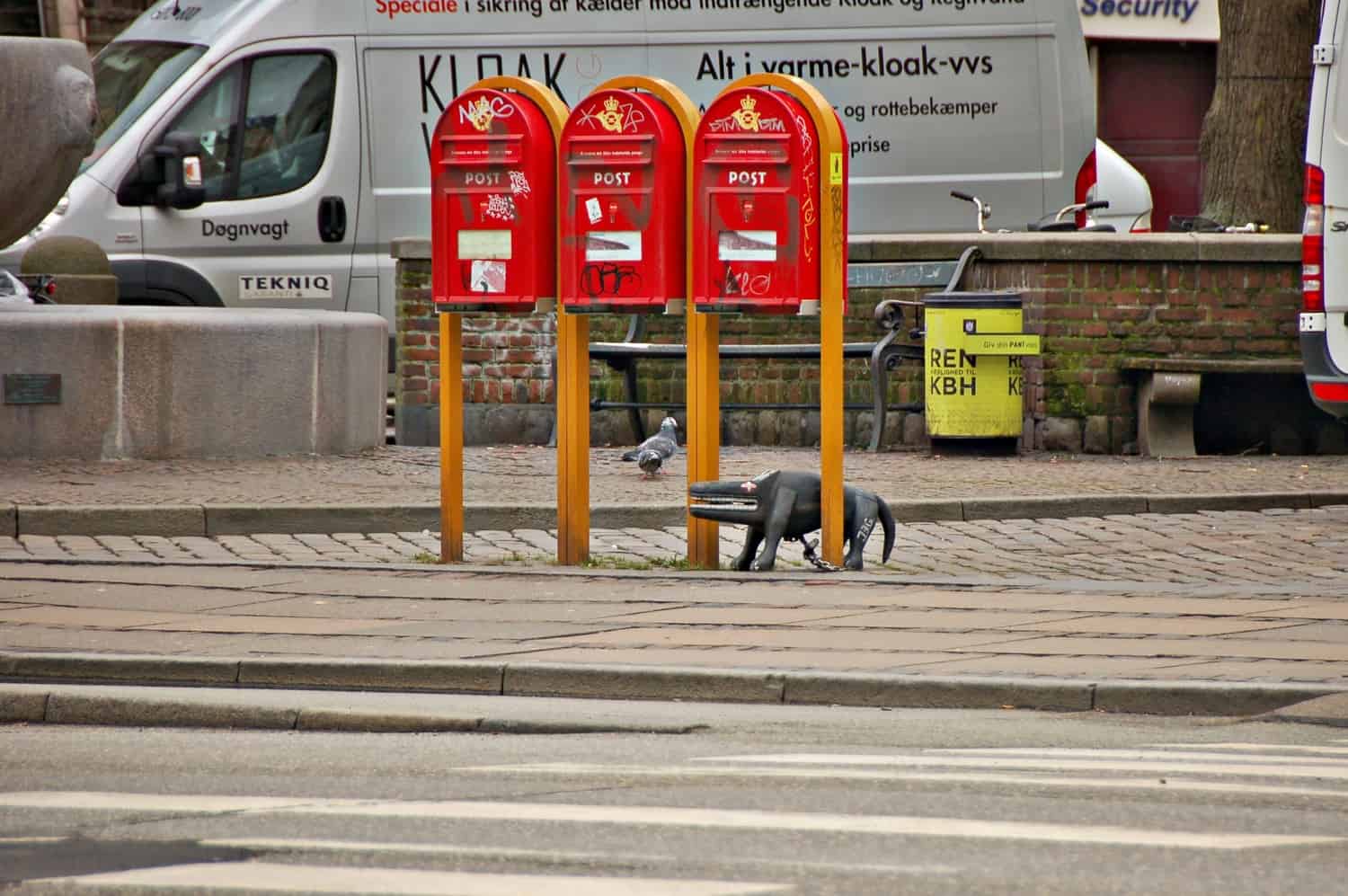 I have no idea what this is, but the little fellow guarding the postal boxes always makes me smile when I ride on Vesterbrogade, so I thought I should share the smile with you.
That's (not) all, folks! It's just the end of episode one in the street art series. I haven't given too many details on where the art pieces are because I want you to feel it as a personal discovery when you finally find them. What you need to know is that they can all be reached in a 2-3 hours bike ride, depending on how often you get lost and how clumsy you are on two wheels (I rate high in both categories).
Soooo until next time, I urge you to take your bike for a trot and explore some urban art. Hee-haw!