As the first capital in the world, Copenhagen plans to be carbon neutral by 2025. The city is most famous for its cycling culture but there is so much more to sustainability in the Danish capital both behind the scenes and on the surface. Modern architecture pieces and business innovations are planned with a green mindset while recycling and sustainability is part of the everyday life from a very young age.
Are you excited to explore some of the best green and sustainable spots in town? We teamed up with Green Bike Tours to give you a sneak peek of unique points in Copenhagen. Rent a Donkey Bike and discover the city's green side from the saddle.
We collected our 5 favourite places in Copenhagen you can easily reach by bike: see the map on the bottom
Top 5 sustainable spots in Copenhagen
Bike snake bridge – Cykelslangen
Close to Fisketorvet shopping mall – Kalvebod brygge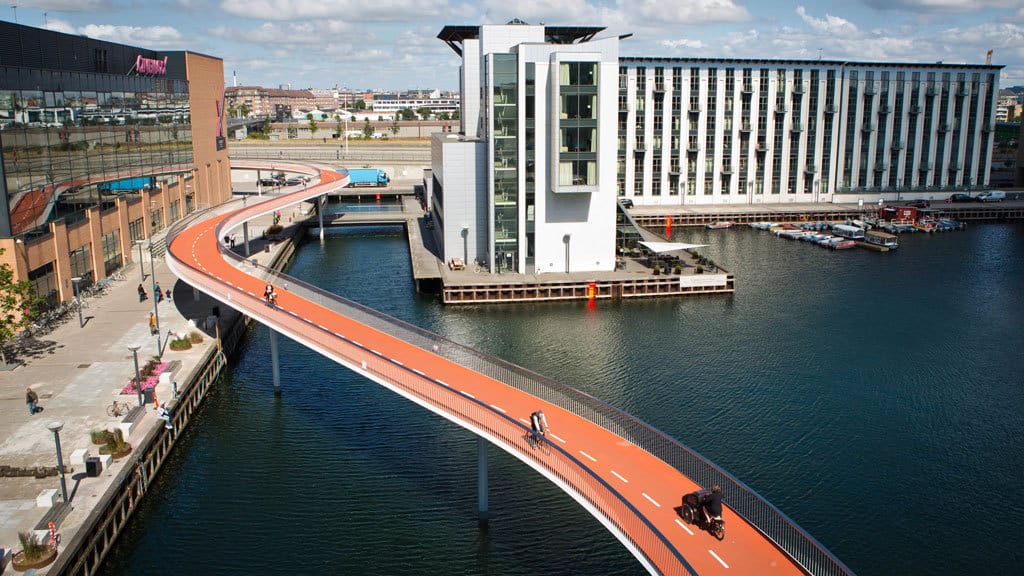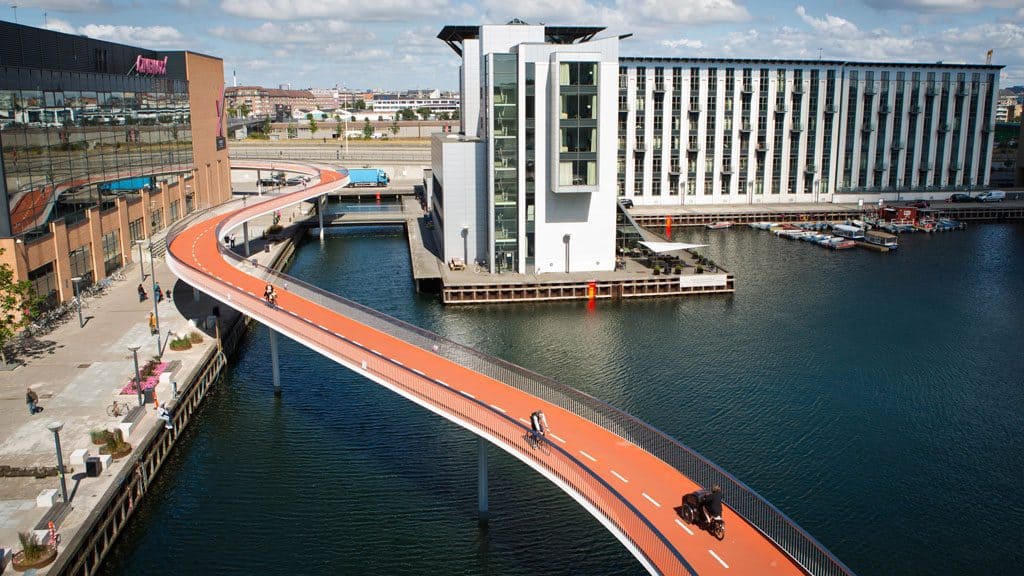 Most bridges in Copenhagen are so much fun to cross by bike. The Bicycle Snake is  one of our favourites, it gives you a great ride and view down to the harbour. It opened in 2014 and a research showed, in 2016 around 20.700 cyclists crossed it every day. For the best experience, take the roundabout at Fisketorvet shopping centre and head down towards the harbour on your bike.
Harbor pool at Islands brygge
Close to Langebro Bridge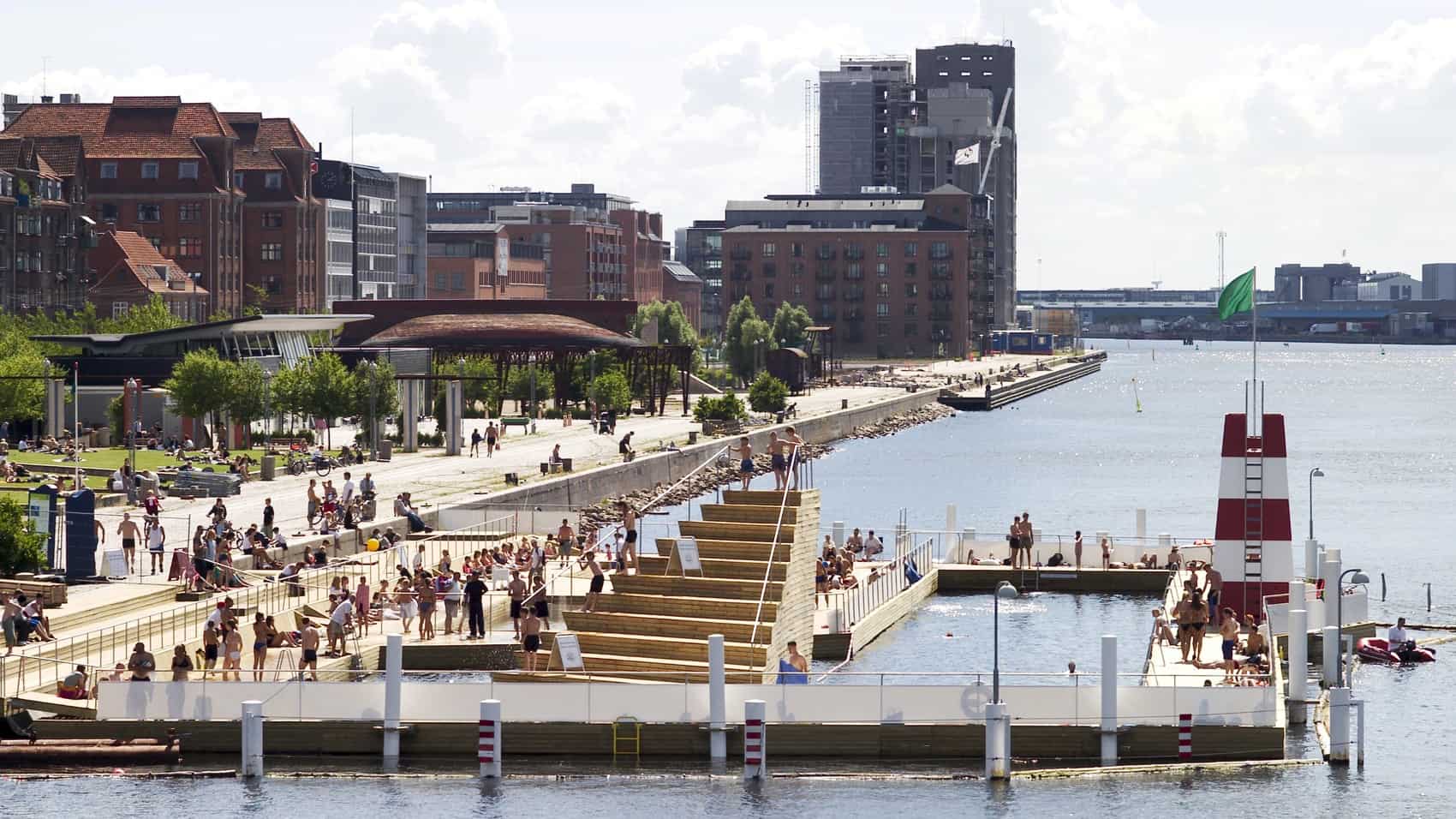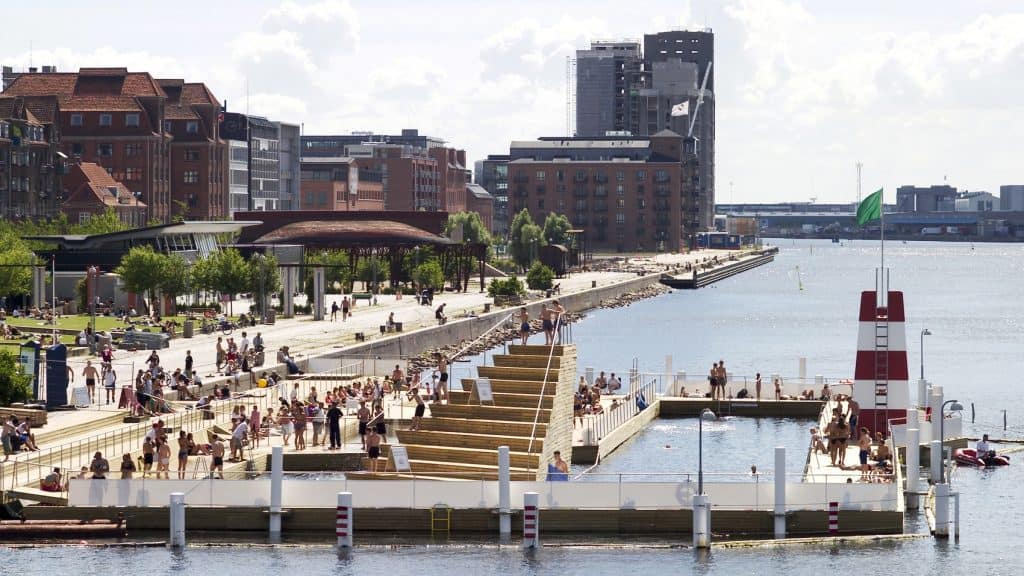 Once you crossed the harbour in Copenhagen on your bike you are on the right path to reach Islands Brygge and the Harbour Pool. Did you know that the water of the harbor in Copenhagen is as clean as the water in the sea?
Only 15 years ago the water was polluted to the extent that it posed a health risk. But as a result of a long-term effort by Copenhagen's municipality, today you can swim in the canal in the center of Copenhagen. What better showcases a green city than its citizens happily taking a dip in the water right in the central?
Copenhill or Amager Bakke – Is it a ski slope? Oh is it an incinerator?
Vindmøllevej 6, 2300 København – it can be seen from Langelinie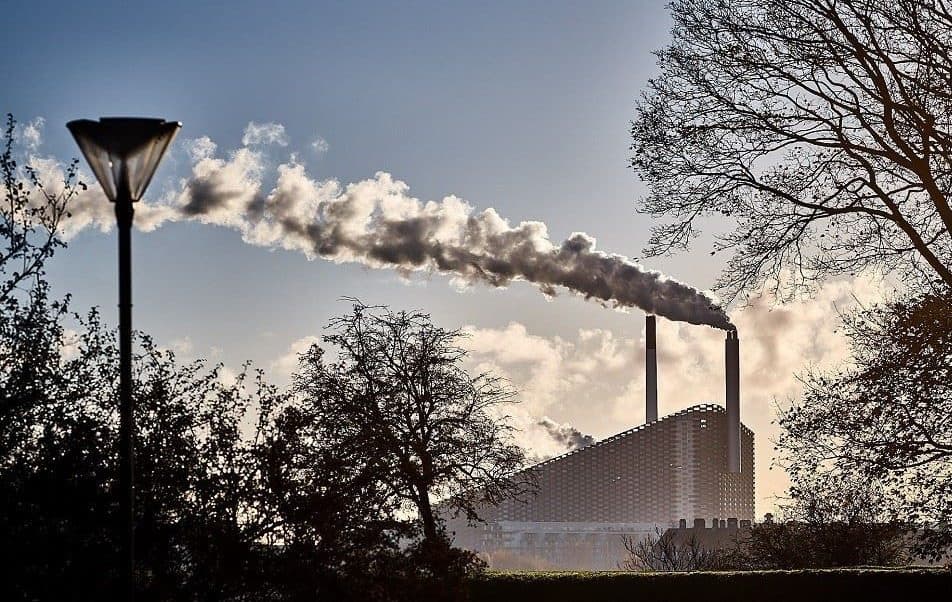 Amagerbakke or ARC is designed by Bjarke Ingels (BIG) and is everything a modern and sustainable city could build for a greener future. It's Copenhagen's highest point, with an artificial ski slope, a park, panoramic views and a climbing wall on the top. Inside it hides an incineration plant that already opened in 2017. Its two ovens burn 25-35 tonnes of waste per hour and 90% of the energy in the waste is transformed into high pressure steam that becomes district heating for the Copenhageners.
The green Lighthouse
Tagensvej 16, 2200 København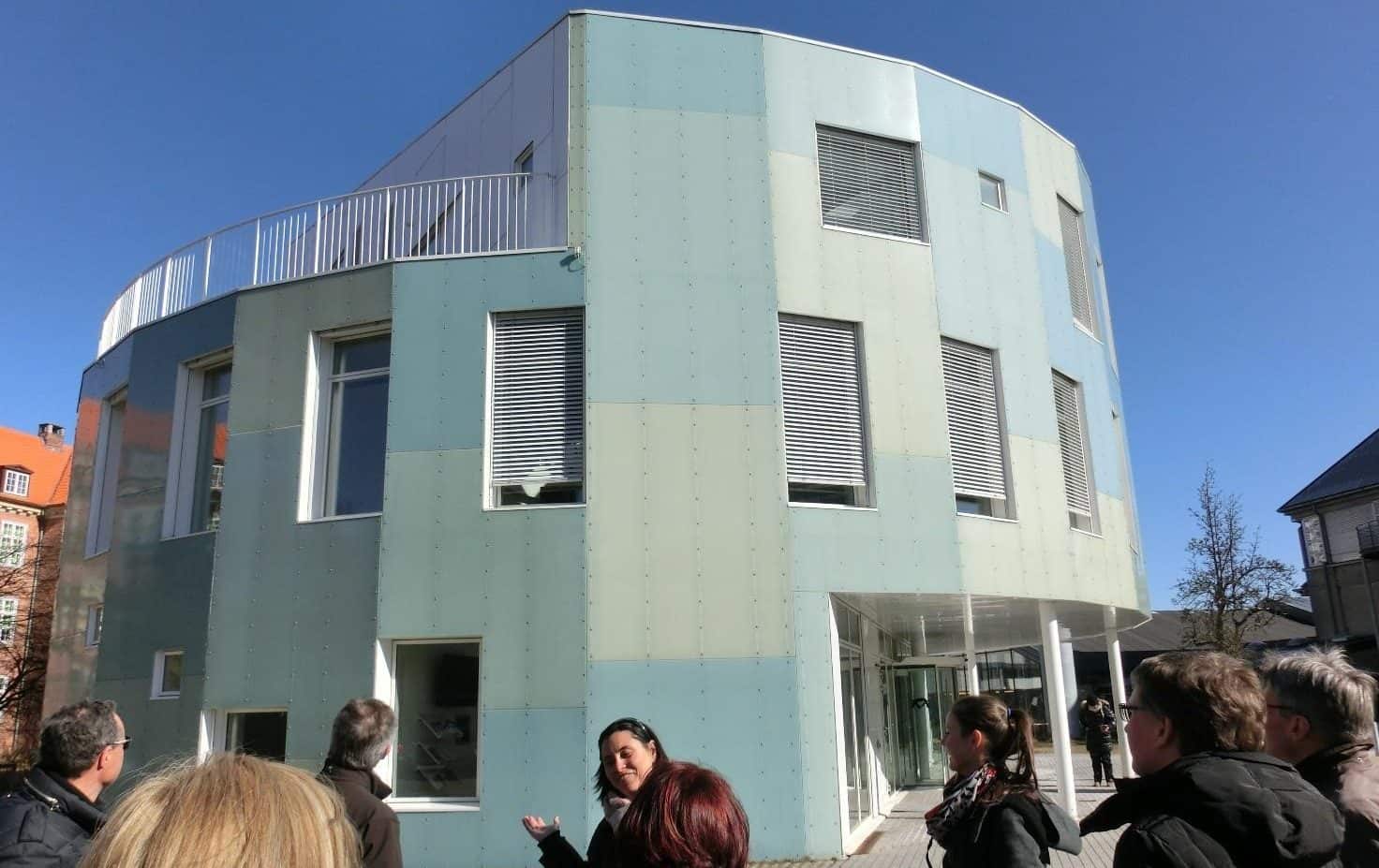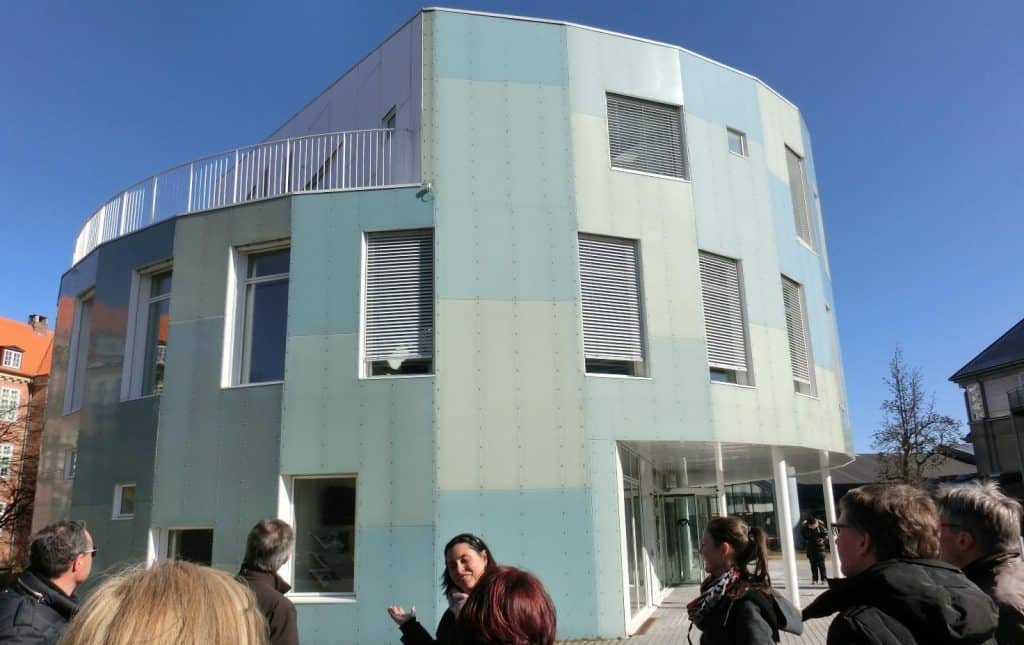 The first public carbon neutral building. The vision for Green Lighthouse was to build a sustainable house with the lowest possible CO2 emissions. Therefore, a number of initiatives have been taken to minimise energy consumption. Among other things, the walls and windows are highly insulated, the energy consumption is monitored by a computer and the cooling of the building is done with natural ventilation and concrete floors that absorb the heat.
Østergro – An urban farm and restaurant
Æbeløgade 4, på taget  2100 København Ø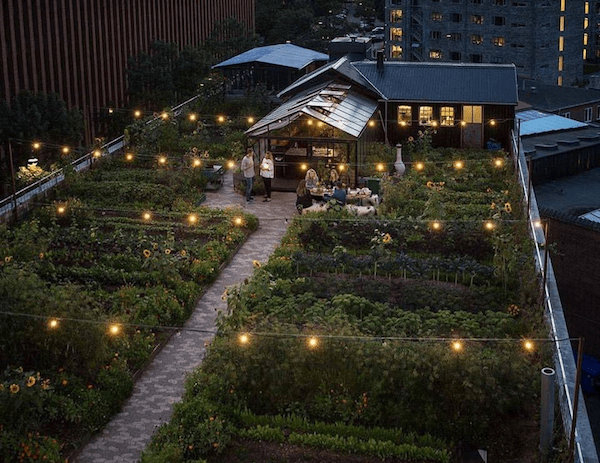 This 600m2 rooftop garden is a must to visit in Copenhagen. It was founded by three young Danes and today the urban farm is open for school and company visits, where visitors get an introduction to sustainable gardening and cooking. The rooftop is also home to Gro Spiseri, the farm's own restaurant where only organic and local ingredients are being used to put a family-style dinner on the table. If this didn't already blow your mind, the fairly-lit atmosphere on the rooftop definitely will. Booking a spot in advance is very much recommended!
Open this map on your phone, place it in the phone holder and off you go!
Cities – the big polluters
70% of all carbon emissions come from cities. As half the world's population will live in urban areas by 2030, the big cities are really a good place to start with if we want to create a greener and more sustainable future. Furthermore we don't only want sustainable cities but also liveable ones. For that cities will need to think green, rethink mobility solutions and act for more sustainable transportation too.
If you want to explore Copenhagen with fellow green minded people, you can join personal guided Green Bike Tours every Thursday and Saturday. The tour takes you to 11 different spots showing you the green aspiration of the city in areas like energy supply, greener transportation, building efficiency, education of citizens and adjustments to the weather of the future.
Rent your bike in Copenhagen with the Donkey Republic app and meet us at Gothersgade 148, in front of S. Andreas church.
Thursdays: 10AM-1PM
Saturdays: 2PM-5PM
You can book a spot on a green bike tour right here.