Sometimes you stumble upon a place that looks like it's been designed by Instagram themselves. Somewhere that's just a bit too cool for its own good. Plaça dels Àngels is one of those places. Students sip vermuts here to the soundtrack of skateboards clanging and the hollering that greets every perfected trick. Welcome to the epicentre of alternative Barcelona. Welcome to El Raval.   
The beauty of El Raval is that it's largely free of traffic, which, as we know, makes cycling much more enjoyable. It's just such a lovely part of the city to ride around!
Below you can find a nice little bike route for you to explore the alternative Barcelona of El Raval. But of course, feel free to take a few random side-streets and get a bit lost, too!
Open the map in your Google maps app
Leafy University streets
We're starting this route to the north of El Raval in the modernist blocks of Eixample. Pick up your bike at the junction of Gran Via de les Corts Catalanes and Carrer de Casanova, outside the H10 Casanova hotel. From here we're going to ride up a little street around the corner, called Passatge Valeri Serra. Ride to Carrer del Consell de Cent, where you can take a right and continue until you hit a lovely little tree-lined street called Carrer d'Enric Granados.
If you're hungry, this isn't a bad place to stop before you get back on the bike. It's a particularly good spot if you have a sweet tooth! Brunch and Cake does pretty much exactly what the name suggests, but really well. And over the street there's a great ice cream place called Dela Crem.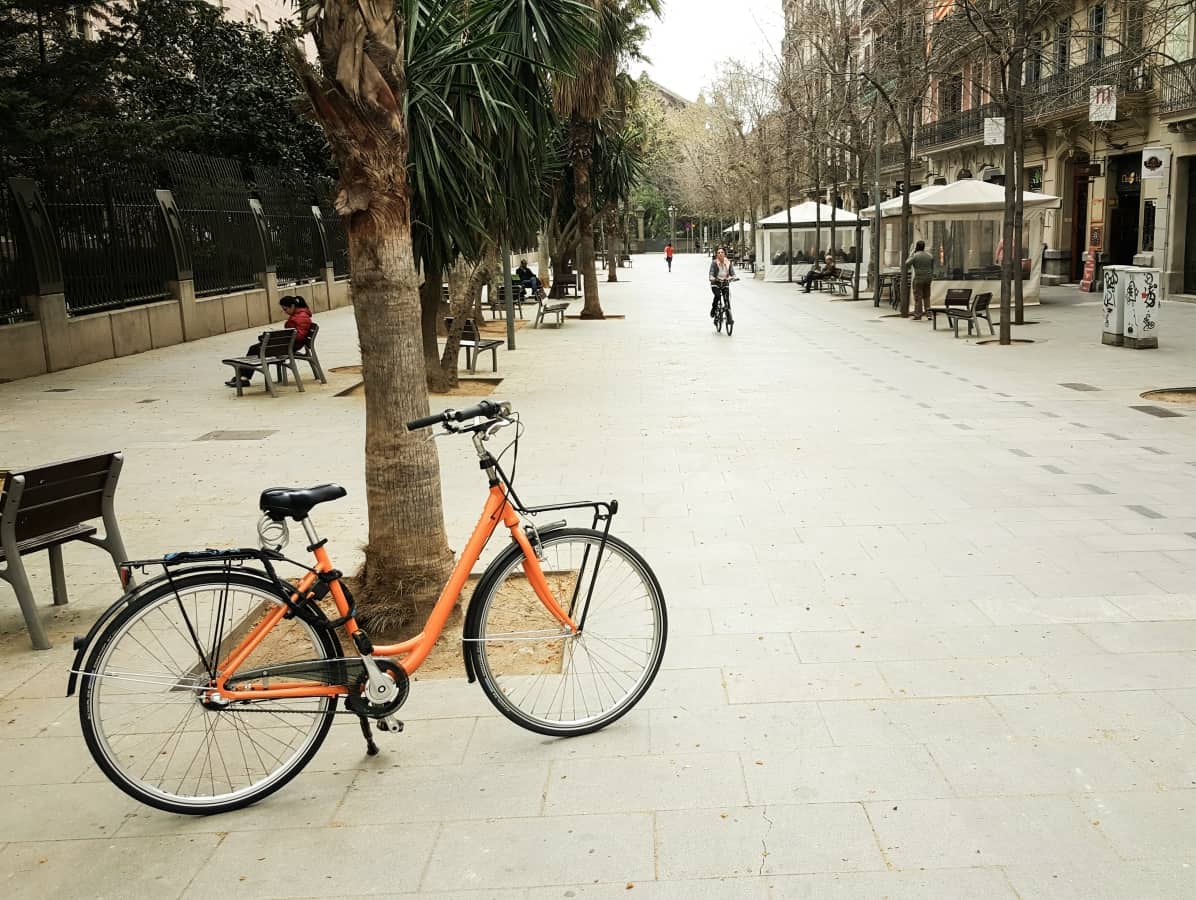 Carrer d'Enric Granados leads down to the leafy buildings of the University of Barcelona. Cycle down towards them and then take a right onto Carrer de la Diputació. Then take a left onto Carrer de Muntaner toward one of the main arteries of El Raval – Carrer de Joaquín Costa.
Embracing the alternative Barcelona
As soon as you enter the narrow, winding streets of El Raval, you notice the vibe is different. One of the lungs of the ancient part of Barcelona, it isn't quite as shiny as El Born or the Gothic Quarter. There's a grittiness to El Raval that hints at its past.
To many locals, El Raval will always be known by its old name – El Barrio Chino. This name reflects the fact that it's often been a neighbourhood of immigrants. And this is still true today. El Raval is the most multicultural part of the city, where you're likely to hear many different languages spoken.
You'll pass shops selling exotic spices and clothes, and little Middle Eastern cafes with baklava in the window.
In the last 30 years El Raval has undergone a lot of change. The barrio is more gentrified now. Before it was a bit of a no-go area. El Raval used to mean drugs and crime. But it was also somewhere that knew how to have a good time.
Many of the old industrial buildings in the area were converted into music halls and bars at the start of the 20th century. El Raval has always represented the alternative Barcelona. The place people knew they should avoid but couldn't resist going to. There's just something about it that has always drawn people in.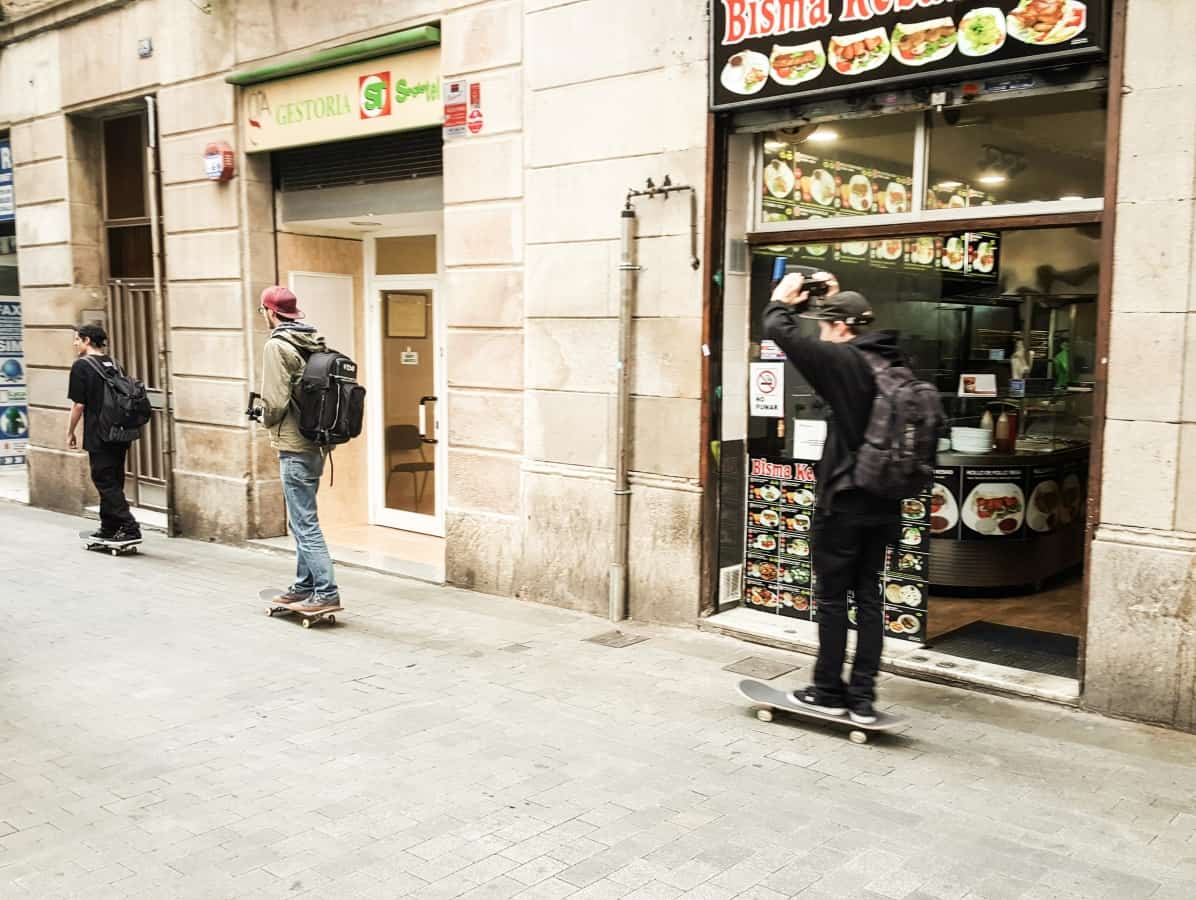 Skateboards and sculptures
As you ride down Carrer de Joaquín Costa, you'll see some of the barrio's famous bars that still mark a starting point for a lot of nights out. Places like Betty Ford's and Bar Piscis.
Follow the skateboarders past these bars and take a left onto Carrer de Ferlandina. You'll arrive at the skateboard mecca that is Plaça dels Àngels. Behind the skateboarders and the photographers documenting their moves is the giant, white Museum of Contemporary Art. It was opened in 1995 and is the main symbol of the transformation from the slightly dodgy Barrio Chino into the hip, new El Raval you see today.
The museum has different temporary exhibitions and a number of permanent ones, too. Entry is €10 or €8 for students. But remember – it's closed on Tuesdays. The bookshop attached to the gallery also has some interesting, alternative gift ideas to take back home if you're looking for something a bit different!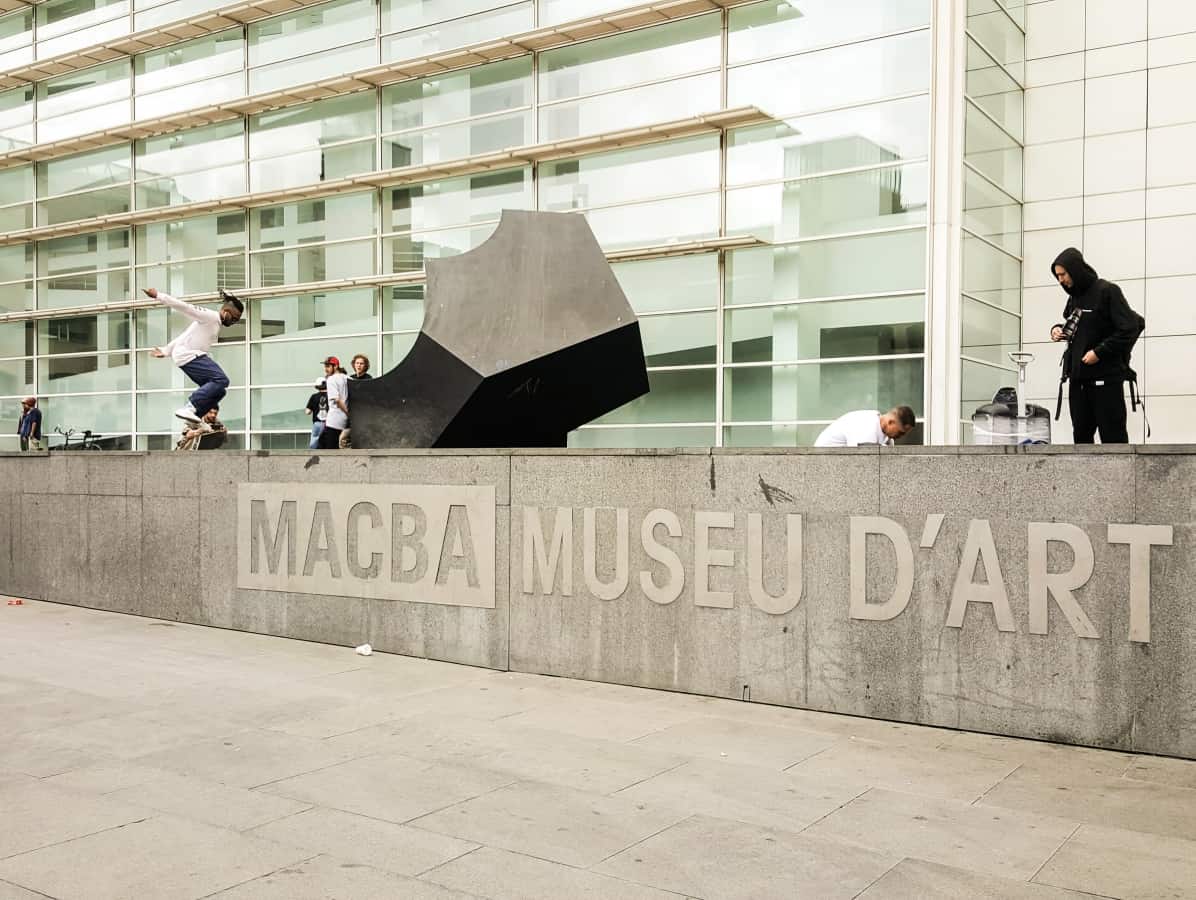 Orange trees and tapas
Ride a bit further down Carrer de Joaquín Costa, admiring the local street art as you go, and then take a left onto Carrer Del Carme. On your right you'll see a little passageway called Passatge de L'Hospital. If you want to explore a slightly different side to El Raval, then definitely check out the Jardins de Rubió i Lluch beyond. A courtyard full of orange trees with little tropical birds hopping from branch to branch, it's one of the most peaceful spots in the city.
The end of Carrer Del Carme is a bit less peaceful. La Rambla is probably the most famous street in the city, and for that reason it's often packed with tourists. But as you emerge onto La Rambla after Carrer Del Carme, you're right next to the world famous La Boqueria Market. Like La Rambla itself, it can be packed with tourists, but a lot of them tend to hover around the entrance. The further in you get, the less touristy it is!

Once you've picked up a bit of tapas in La Boqueria, hop back on the bike…

What? You want to eat something sweet first? Ok, ok. Back up a bit – just around the corner at the end of Carrer Del Carme there's a place called Chök. Yes, that's short for chocolate. And yes, those are doughnuts in the window. Enjoy!

Rambla de Raval
Ok, now you can get back on the bike. Ride all the way down La Rambla and then take a right at the bottom and ride up Avinguda de les Drassanes until you reach Rambla de Raval.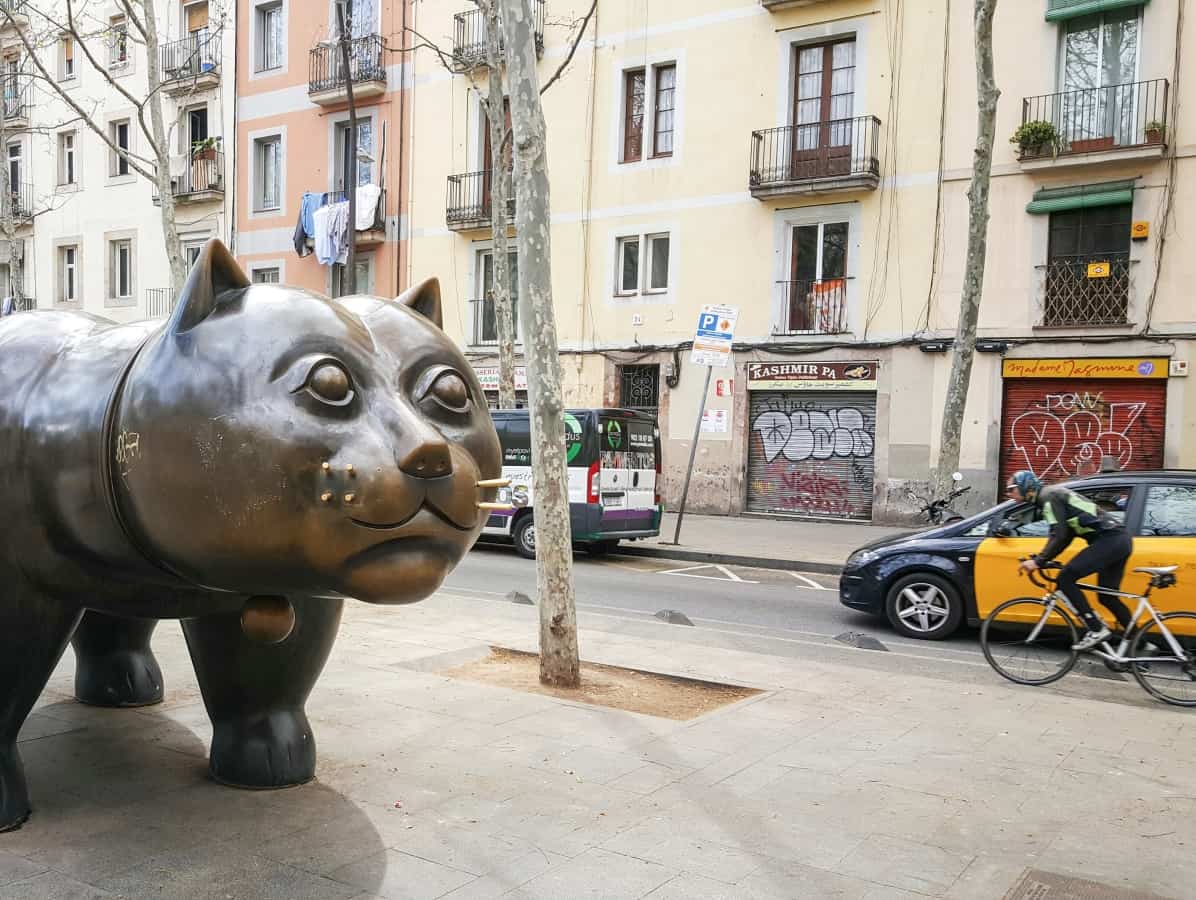 This street is one of the great meeting places in the city. Friends converge on the central part of the street at weekends, to drink a beer or a vermut at one of the tables that spill out from the bars at the side of the road. Others come to admire Fernando Botero's cat sculpture (above).
El Raval's reputation as the alternative Barcelona destination is further enhanced at Filmoteca de Catalunya, just off Rambla de Raval. It's a great little space that shows independent films including many you'd struggle to find at your typical cinema.
At the top of Rambla de Raval, swing a left onto Carrer de L'Hospital until you arrive at San Antoni market. This impressive-looking structure is currently being renovated, but there is still a market here in the semi-permanent replacement to your right. This is also the location for a brilliantly quirky second-hand book market every Sunday from 9am to 2.30pm.
From here, you can ride around the market to Carrer del Parlament, which we explored in my last Barcelona bike tour, and then back up to where you picked up the bike earlier. On your way, why not stop off at Fàbrica Moritz? Moritz is a beer brand in Barcelona, and as well as a big bar that also serves food, there's a beer shop there, too.
Well, I hope you've enjoyed exploring the alternative Barcelona of El Raval! Next time we'll be riding through the medieval Barcelona of El Born and the Gothic Quarter.
Other Barcelona barrios I covered previously are Gràcia to Sarrià and El Poble-sec to El Poblenou.
---
All photos taken by Tom Cross.