The beaches in Barcelona are a big draw. There aren't many cities in Europe that have such a nice climate and a beach within walking distance of the city centre. It's one of the reasons so many tourists flock to the city in the spring and summer.
In the second in our series of bike routes between Barcelona barrios, we're heading to the sea. With a gentle breeze in your face and the smell of the sea and paella! From El Poble-sec to El Poblenou. So let's go!
These days, lots of tourists think of the beach when they think about Barcelona. But the truth is that these sandy escapes are a relatively new introduction to the city. The beaches in Barcelona didn't actually exist before the 1992 Olympics. At least not as we see them now. The sea meant industry – it's where the factories and warehouses were. The closer to the sea, the easier it was to trade. This industry has gone now, but as you cycle along the coast, you'll find barrios that still show signs of a humbler past.
The map below shows the route we are going to follow. You can also open this bike route in your Google maps mobile app.
Pinxtos in El Poble-sec
Before we get on the bike and head to the sea, let's explore an area that's famous for both its entertainment options and its food. After all, you might need to grab a bite for energy before you set off on the ride!
El Poble-sec has always been a place where people go to be entertained. Just off Avinguda del Paraŀlel, you'll find a range of theatres, as well as the famous music venue, Sala Apolo. But people also go to El Poble-sec to eat. The barrio has a thriving tapas culture, and a street that's pretty much dedicated to pinxtos! These delicious little snacks are native to the Basque Country in Northern Spain, but as you walk down Carrer de Blai, you'll feel like you could be in Bilbao or San Sebastian. You'll pay around €2 per pinxto. Do as the locals do and hop between a few different places.
On the other side of Avinguda del Paraŀlel there's a lovely little street called Carrer del Parlament. It's full of cute  cafes, bodegas and restaurants. It's the kind of place where people spill out onto the street when it's warm, regardless of whether the place has a terrace or not.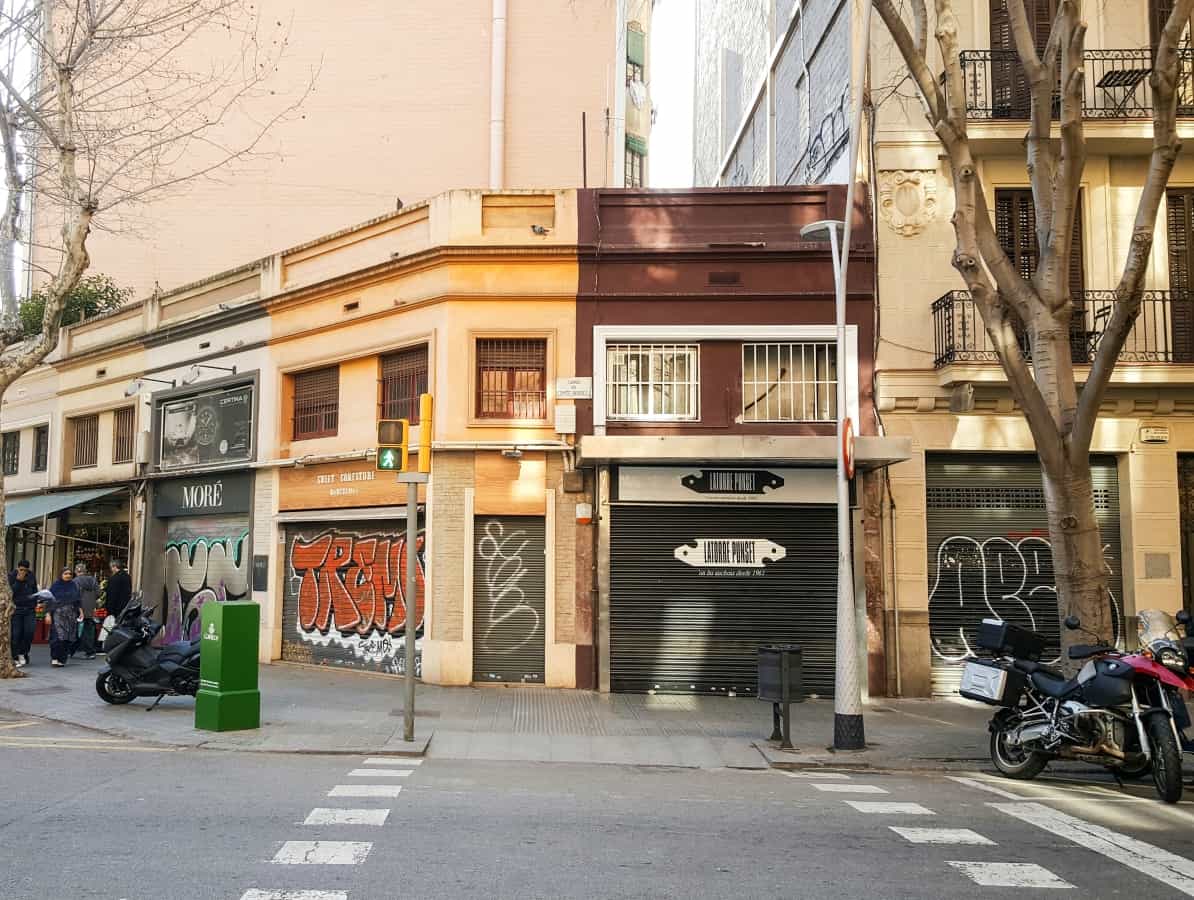 If you're a real foodie but missed out on eating at legendary Catalan restaurant elBulli, then you might want to check out Tickets – Ferran Adrià's Barcelona restaurant. More relaxed and affordable than elBulli, you can find it a bit further up Avinguda del Paraŀlel.  
The taste of the sea – La Barceloneta
After exploring El Poble-sec, it's time to hop on the bike! You can pick it up at the corner of Carrer d'Aldana and Ronda de Sant Pau. From there, make your way down to Avinguda del Paraŀlel. This is a busy street, but there's a bike lane in the middle of it. Take a left and ride down towards the sea. At the bottom you'll see the statue of Columbus over to your left and a scary-looking roundabout in front of you! But fear not. It too has a bike lane!
Head to the pedestrianised Moll de les Drassanes which runs alongside the Port of Barcelona building and the tourists hiring boats at Las Golondrinas. You can cycle from here all the way up to the Museu d'Història de Catalunya, past the yachts on your right.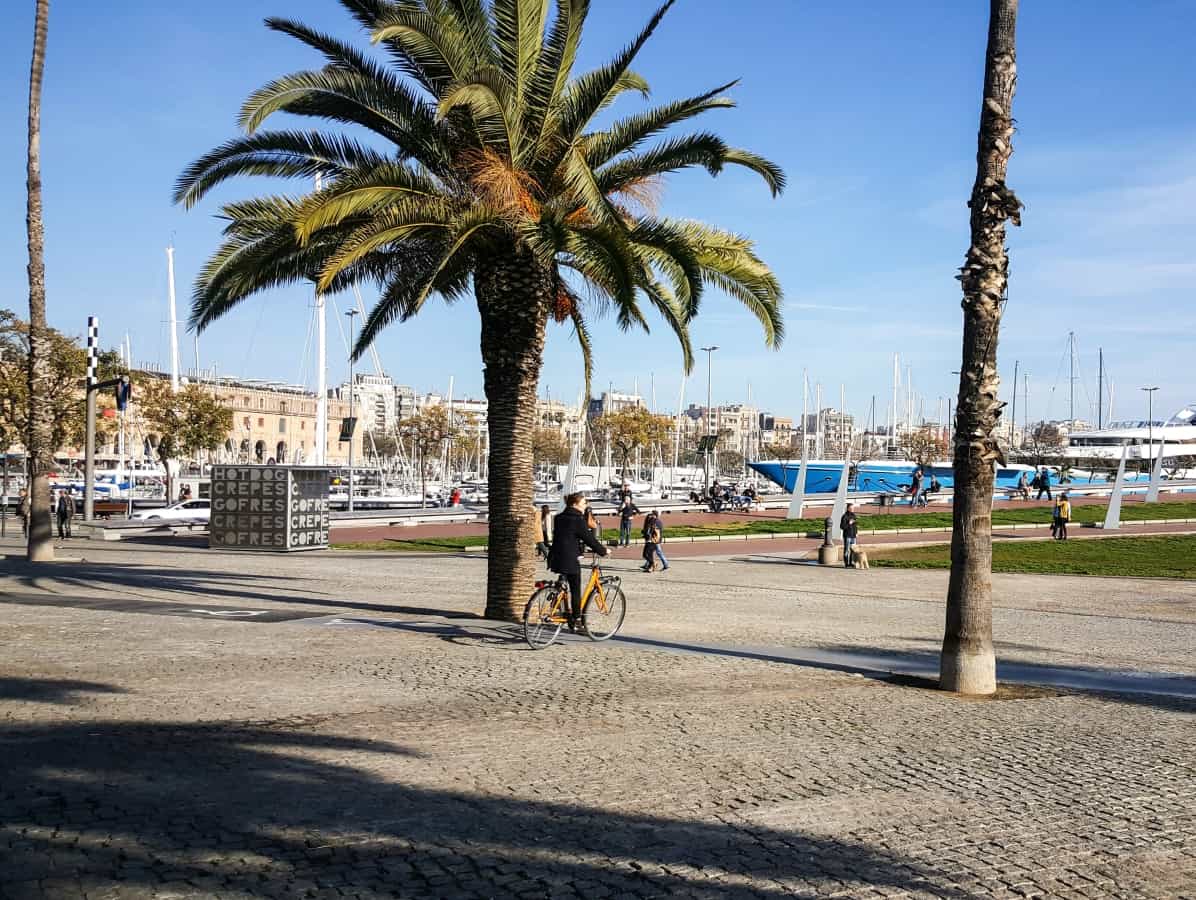 The area just beyond the museum is La Barceloneta. When most people think of the beaches in Barcelona, this is the where they think of. But for older residents of the city it conjures up a different image. This was a working class area where the fishermen lived and worked. You can still get a sense of what it might have been like as you walk or cycle its narrow streets. Streets like Carrer dels Pescadors (Fishermen street), Carrer del Mar (Sea street) and Carrer de la Sal (Salt street). Well, it is by the sea after all!
This is also a pretty amazing barrio for food. It's where the locals come for a paella. And you know that if a place is full of locals, that has to be a good sign. If you feel like locking up the bike for a bit, there are worse places to stop and refuel.
You're spoilt for choice for great food in La Barceloneta. Maians is a local favourite, but if you want to sit outside, check out Kaiku or Rias Do Miño. Then there's Pez Vela further down near the big, curved W Hotel.  
One minute from Maians, on the corner of Plaça del Poeta Boscà is Bar Electricitat. This is a La Barceloneta institution. It's more of a tapas bar than a restaurant, and can be a bit stressful when it's busy, with waiters balancing ten plates on their arm and telling you to move. But it can also look a bit like this if you wander in at the right time. Maybe come back here when you don't have to ride the bike back home afterwards!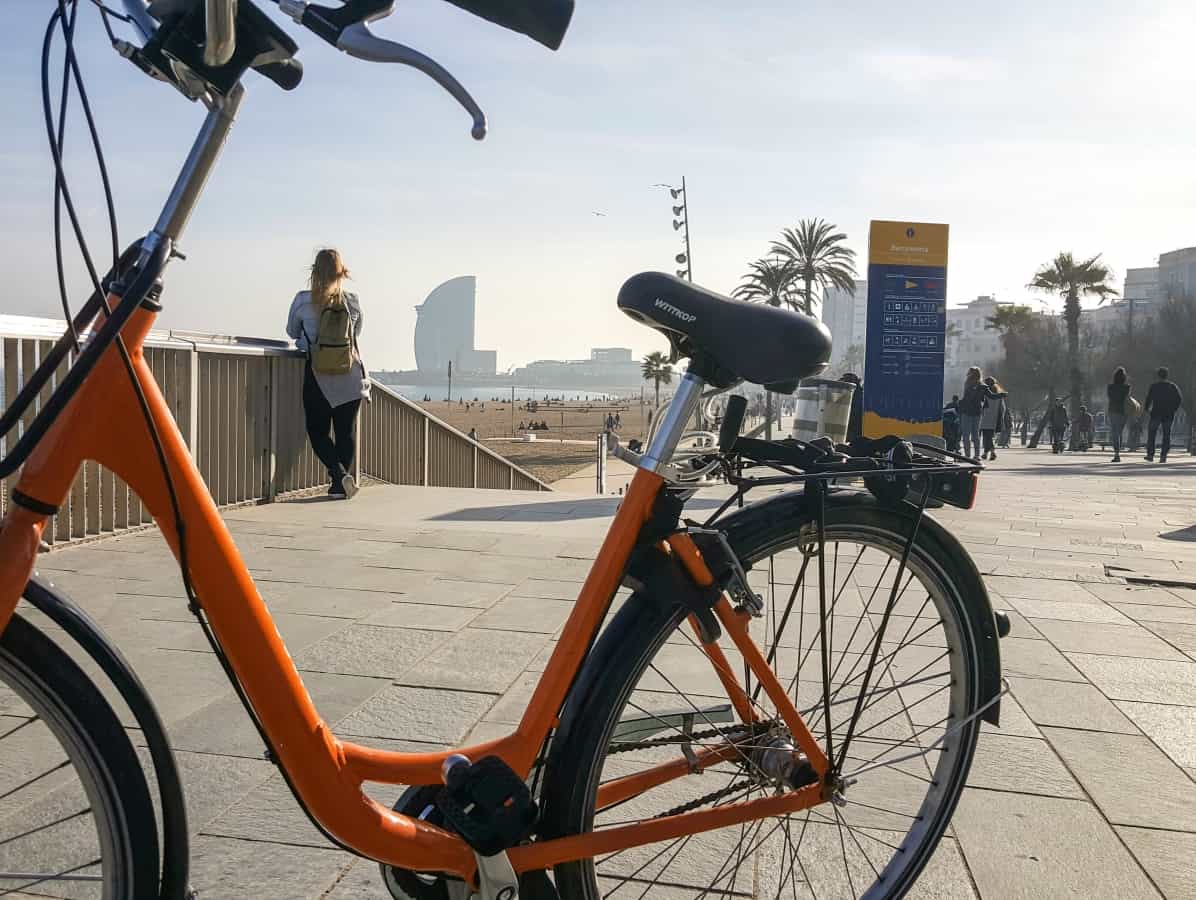 Biking alongside the beaches in Barcelona
As you emerge out of the narrow streets of La Barceloneta, you'll be hit with a warm breeze and a view that never fails to make you smile: the shiny Mediterranean. La Barceloneta is the most famous of all the beaches in Barcelona. But be warned – it's also the busiest. Especially in the summer.
If you hop back on the bike, you can follow the cycle route of Passeig Marítim all the way up to El Poblenou, past some of the lesser known beaches in Barcelona. It's a pretty nice feeling to ride along a path without worrying about cars, and with the Mediterranean right there over your shoulder. Just a stone's throw away.
The first beaches you hit after La Barceloneta are Nova Icaria and Bogatell. You'll find that these two are bit quieter than La Barceloneta beach. You're more likely to find local families chilling out there. But there are plenty of restaurants around and the odd Chiringuito (beach bar), too.   
When you get to the end of Bogatell beach, you want to take a left through the little park on your left and up to the bottom of Rambla de Poblenou. If you're not ready to say goodbye to the beach just yet, you can continue along the path, past Mar Bella beach up to Parc del Fòrum, before turning back.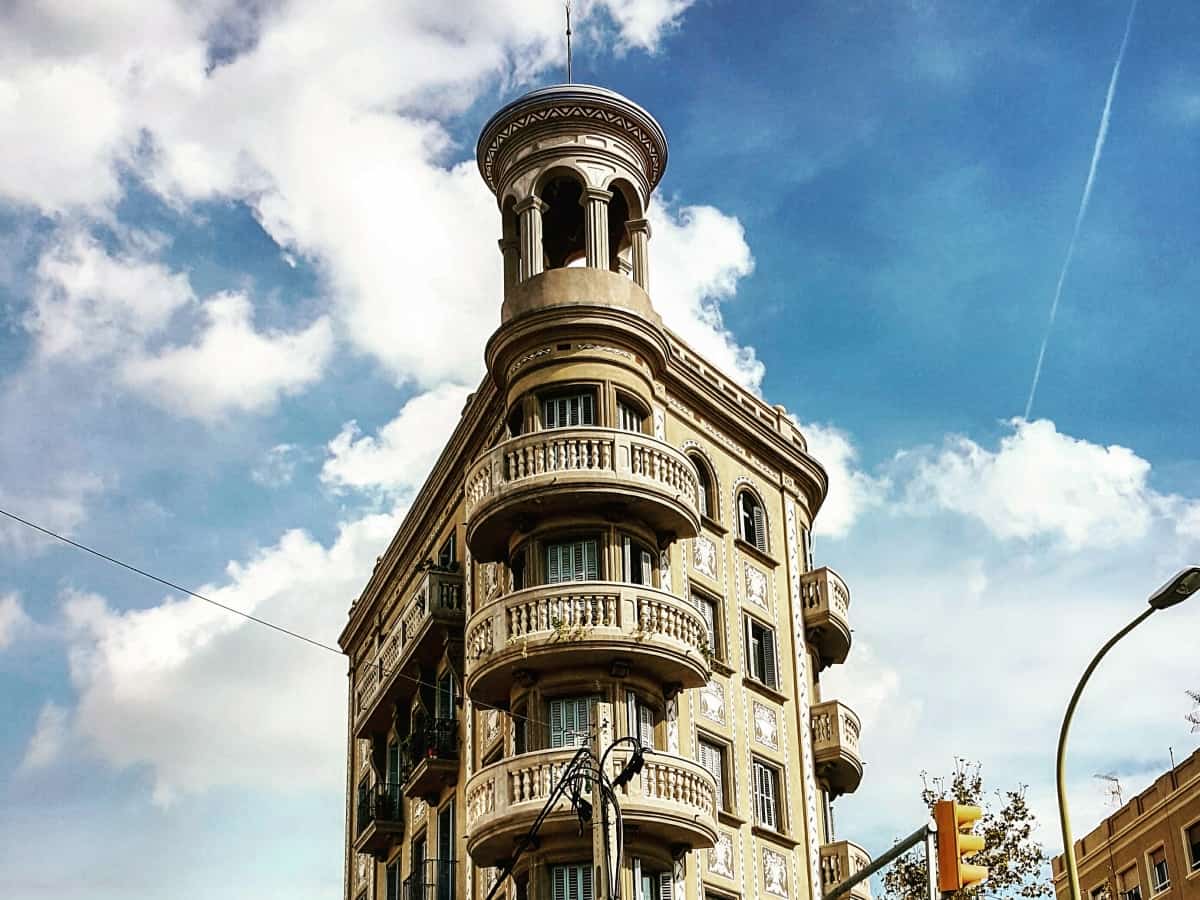 Retro vibes in El Poblenou
El Poblenou used to be a pretty industrial area in the 19th century. So much so that it was once known as the 'Manchester of Catalonia'. Apart from the odd chimney dotting the landscape, you might be hard pressed to believe it these days. The warehouses that remain are now more likely to house a tech startup or design agency. But the truth is that this was a fairly down-at-heel area until the renovations that came with the 1992 Olympics.
That was then. This is now. Like Gràcia on the other side of the city, El Poblenou has gained a reputation as a cool place to be. It's a pretty desirable place to live, for one. After all, who wouldn't want a beach at the bottom of their street?
Its current hip reputation is well and truly on display at Palo Alto Market. Held on the first weekend of every month, it combines street food stalls with live music, markets and design spaces.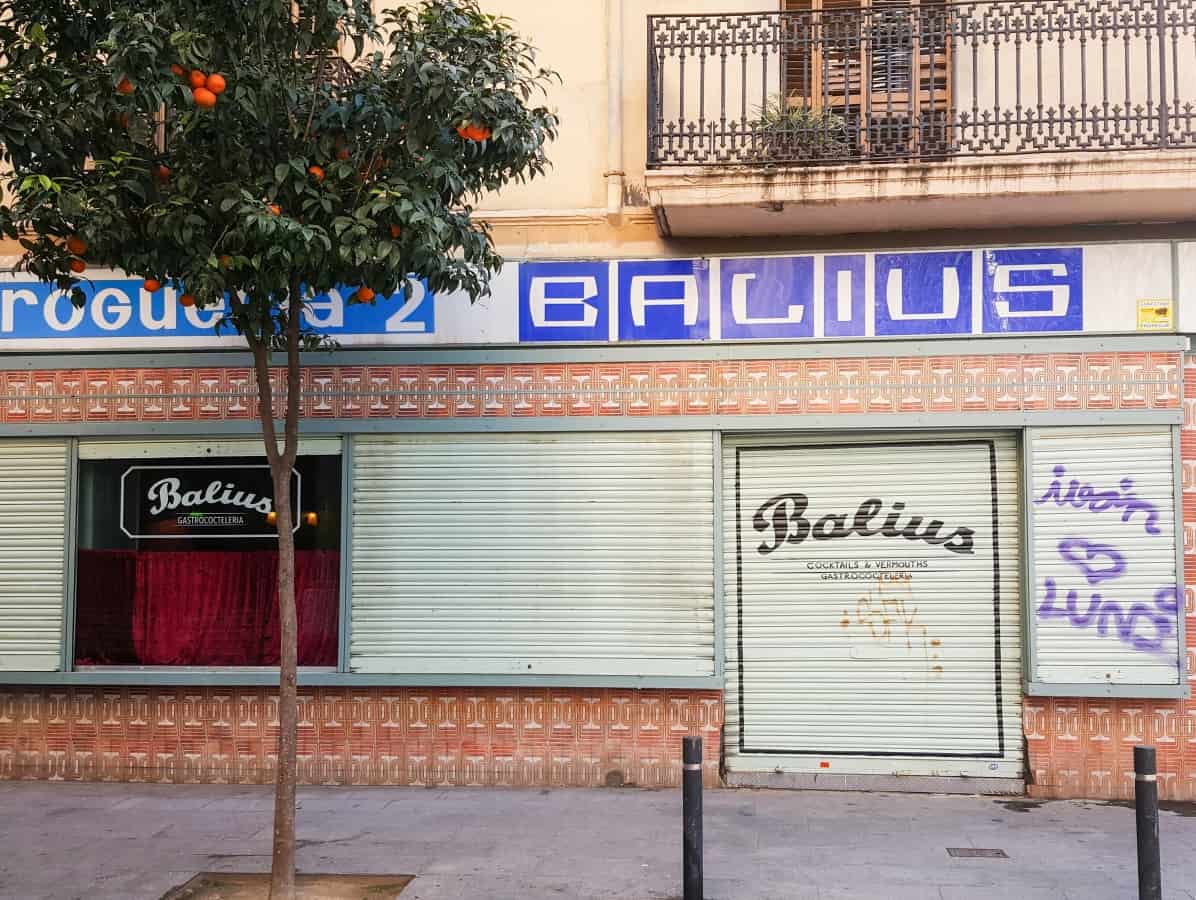 If you arrive in El Poblenou with an appetite, check out La Pubilla del Taulat on Carrer de Marià Aguiló for some tapas, or La Antigua on Carrer de Pujades. Nearby to La Antigua is a great cocktail bar called Balius. It used to be a hardware shop back in the day and has kept a lot of the old fittings, including the sign outside. It even has its very own orange tree!  
When heading back into the city, you can more or less take the same route. But if you feel like seeing something different, why not head toward Parc de la Ciutadella and El Born via Carrer de Pujades? If you ride that way, be sure to check out a great little record shop/music venue called Ultra Local records just past Llacuna metro station.
Well, I hope you agree that this is a particularly lovely way to explore the beaches in Barcelona. Be sure to check back soon, because next time we'll be exploring the alternative Barcelona, and the barrio of El Raval.
In the meantime, read my previous article about Barcelona barrios and follow this bike tour from Gràcia to Sarrià.
---
All photos taken by Tom Cross.