By now I guess we've settled on the fact that, if you're coming to Copenhagen, there is a pretty good chance you'll end up straddling a bike, and another good chance you'll feel overwhelmed by the phenomenon.
With a biking history as rich as the Danish one, it's no wonder they developed their own quirks. So even if you're used to biking, it might seem difficult at first to attune yourself to the ways of the Danes. After you draw your fair share of vexed looks and fiery dings, we know you'll want to learn some tricks to conceal your noob status on Copenhagen's bike tracks. Tricks won't make you wobble less, but they might keep you from being labelled as a stupid tourist! right away. So here's how to be a make-believe Dane on your biking adventures:
Act like you need to be somewhere. If you're a tourist in Copenhagen, you're probably never in that much of a hurry. Hence, you'll easily get distracted by a lot of things while biking, especially in a city as swell as Copenhagen, where you'll find even a boulder looking positively charming. And it's fine, we encourage you to bike at your own pace, provided you remember to stick to the right. But if you really want to feel that sense of belonging, you should bike like you're trying to catch the last minutes of Happy Hour at your favourite café downtown. Your fellow riders won't know you're not actually on a tight meeting schedule, as they are, but they'll surely empathise with your resolute demeanour.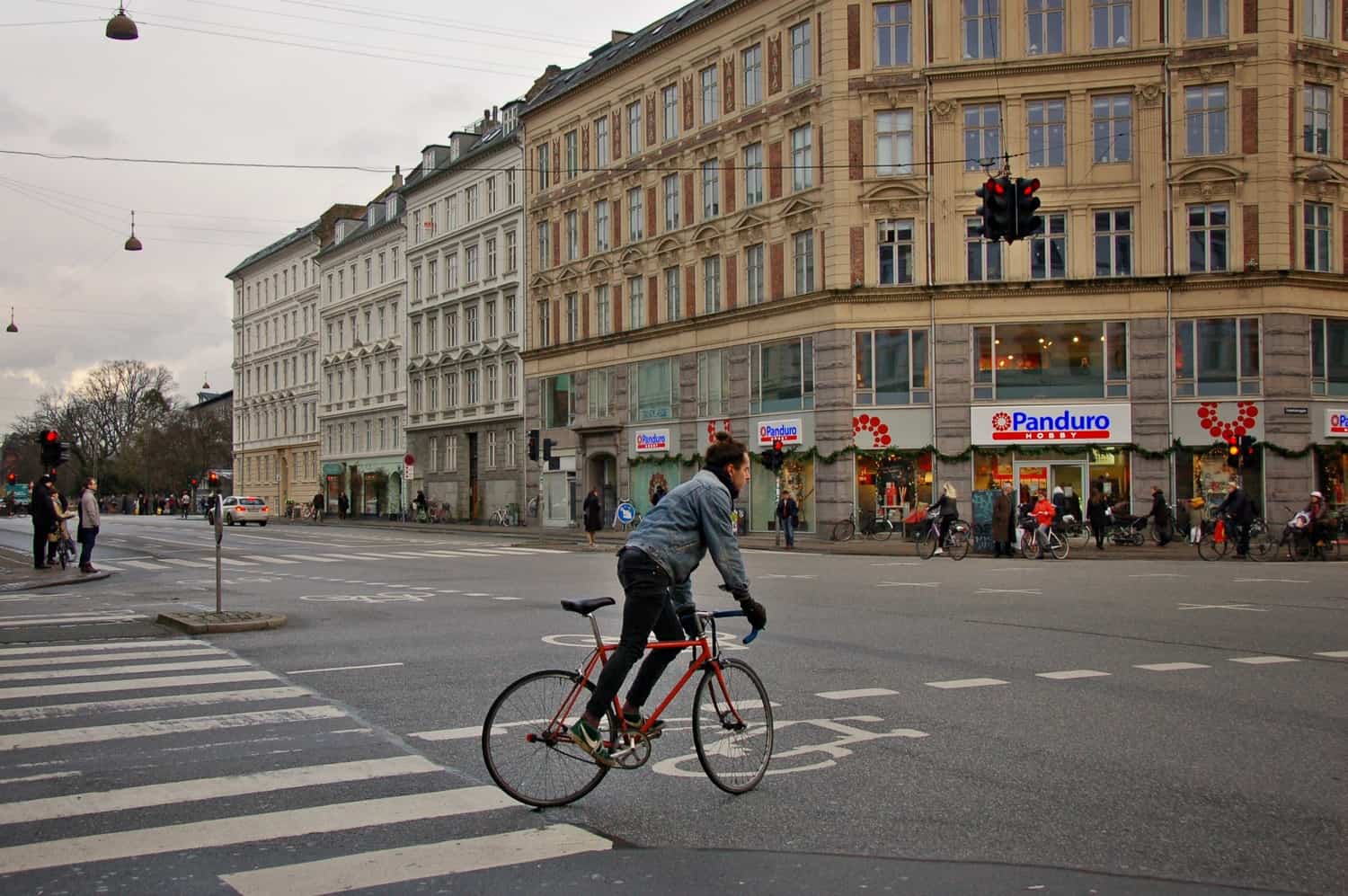 Don't regard traffic rules as mere recommendations. If you don't use a bike on a daily basis, you're more likely to view biking as only a fun, playful activity. After all, it really is fun. But seeing it as all play could make you disregard traffic rules. The whole biking thing works so well in Denmark partly because people are pretty mindful traffic participants. As a result, breaking rules will not only make you stand out, but will also disconcert the others and bring about a wave of insults you won't understand – not to mention serious hazards.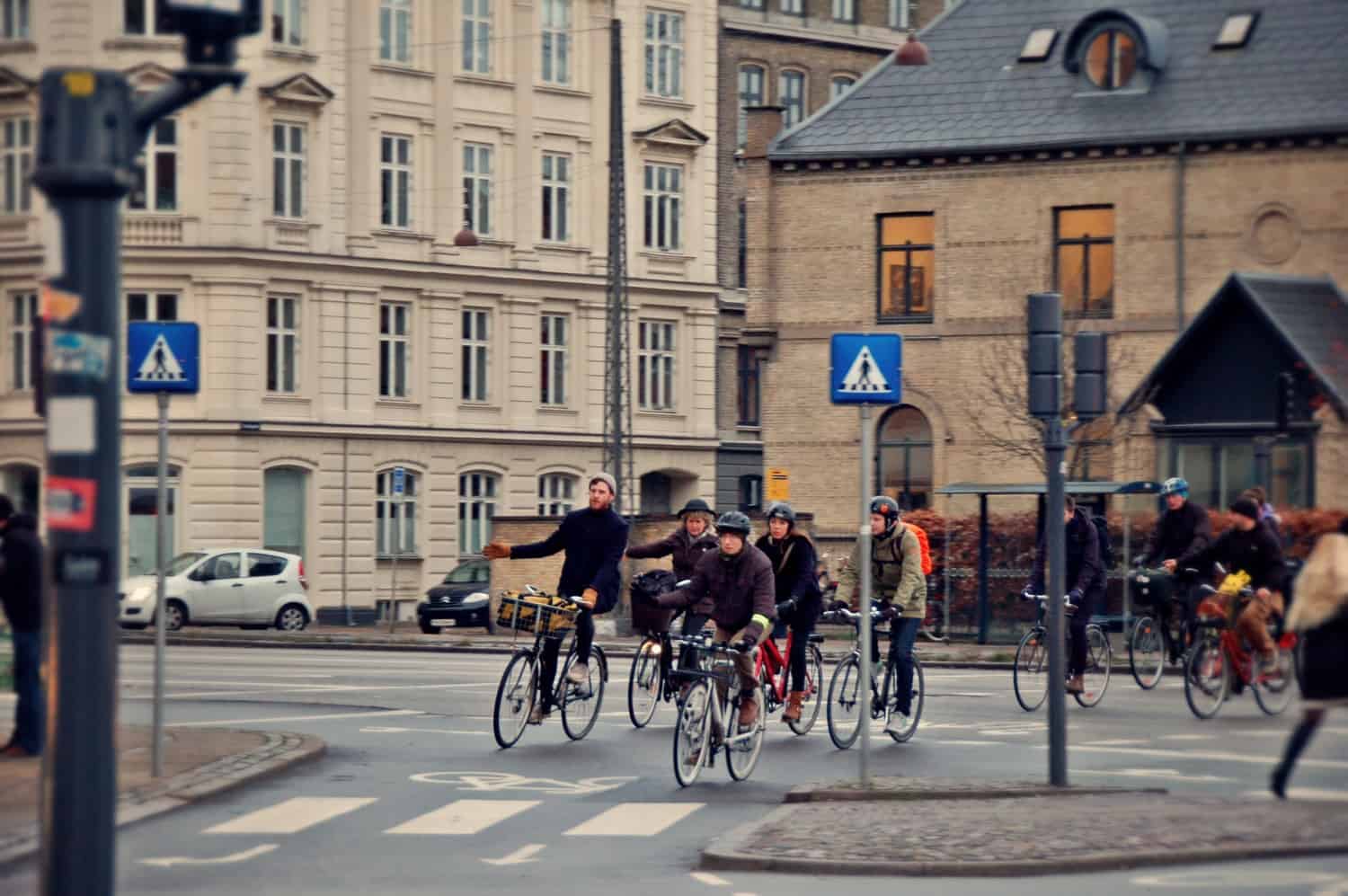 Do not hit the brakes for reasons that are only obvious to you. Of couuurse you'll want to stop to take a picture on that beautiful bridge overlooking the lakes in the sunset light. Just keep in mind that most of the people surrounding you are hungry Danes rushing to get to their families after a tiresome workday and theywill run into you. So avoid stopping in the middle of the lane unless there's a red light or people coming in and out of a bus in front of you. In all the other cases, plan your stop ahead, use your hands to signal your intention, look around and then get off the bike track as fast as you can – or else the only pictures you'll take will be from the hospital window.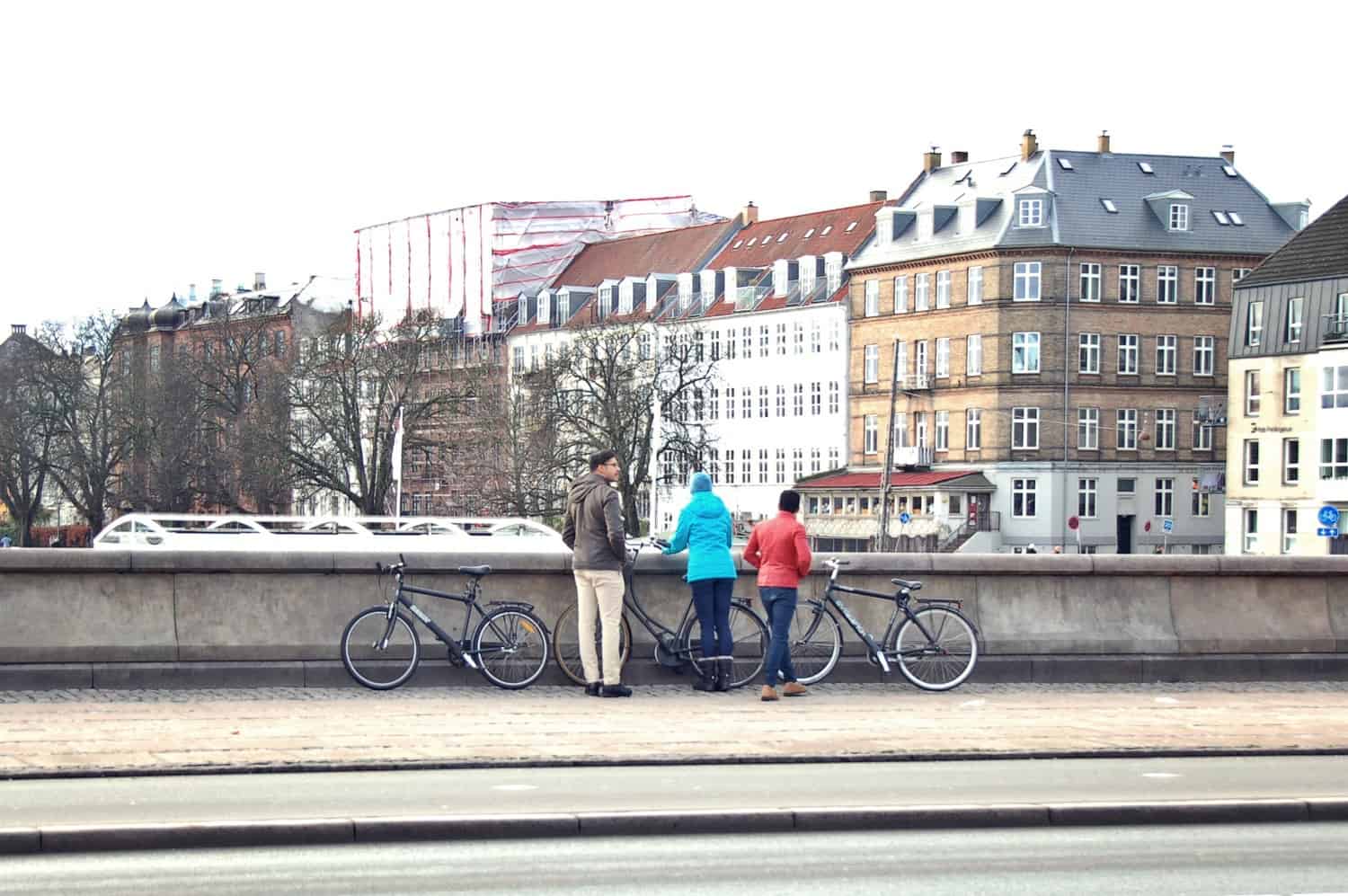 Act cool around cars. Biking in cities usually means trying not to get killed by motorists and defying car traffic. But here in Copenhagen people are really trying to – and apparently succeeding at – living with each other. You will realize that motorists actually pay a lot of attention to bikers and treat them as equals – so don't freeze or jump off your saddle whenever a car approaches; if you follow the rules, they will give way to you whenever you have priority.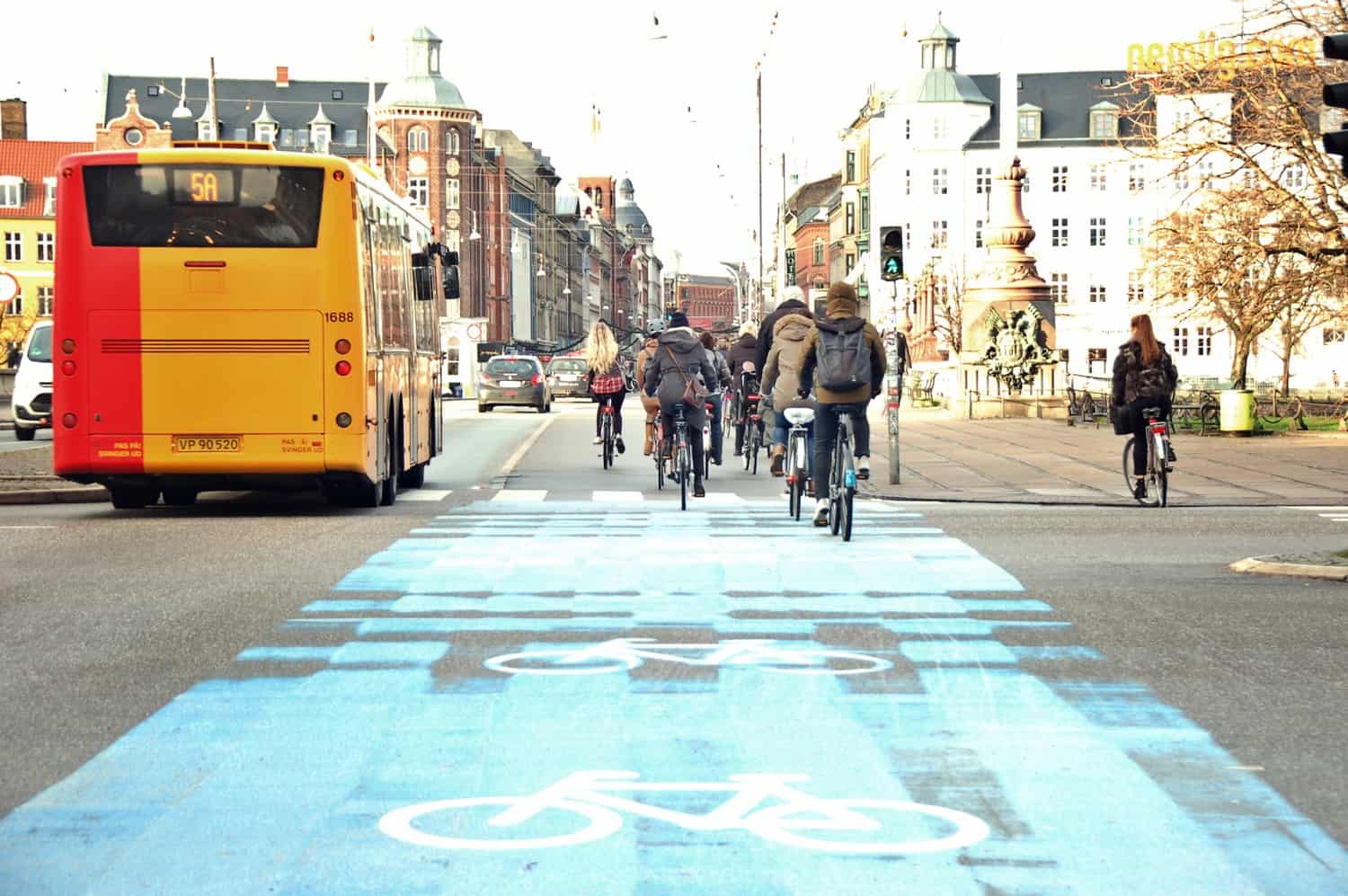 Practice casual poses at red lights. Even if they really mean business while they're riding, Copenhageners know how to chill when they're waiting at a red light. You'll see them spreading their legs, stretching, dancing to the music from their earplugs, greeting friends they run into. Use this opportunity to show off your ballerina poses, while you mentally prepare for the green light – a crucial moment that could betray your disguise if you don't start off as swift as an arrow.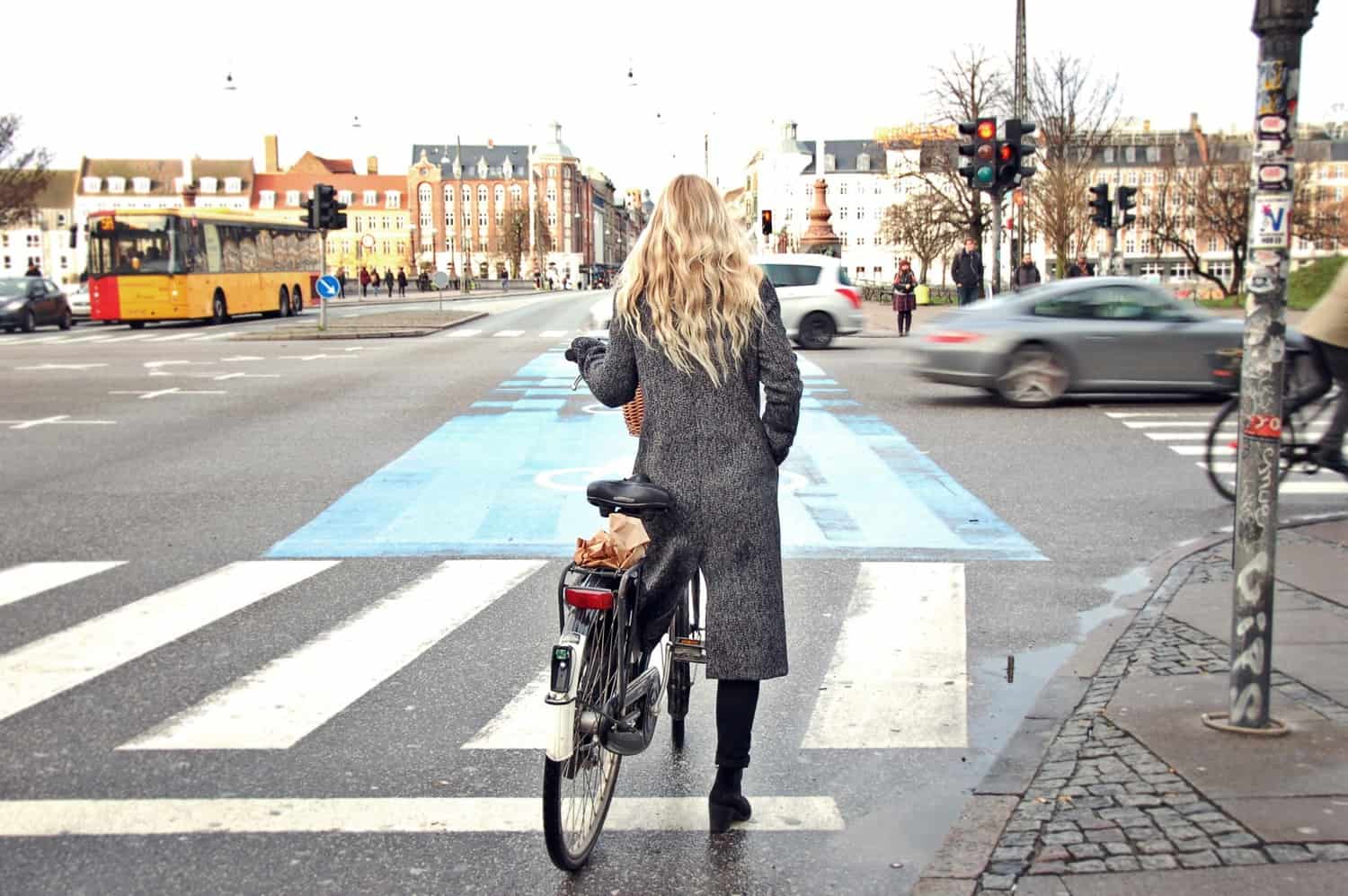 Practice getting your bike on the train in <5 seconds. You should definitely take advantage of the fact that you can take your bike on the S-train free of charge, because there's a lot of interesting places outside of Copenhagen. You can easily reach them with a smart combination of transportation means. With this in mind, you should practise some lifting grips before getting on the train, or else you'll really piss off some commuters, on top of looking undeniably silly. It will also help to look for the bike signs on the floor before the train arrives if you don't want to run around the platform to get to the right door.  Oh, and once you finally get on the train, make sure to fix your bike in the racks the right way (i.e. with the rear wheel). You'll look even sillier jumping off your seat to collect your fallen bike during the trip.
Ignore the weather. You see Danes defying bad weather and generally not caring at all about the forecast. But when you wake up to a cloudy sky, you instinctively begin to think of ways in which you could spend the least of your day outdoors. Want to #liveauthentic and all? Then don't let weather influence your plans. Just saddle up your bike and go about doing your stuff. If it starts to rain, you'll get freshened up. If it starts to snow, you'll remember how it felt to be a 10-year-old. If a blizzard starts, well, uhm, you'd better find shelter, because that shit is serious.
Wear anything you feel like wearing. Copenhageners worry about their biking apparel about as much as they do about the weather. If you want to blend in, then get away from the hiking gear and put on whatever suits your mood that day. Still, make sure it's not something that would easily get caught in the cranks. Oh, and tuck that rain poncho somewhere in your bag, just in case.
Get intimate with your bike. You and your bike should go hand-in-glove, so choose it wisely, even if it's just a rental donkey. Once you have it, get to know it really well. Listen to it, put yourself in its wheels, learn its darkest secrets. Only then will you be able to tame it like the Danes do. They can spot a fake bike relationship from a mile, so you really have to love your bike if you don't want to blow your cover.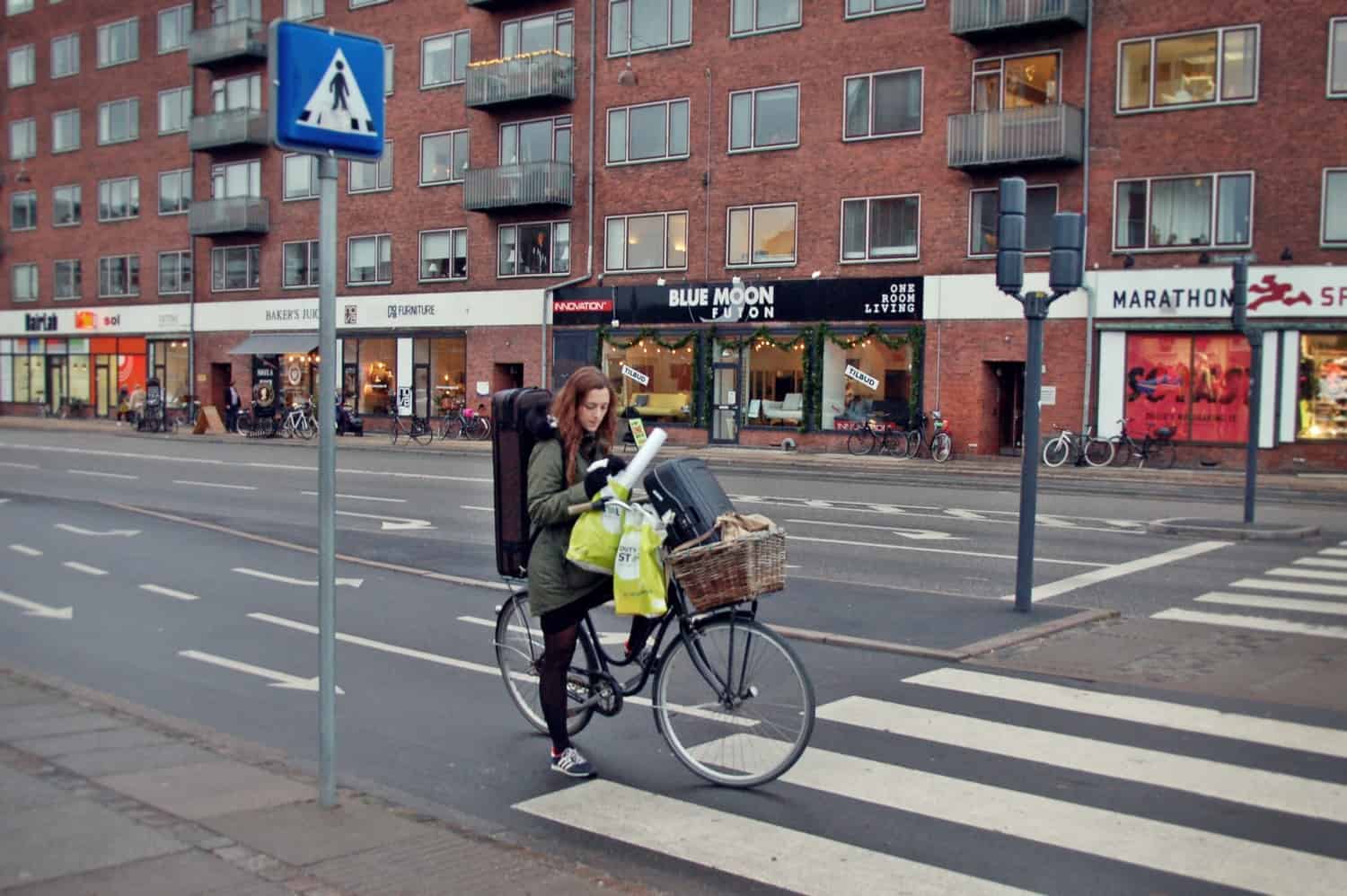 Load that donkey. When choosing your two-wheeled companion, consider baskets. People here are used to carrying remarkable amounts of stuff on their bikes – including furniture, animals and an entire junior handball team. So why not learn from the masters and use your bike as a real beast of burden? You'll be amazed to find how many souvenirs it can bear.