Oxford is a unique place to visit. A place where medieval and modern sit side by side in a fascinating way. There's so much to see, so to save time and shoe leather it's best to take an Oxford bike tour. Trust me, it's the perfect way to see the sights and avoid the tourist hoards that clog the city's historic (and rather narrow) pavements. I've lived in Oxford for many years and still go back to visit friends as well as, why not, take the occasional ride behind the handlebars. So this time, I'll bring you along – saddle up!
Oxford bike tour map
The cycle lanes can get pretty busy, so our Oxford bike tour will use many cute back streets to avoid the busy main roads and the city's many buses. So, if you've got everything you need, let's get started!
Pick up your rental bike at Oxford's Railway Station
You can pick up a Donkey bike in five locations – check all our Oxford bike rentals here. For this tour, you can get a bike at Oxford's Railway Station, but it's easy to begin from the Visitor Information Centre too.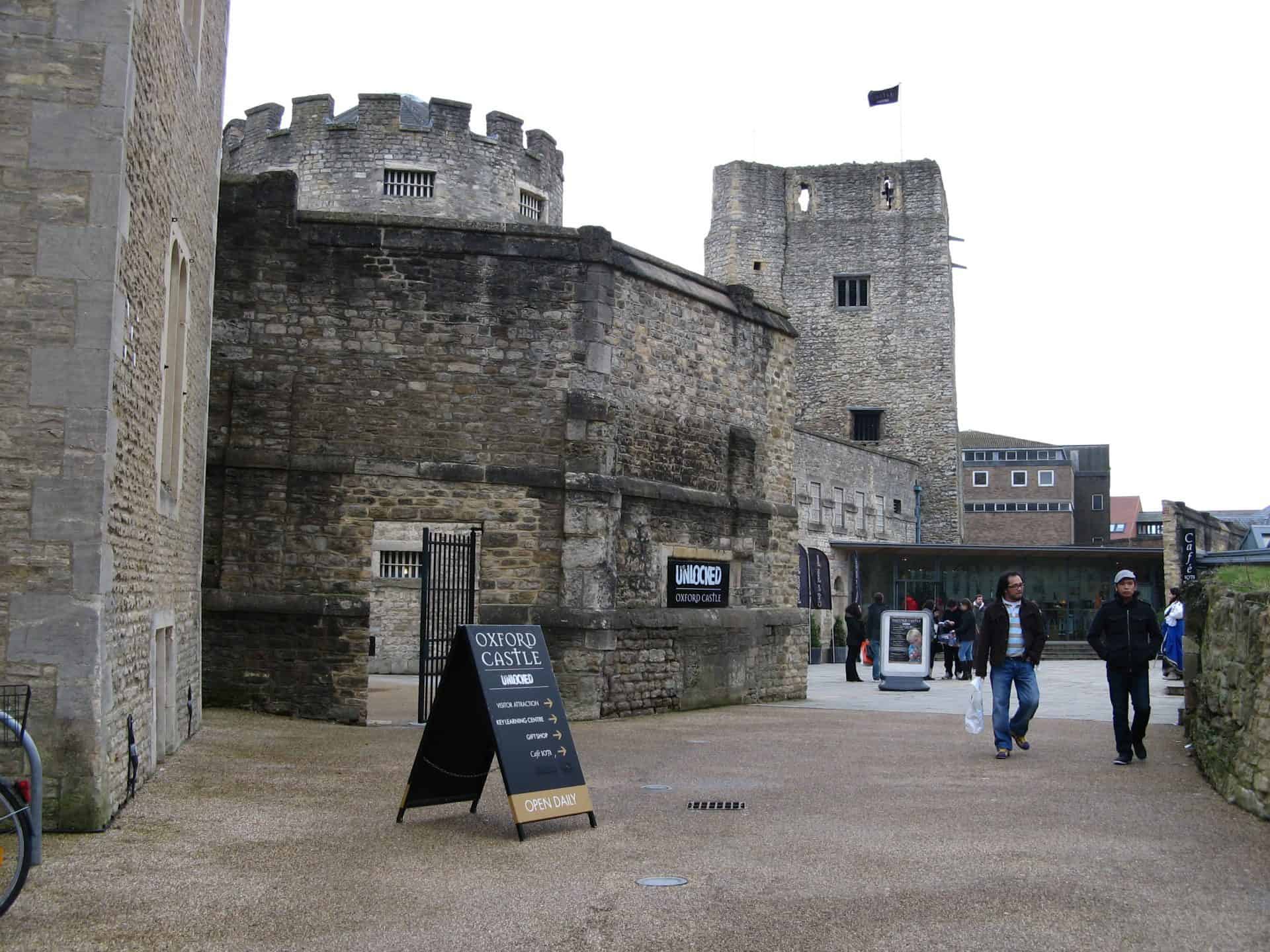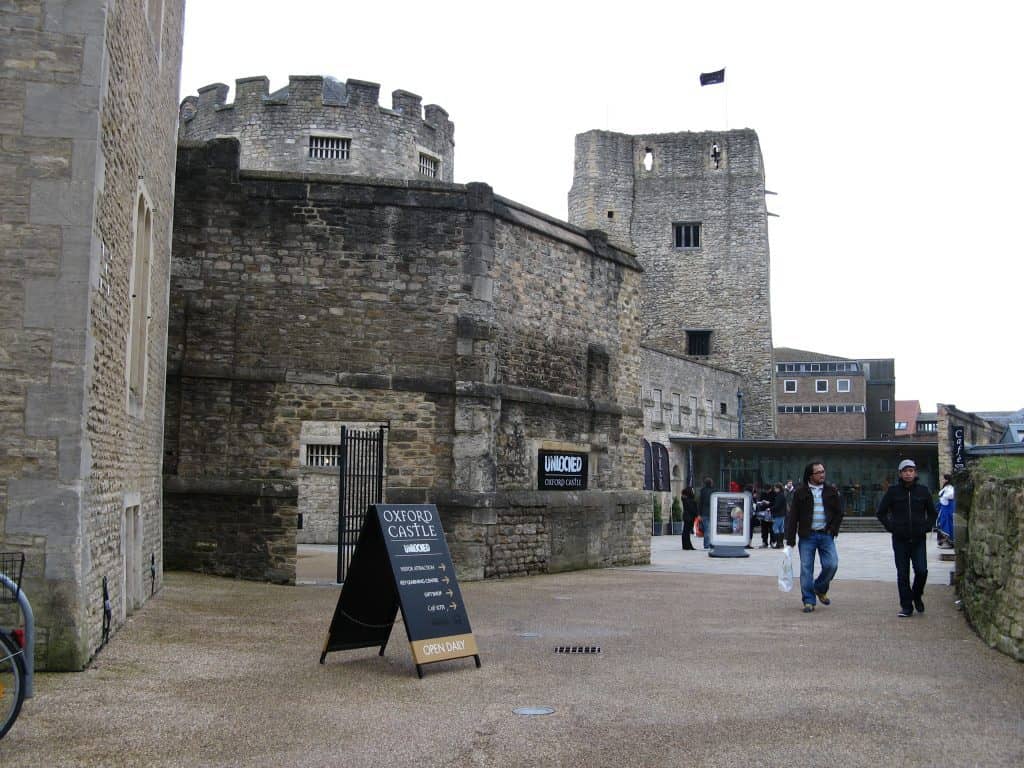 The castle is only a short bike ride from the train station, but a guided tour of the former fortress and prison will introduce you to centuries of Oxford's past. You'll get your first glimpse of the city's dreaming spires from the 900-year-old St. George's Tower, and can explore the ancient crypt of St. George's Chapel and the mound of the Norman Motte and Bailey castle. The terrifying tales of the 18th-century tower and prison will make you glad you live in the 21st century.
Events and activities take place here year-round, including ghost hunts and a Shakespeare Festival. If you forgot breakfast, you can eat at several cafes, restaurants and bars in the Oxford Castle Quarter. But if you're already eager for more, let's move on…

Christ Church College
Of course, most people visit Oxford because of its world-famous university. It's made up of more than 40 colleges, each with different rules and traditions. The biggest, and arguably most famous, is Christ Church (aka The House). It was founded by King Henry VIII (the one with six wives) and is open 10:00am to 5:00pm Monday to Saturday and 2:00pm to 5:00pm on Sunday.
The huge Tom Tower on St Aldgate's marks the main entrance to Christ Church, where you'll have to pay to go in unless you're a student or Oxford resident, but it's worth it. As well as beautiful architecture, Christ Church has its own cathedral and picture gallery, and its dining hall and cloisters doubled as Hogwarts in the Harry Potter films.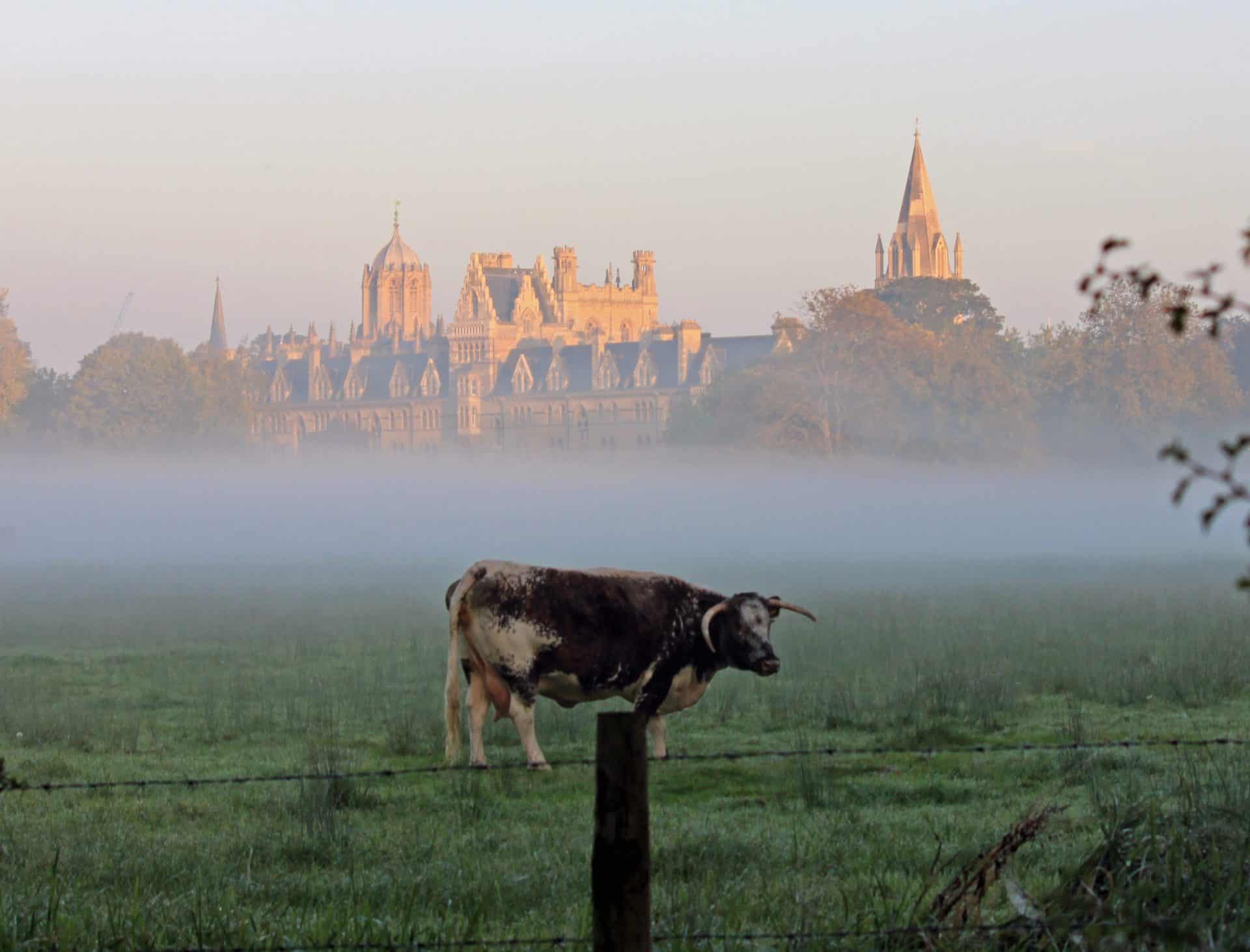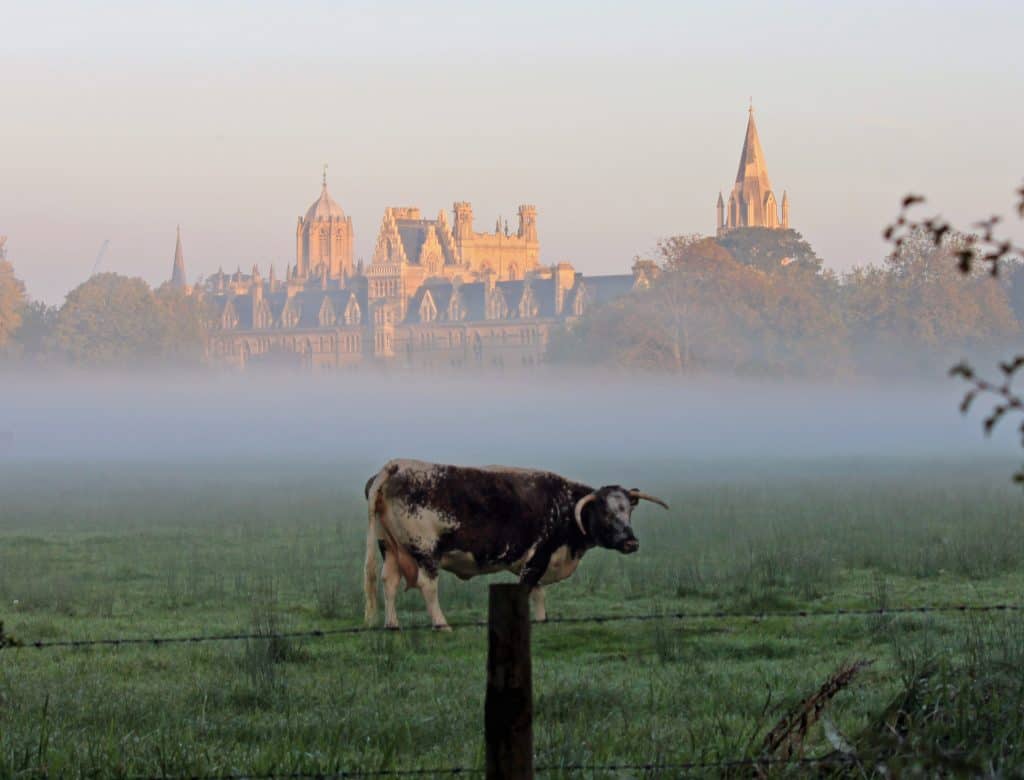 This stop in our Oxford bike tour represents the best spot to chill, have a picnic or walk along the River Thames. You'll have to lock your rental bike somewhere, though, as no cycling is allowed in Christ Church Meadow. If you go for a stroll, you'll find many college boathouses clustered along the Isis (the Oxford name for the Thames). In term-time, you'll also see college rowing eights practising along this stretch of water.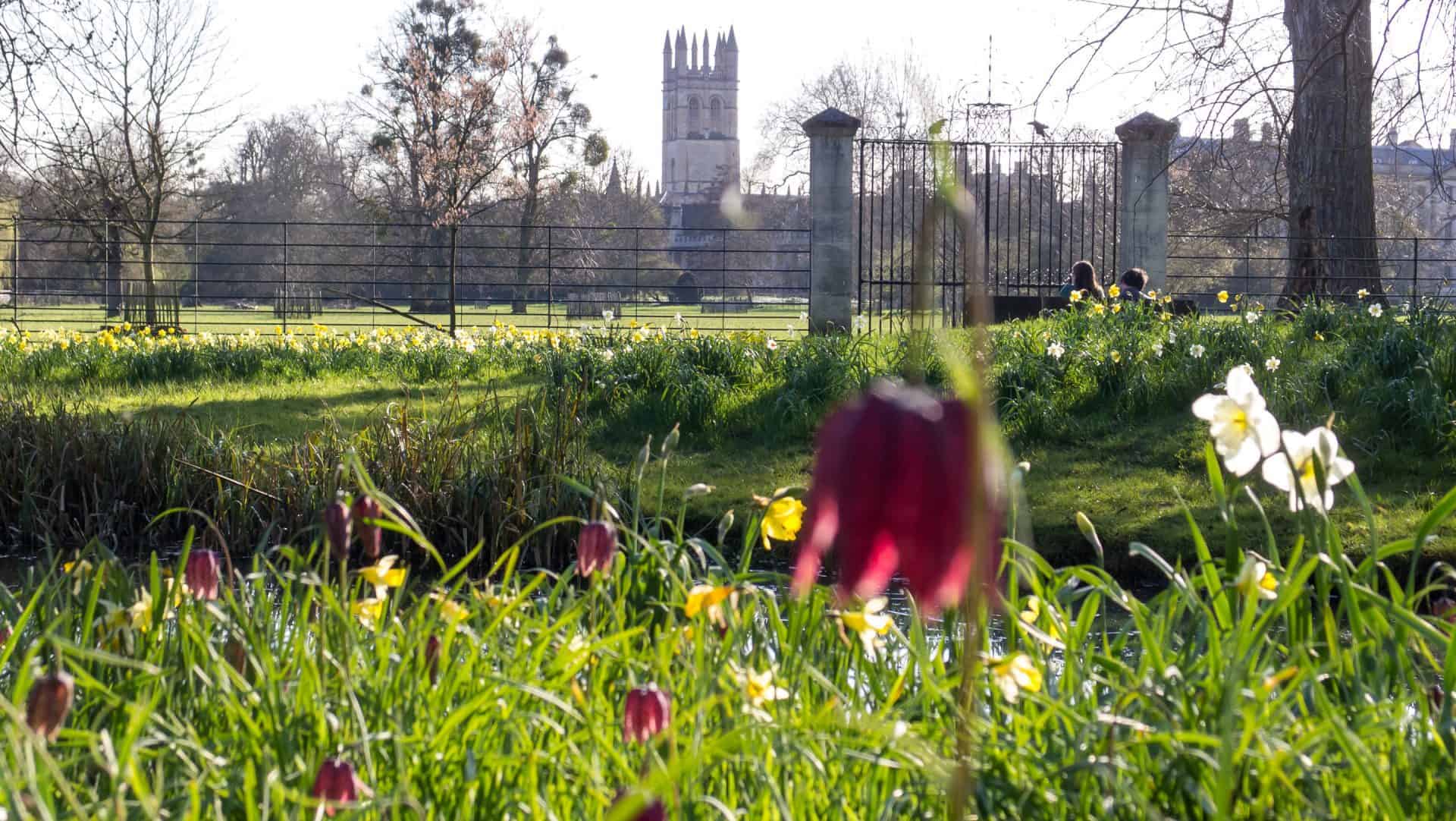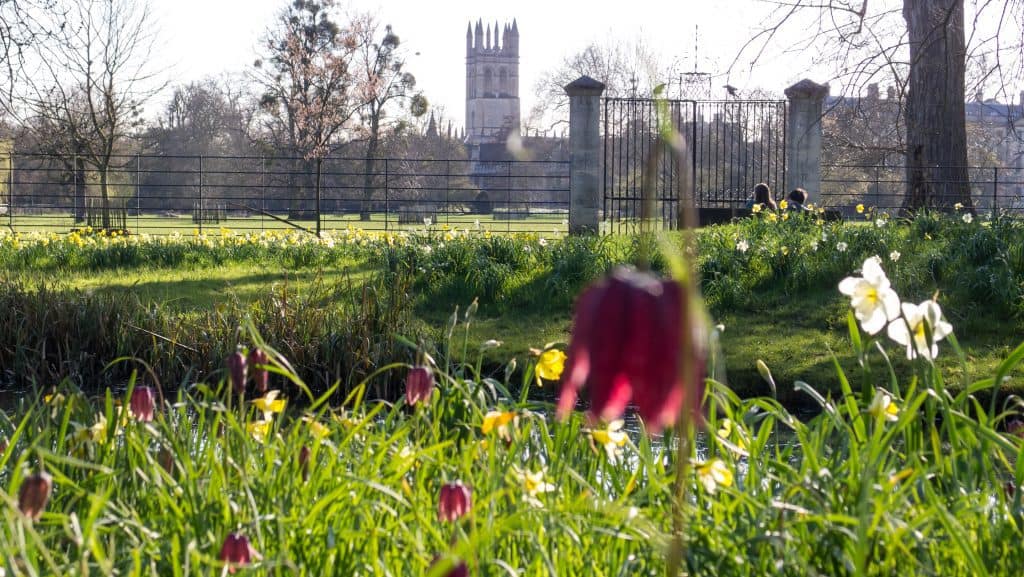 Once you've had enough of longhorn cows and boats, hop back on your rental bike and cycle down Oxford's most breathtaking (and busiest) street, the High. Alongside quaint shops, cafes and pubs you'll see several more Oxford colleges until you reach another Oxford gem, Magdalen College. Magdalen feels more intimate than Christ Church, with smaller, older quadrangles and gardens and a magnificent deer park. It's open between 1pm and dusk or 6pm most of the year, and noon to 7pm between June and September.
Magdalen (pronounced 'maud-lin') was once home to famous authors Oscar Wilde and C. S. Lewis, whose Narnia books must have been inspired by the enchanting landscape of the deer park. Scenes from Harry Potter were also filmed here. It's a magical placefor walk on a sunny afternoon.
Radcliffe Square
Leaving Magdalen behind, head back up the High towards Radcliffe Square. Arguably one of the prettiest places in Europe, the square is bound on four sides by the University Church of St. Mary the Virgin, All Souls College, Brasenose College and the world-famous Bodleian Library. Its quirky rotunda, the Radcliffe Camera, sits right in the middle. Feel free to park your rental bike and enjoy the view, it's well worth it.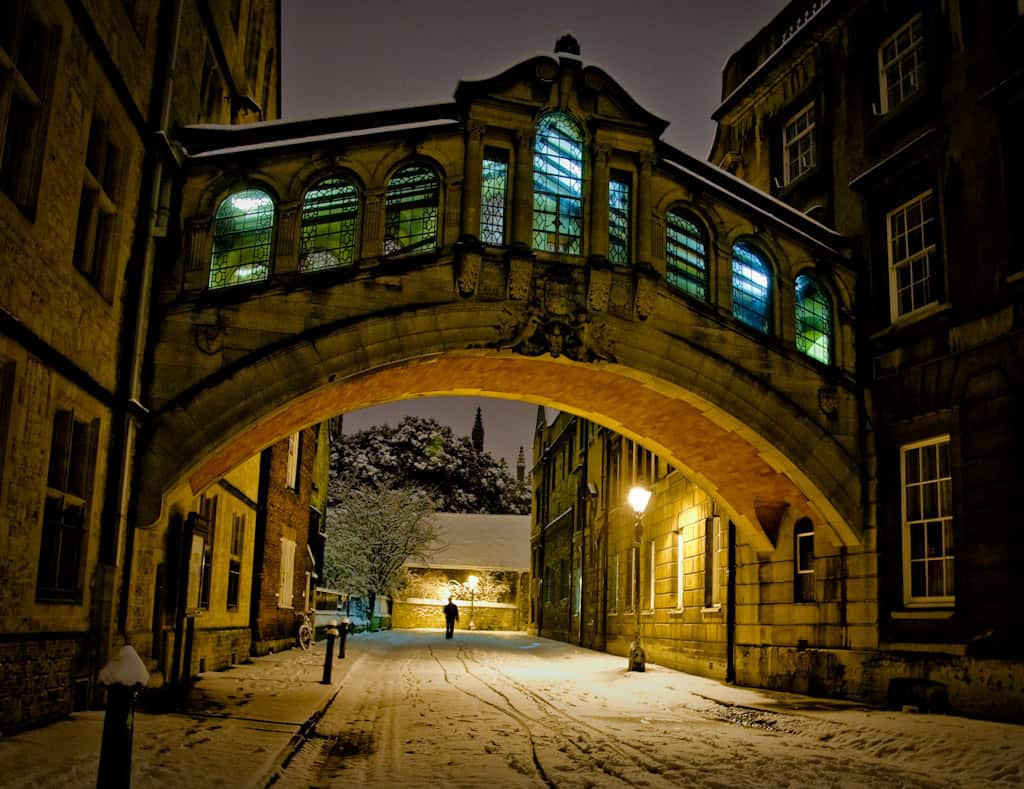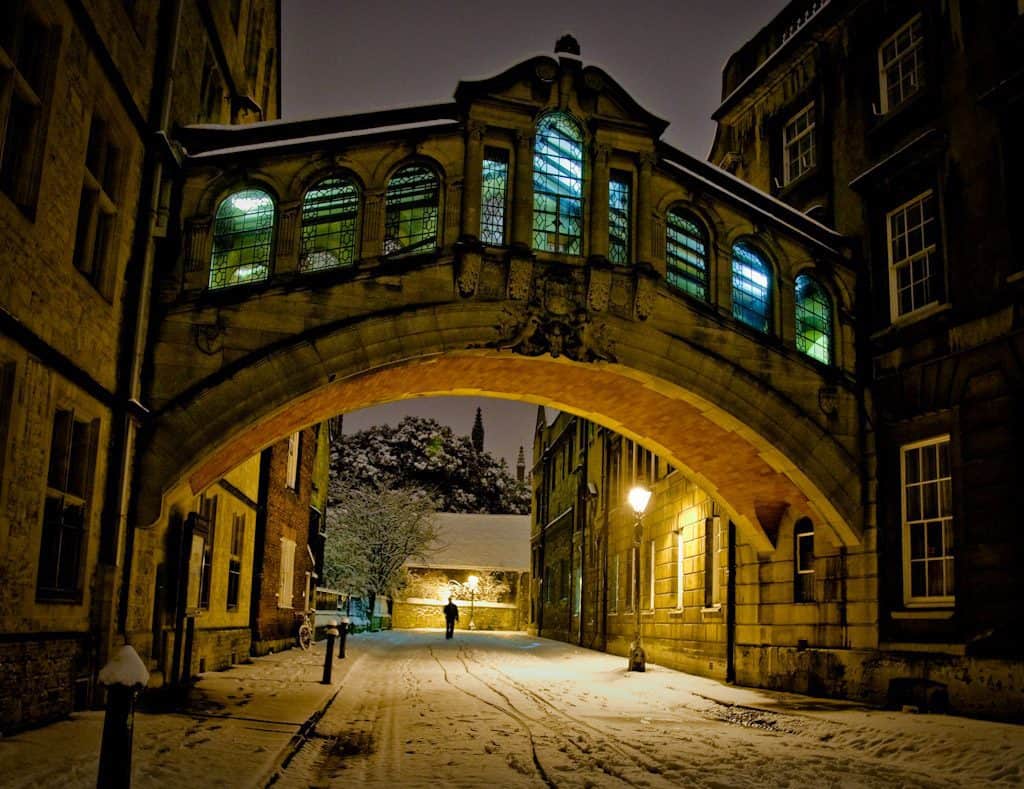 Bridge of Sighs
As you cycle past the Bodleian Library on one side and Hertford College on the other you'll notice a rather peculiar Venetian-looking bridge curving over the entrance of the medieval New College Lane. This is 'the Bridge of Sighs' that links Hertford's Old Quadrangle to its New Quadrangle. Take a moment to admire its magnificent strangeness before pedalling on. This is why people visit Oxford!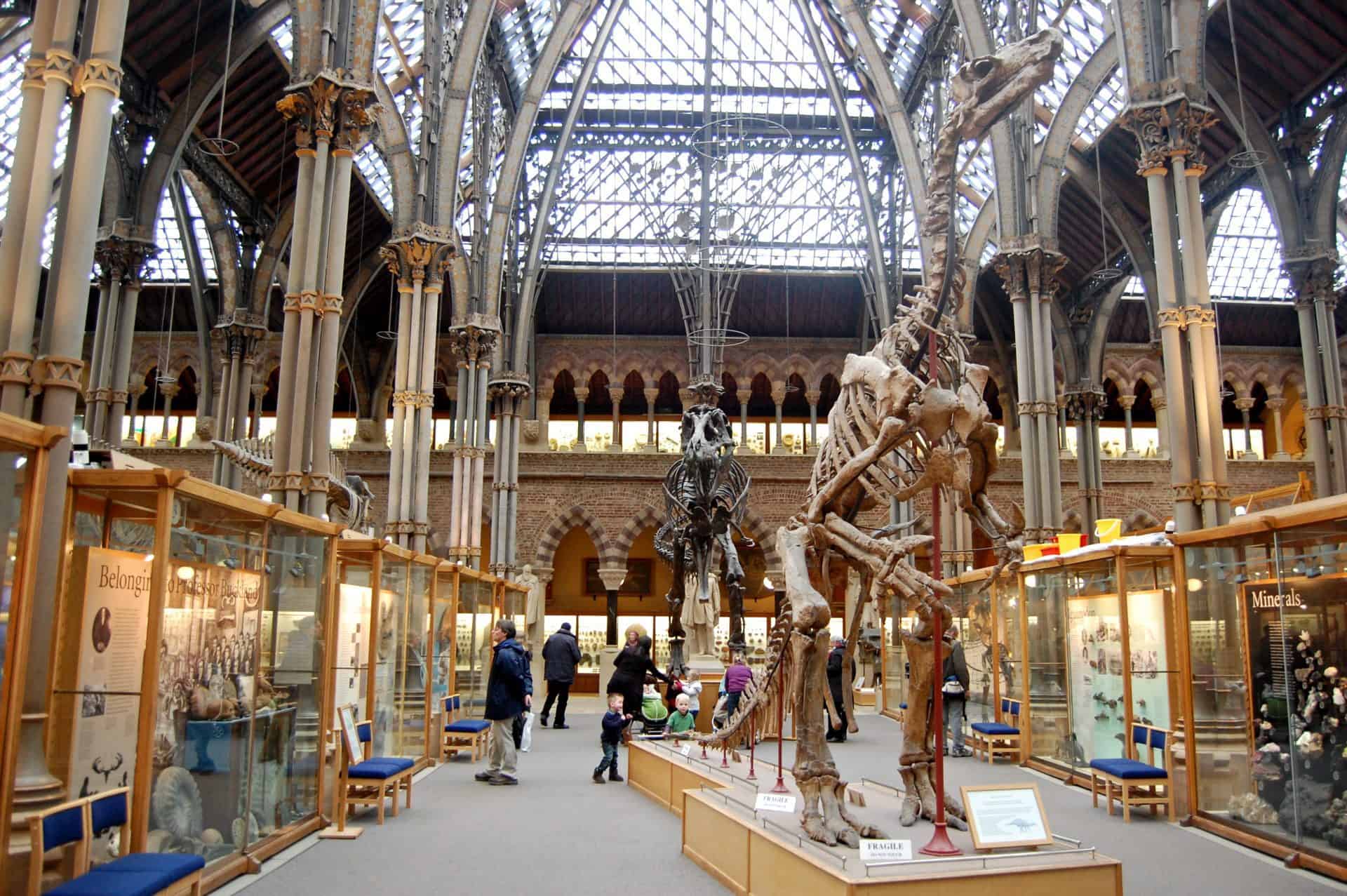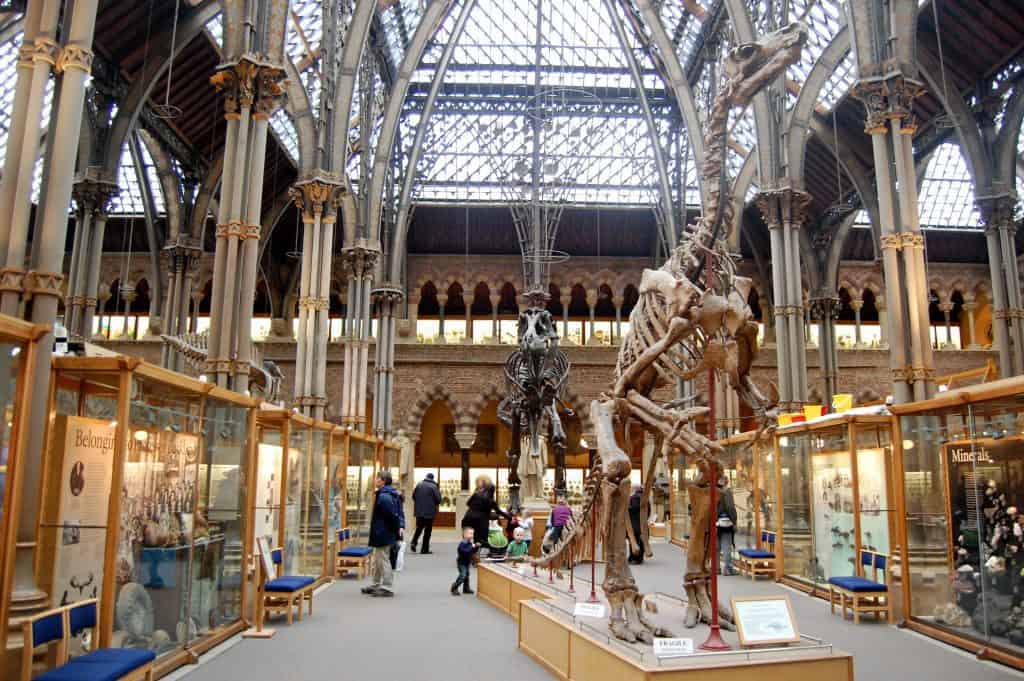 This is going to be one of the highlights of your Oxford bike tour. It's a brilliant place to explore the natural world, whether you enjoy quivering beneath the skeleton of a T-Rex, marvelling at hundreds of colourful butterflies or gawping at a stuffed dodo. The glass roof of the museum is an architectural marvel, and there's a lovely café upstairs where you can grab a bite to eat. It's open 10:00am to 5:00pm every day.
At the back of the main museum the extraordinary Pitt Rivers Museum is home to a vast collection of anthropological and archaeological wonders, including a full size North American totem pole, Egyptian mummies and sarcophagi, shrunken head trophies from the Amazon rainforest, and a large collection of traditional Inuit clothing. It's open from 10:00am to 4:30pm Tuesday to Sunday, and from noon to 4:30pm on Mondays. Admission to both museums is free.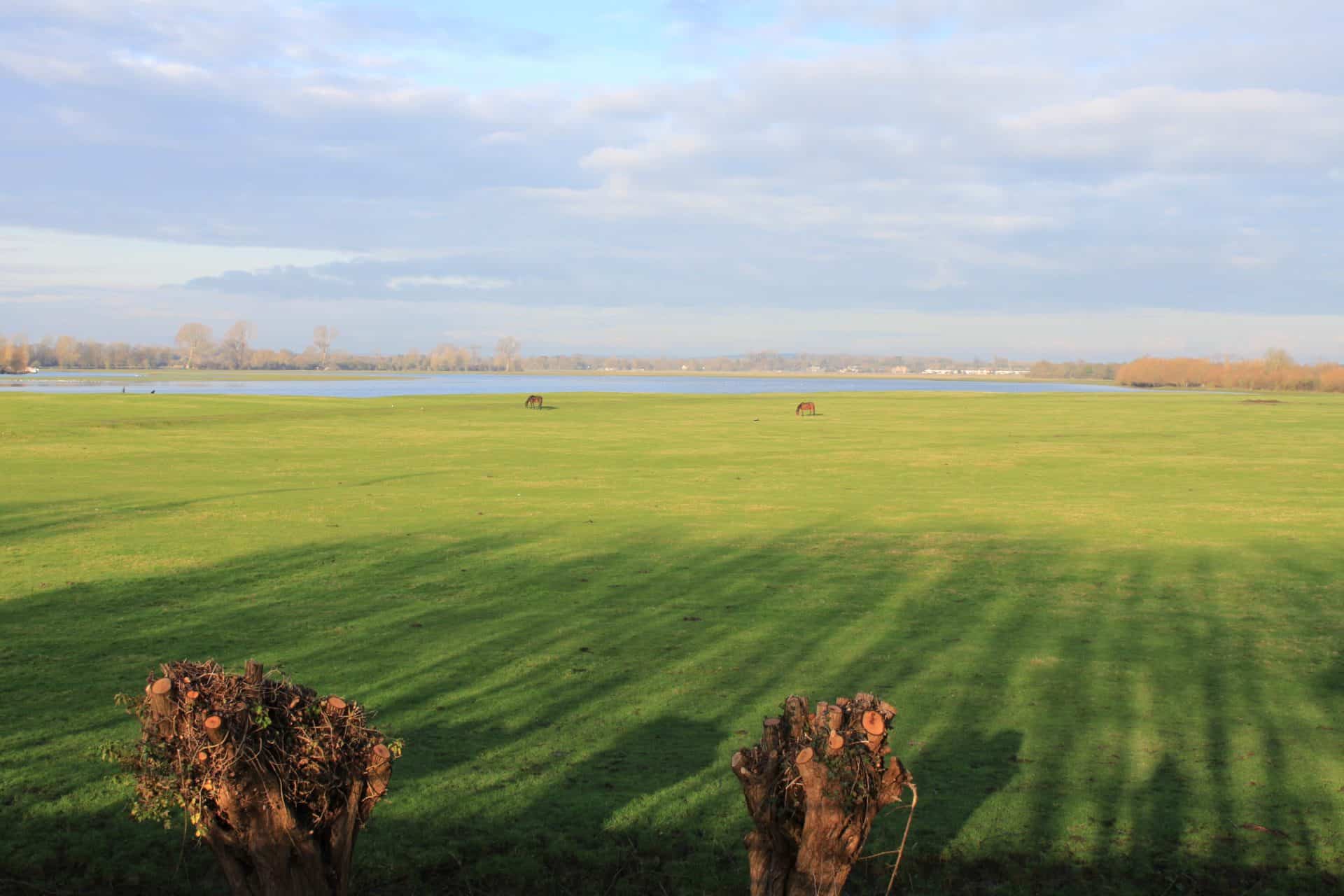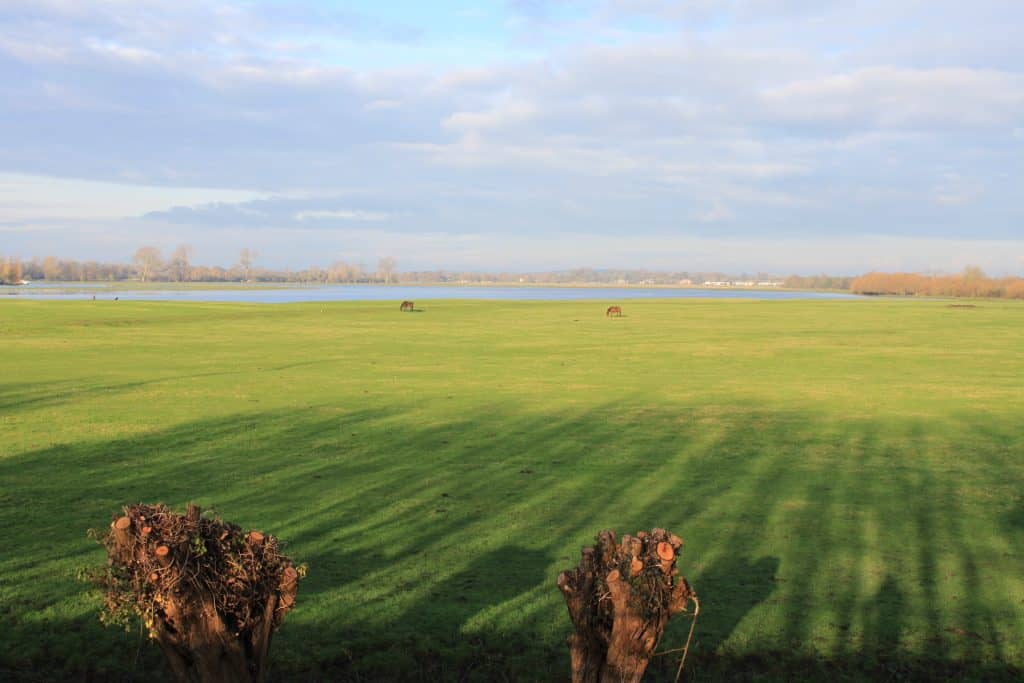 Port Meadow
By now you've probably had as much history and culture as you can take for one day, so it's time to cycle to the pub. Cycling through the popular Jericho suburb, you'll find a large area of common land, another remnant of medieval England – you're heading towards the much loved Perch on the other side of the river. Now your Oxford bike tour has almost come to an end, you can relax with a drink in the spacious garden or cosy up by the fire depending on the weather. The food here comes highly recommended too.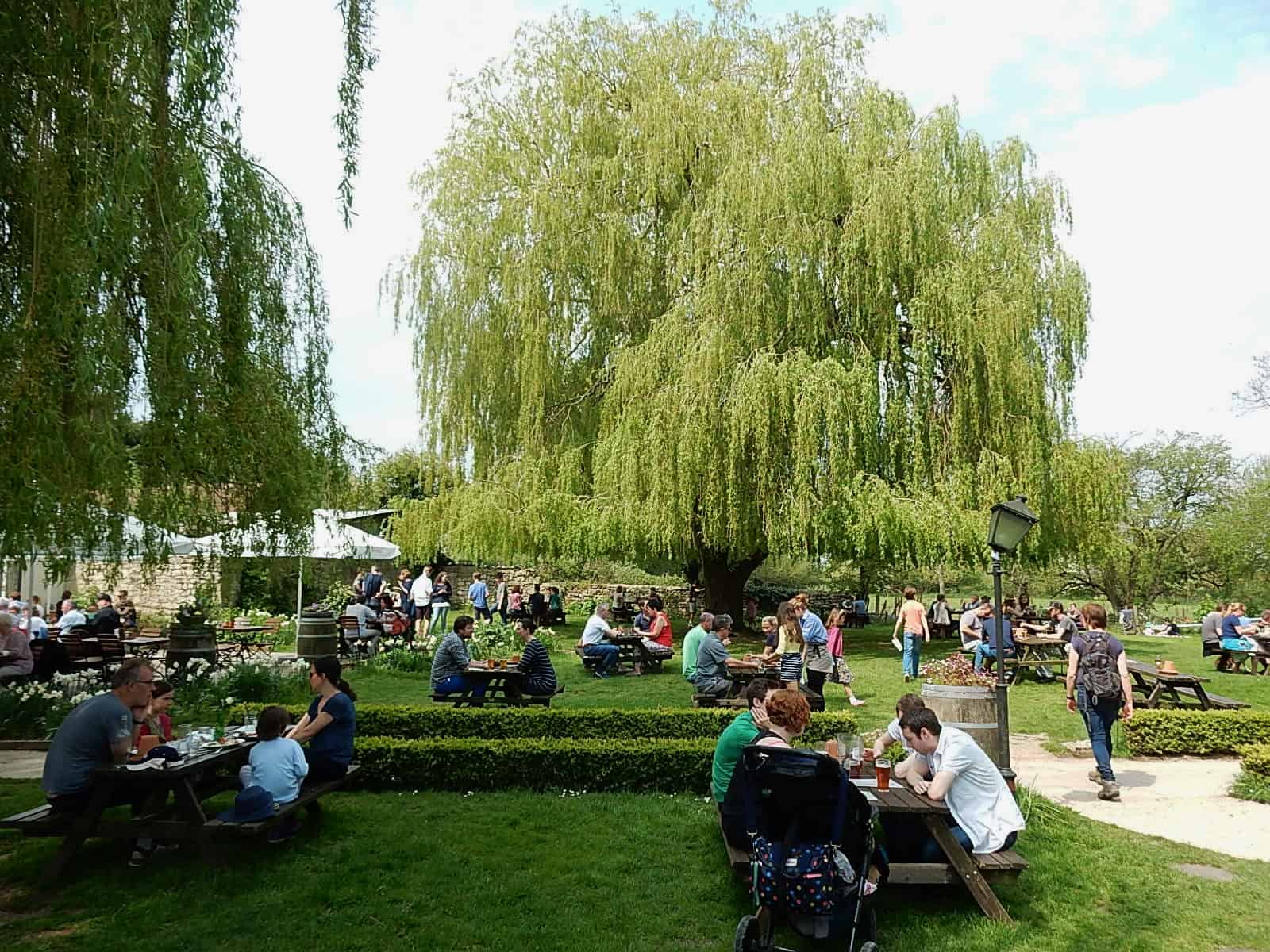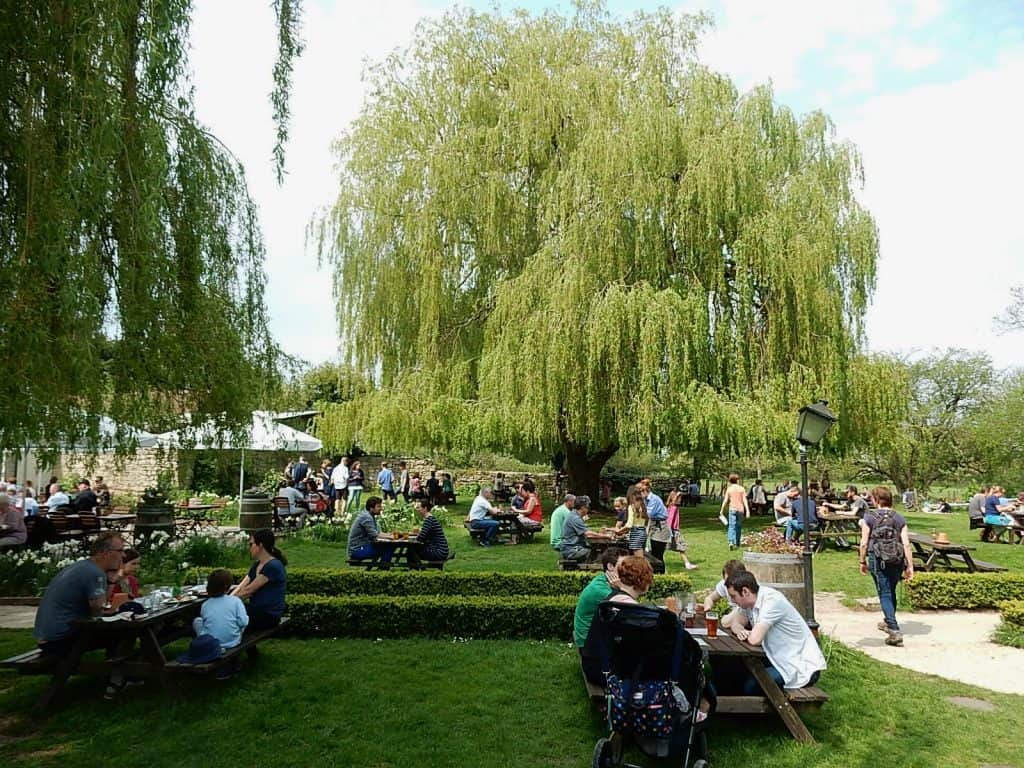 ---
Do you have any favourite spots in Oxford that we've missed out? (It's inevitable, there's so much to see and do here). Let us know your top Oxford bike tour tips in the comments below.