Madrid is one of Europe's major centres of art, culture, performance and design. It's also one of the most diverse and welcoming cities on the continent, fuelled by a rich mix of immigrant cultures and Spanish tradition. The sheer wealth of things to see and do here can be overwhelming, especially if your exploration time is limited. But that's when a Madrid bike tour proves itself to be the best way to discover the city.
You don't have to binge on Madrid's rich history and culture to get to know this city. In fact, all that sweaty effort probably means you'll miss the essence of the place. Madrid invites you to take life easy, take things at your own pace, and pause occasionally to enjoy the finer things.
The city's markets are the perfect place to discover diverse and delicious Madrid. Each one reflects the area ('barrio') it's in. Whatever the time of day, you'll find tempting pastelerias, mouth-watering tapas, delicious wines and cheeses, and some lovely keepsakes to bring your friends and family. After dark, many of these places become the beating heart of the social scene, with colourful cocktails and fishbowl 'gin tonics' on tap, live music and DJs. It won't be long before you're partying, Madrileño-style. But let's start from the beginning. Here is how the ultimate local markets of Madrid bike tour would unfold:
Local markets of Madrid bike tour map
Open the map in your Google maps app
No matter what time of year you visit you'll enjoy exploring the capital's maze of narrow city streets and wide, tree-lined boulevards. Central Madrid is a maze of one-way streets that are relatively easy to cycle around. You might have to take a slightly indirect route between stops, but the speed limit on side streets is 30 kph (20 mph), so traffic is generally calm. Just keep an eye out for pedestrians and scooters!
Many small streets have designated cycle lanes, as do the wider arteries. Most of our Madrid bike tour takes these quieter back streets, but if you feel uncomfortable navigating heavier traffic, just switch to a quieter side street or use pedestrian crossings (get off your bike) to cross busy roads. You're here on holiday, after all!
Pick up your rental bike at the Plaza Provincia
For this 10km tour, grab a rental bike at Plaza Provincia, just behind the Plaza Mayor. However, there are 13 Donkey Republic bike rentals in Madrid, so you can pick one up wherever suits you – check them out here.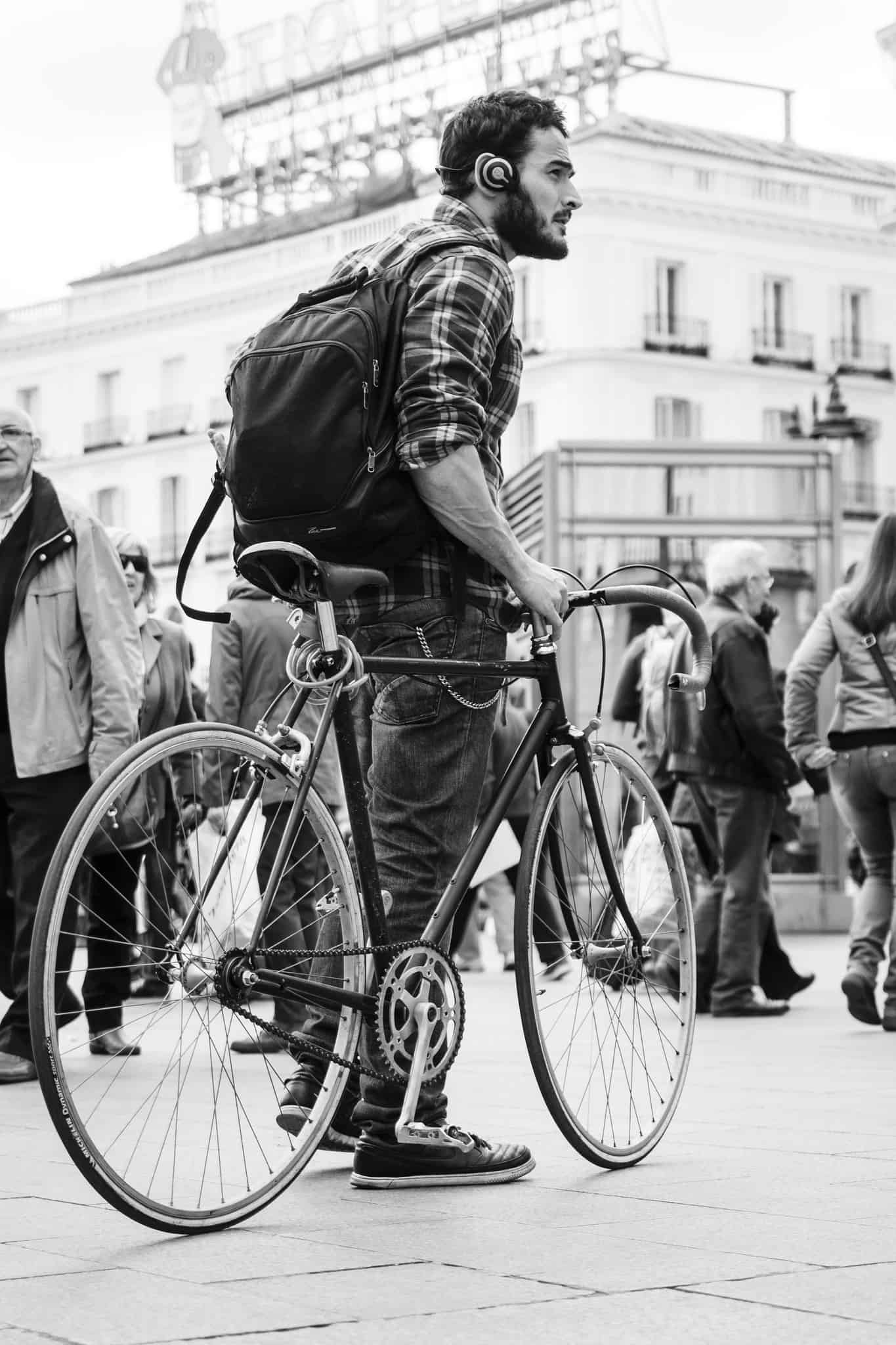 El Rastro
Cycling along the Calle Imperial and Calle Toledo, our tour takes you through the popular La Latina barrio. Turn onto the Calle de las Maldonaldas towards El Rastro market, one of Madrid's most well-known and popular tourist attractions. It's held every Sunday and on public holidays along the Calle Ribera de Curtidores between Plaza del Cascorro and Ronda de Toledo. The flea market stalls sell new and second-hand clothes, jewellery, vinyl records, souvenirs and artworks. Some of the best stalls can be found in the side streets off the main drag, so don't be afraid to hunt around if you're looking for bargains. Stallholders will expect you to haggle over the price, so don't be shy!
El Mercado de la Buena Vida
If you've a passion for organic food and drink, the next stop on our bike tour of Madrid will definitely give you a taste of the good life! Just a few minutes pedalling from Plaza de Cascorro, take Calle San Cayetano and get off at the corner of Calle de Embajadores. You've arrived at the Mercado de la Buena Vida (es), a market for locally-sourced organic produce. Held on the first weekend of every month in the HUB Madrid co-working space, it has a huge variety of food and drink stalls, and also offers workshops where you can learn to make bread, grow your own vegetables or make cheese.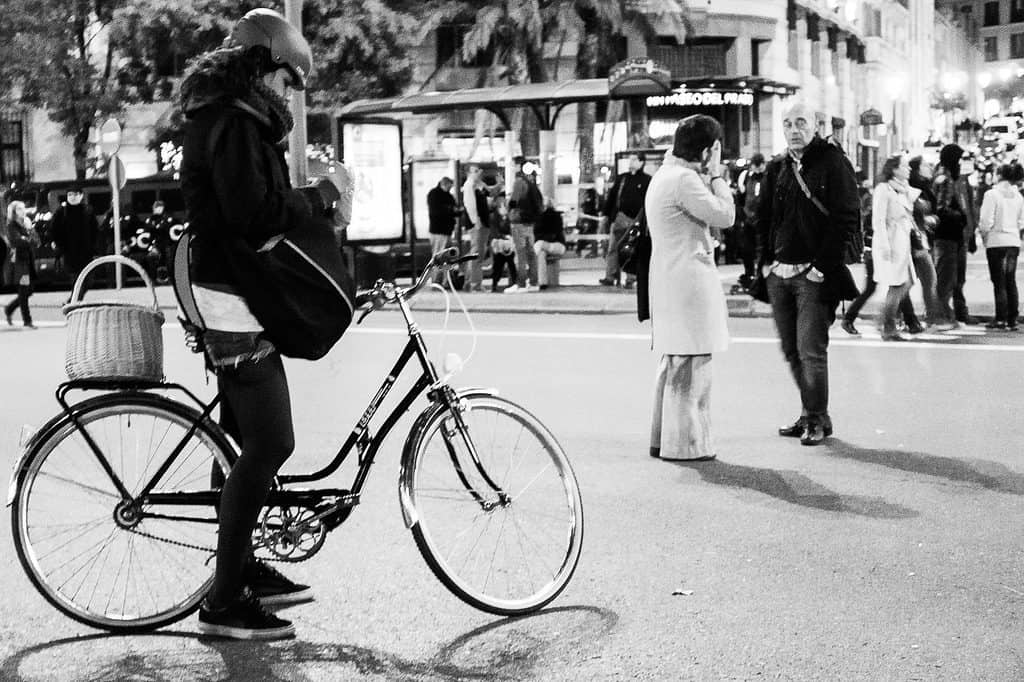 Mercado de San Fernando
As you take your bike along the Calle Dos Hermanos and the Calle del Méson de Paredes, you'll find yourself in Madrid's most vibrant and multicultural barrio, Lavapiés. As well as being home to immigrants from more than 50 countries, the area is one of Madrid's most traditional barrios. If you happen to be here on a religious feast day you might see traditionally-costumed locals parading a statue of the Virgin Mary through the streets to one of its churches.
The creativity inspired by this mix of cultures is encapsulated in the Mercado de San Fernando (es) on Calle Sombrerete, an exciting market that combines traditional food stalls with a craft beer shop (La Buena Pinta (es)), a Spanish wine emporium (La Siempre Llena), and regular drumming and dancing workshops. If you're feeling peckish you might like to stop for a bite of traditional or vegan food at La Alpargata, or sample some Brazilian delights at Brasilerinho.
Mercado de Antón Martín
Now that you've had a bite to eat, you're ready for a longer cycle to our next destination, the Mercado de Antón Martín (es). On this journey you'll take the Calle Tribulete as far as Plaza Lavapiés, then follow that street until you turn into Calle del Olmo. The market is on the other side of Calle de Santa Isabel.
You're now on the edge of the bohemian Huertas district and the Mercado de Antón Martín (en) is one of the area's oldest and most traditional features – it celebrated its 75th anniversary in 2016. It has a huge range of goods on offer, from shoes and clothes to Spanish ceramics and organic seaweed. If you're a breakfast fan, you can choose from 150 varieties of cereal at Cereal Lovers, sample ceviches at The Monkey Stack, or dine on delicious Italian specialities at La Saletta. Fans of Spanish dance might be interested to know the market is also home to an award-winning Flamenco school.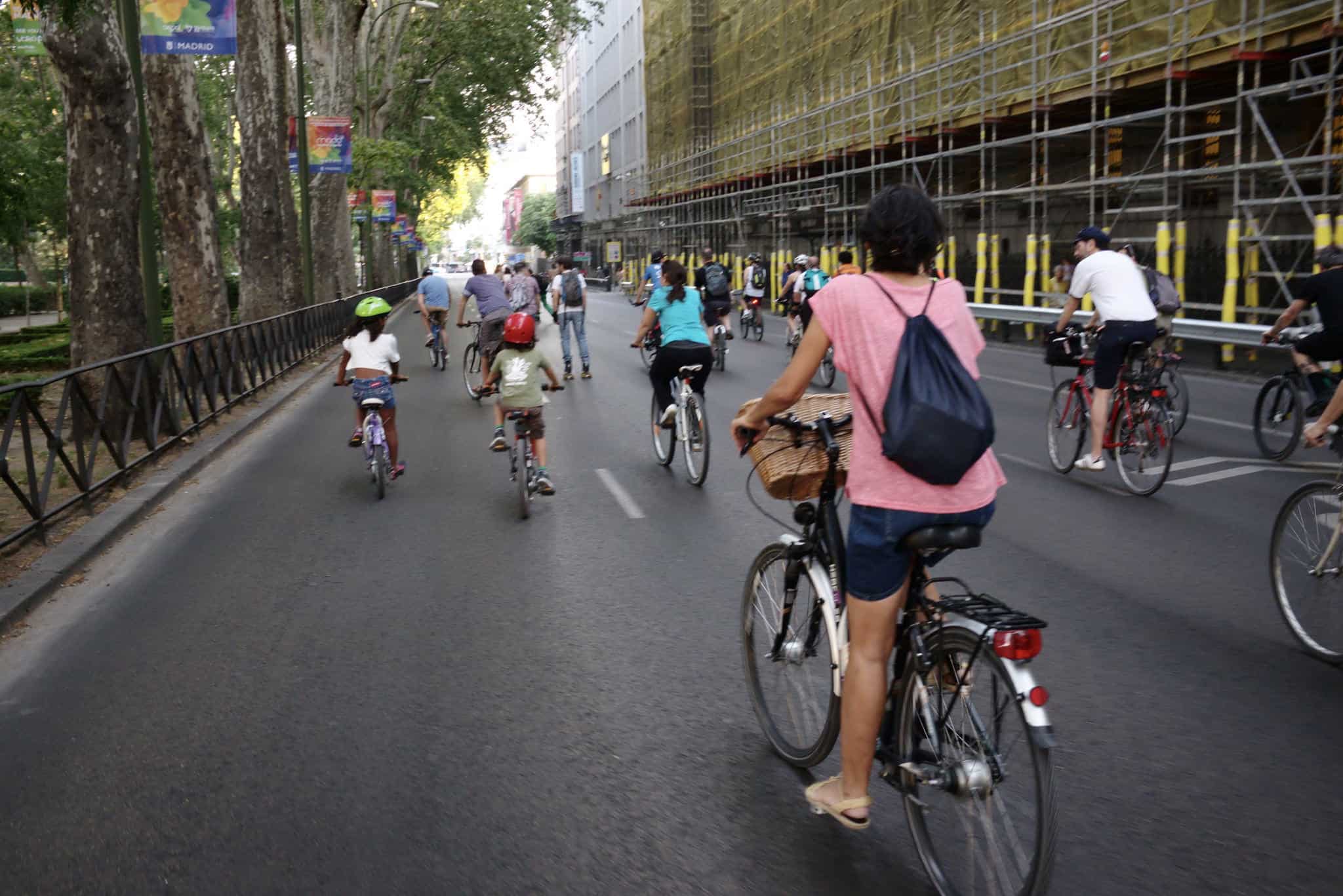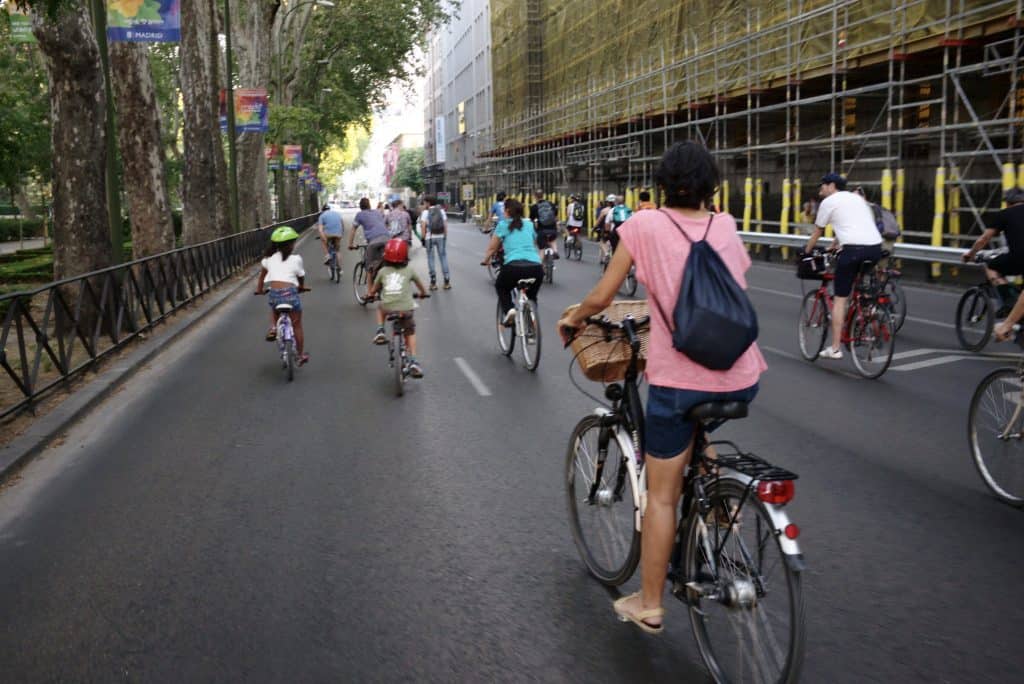 Mercado de San Antón
The next leg of today's Madrid bike tour takes us north to the Chueca barrio, through a maze of small one-way streets – pay attention to your map! On the way you'll cross one of Madrid's major arteries, the imposing Gran Vía. From here follow the Calle del Clavel and Calle de San Bartolomé onwards, then turn along Calle San Marcos until you reach the Mercado San Antón on Calle Libertad.
By now of course you've seen a number of Madrid markets and you'll have an idea of what to expect, but this place has an unexpected twist. You can select ingredients for a delicious lunch on the ground floor of the market and then take them upstairs to the Cocina de San Antón, where the chefs there will cook your lunch for you for only €4. What a great idea, right?
The market is also innovative in other ways – the central skylight is an enormous solar cell that provides its energy, and 80% of all organic refuse is recycled. As an added bonus, there's free wifi everywhere too. You'll be glad our bike tour took in this funky corner of Madrid.
Mercado de San Ildefonso
From Chueca it's only a couple of turns of your bike wheels to the trendy Malasaña barrio where we find our next market of delights, the Mercado de San Ildefenso (es) on Calle Fuencarral. Just like the barrio in which it's located, this is a trendy place to see and be seen.
Rather than buying food to cook at home, this market channels a street food vibe, with lots of different stalls over three floors where you can sample international cuisine and watch the world go by. It's very popular with locals as an after-work hangout.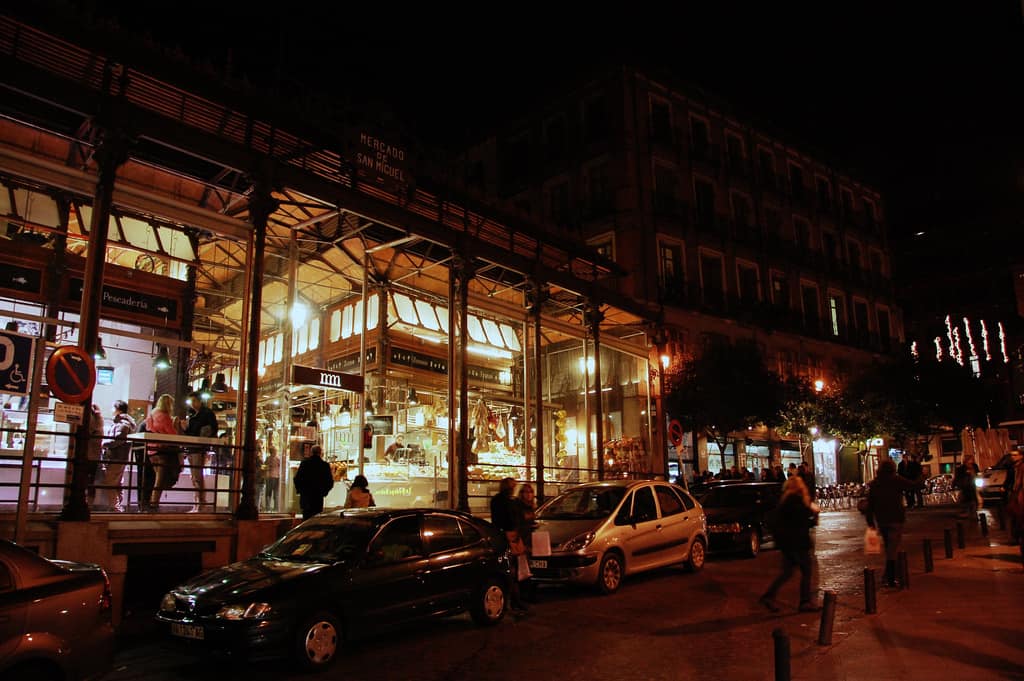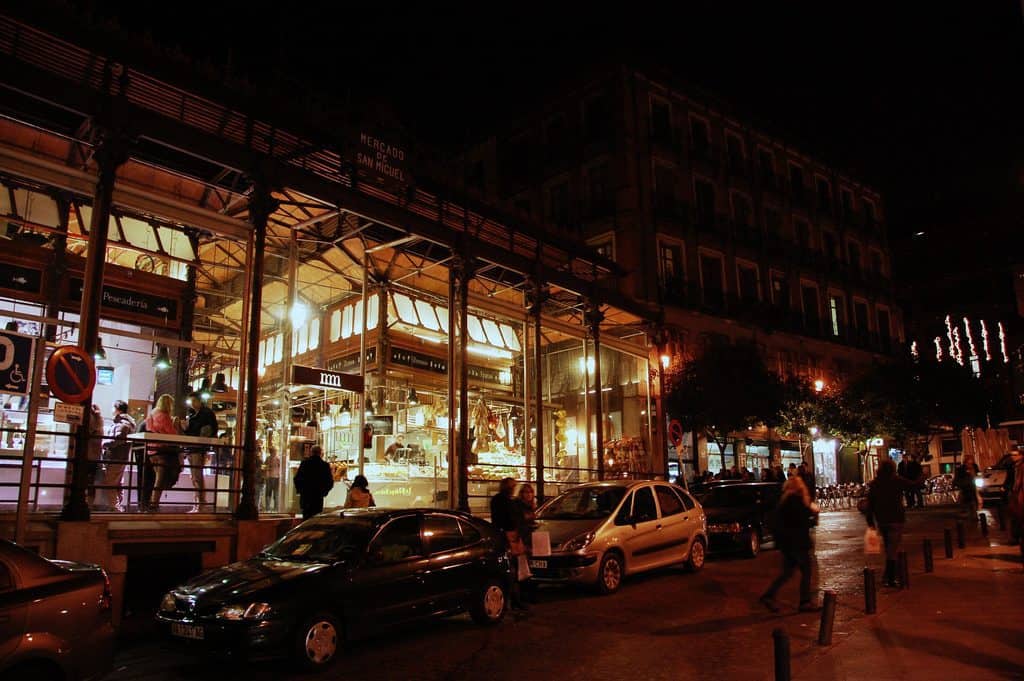 Mercado de la Paz
It's a bit more of a cycle to our penultimate destination, one of the most beautiful of Madrid's markets, the Mercado de la Paz. Housed in a beautiful art nouveau construction in the posh Salamanca barrio, the market opened in 1882 and has been trading ever since. Although the surroundings are rather elegant, the atmosphere is down to earth and the produce is delicious. There are a number of lovely vegetable, fish and butcher stalls, as well as restaurants and a shop devoted entirely to selling many different varieties of roses. How romantic!
Mercado de San Miguel
Once you've done your shopping, it's time to make the longer journey back to where we started. Take the cycle paths on the larger Calle de Acalá towards Sol and then continue along the Calle Mayor to the Plaza San Miguel. Here we find my personal favourite: the Mercado de San Miguel (es).
This is one the liveliest and most fun markets in the city, and it really comes to life after dark. There are 33 stalls in all, several serving wine, gin, sherry and beer, along with tapas, seafood and pastelerias. The whole thing is housed in a wrought iron and glass structure that acts as a beacon to party-goers in and around the Plaza Mayor. There's often live music at weekends, and I'm sure you'll agree it's a great place to end our bike tour of Madrid. You might decide to return your rental bike to Plaza Provincial (it's not far), and come back to soak up the atmosphere. ¡Buen provecho!
Do you have any favourite spots you'd add to this DIY Madrid bike tour? Let us know your views in the comments below.