Sandusky, Ohio, like so many midwest towns that once relied heavily upon greasy hands and sweaty brows, is changing. Changing for the better. Sure, a few dilapidated buildings and neglected corridors still exist, but they're slowly and painstakingly being upgraded or replaced and that's good. A slow development process, much like the relics contained within, remind us that this hard-working town isn't in a hurry to forget its history, but just ready to evolve. The ambitious energy that once forged Sandusky and still resides engrained within the streets may have been missing for a while, but it's here again.
So what's it all mean? It means there's a lot of cool things to see. Aside from all the natural beauty that surrounds Sandusky, there's a ton of new options to explore. And the best way to explore Sandusky's beautiful streets and shores? On a bike, of course.
Vogontz Bike Share, one such product of Sandusky's renaissance and Donkey Republic's very first partner on the American continent, offers a healthy and alternative mode of transportation to those looking to roll clean on two wheels. Whether you're simply looking for a fun way to get from point A to point B or hungry for a full day of exploration, pedal power is now the best option for seeing Sandusky the way it was meant to be uncovered. From the gorgeous tree lined parks on Sandusky Bay to local staples like Toft's Ice Cream, there's a million things to do. Well maybe not a million, but definitely a couple thousand.
So without further ado, let's take a two-wheeled ride through some of the finer points of Sandusky. Since it makes sense to start in the morning, there's Mr. Smith's Coffee House. A very short jaunt from any of the bike hubs, this cozy spot is precisely what one pictures when one pictures a coffee house. Couple of outdoor patio seats, comfortable reading nooks, soft lighting perfect for tired eyes. Simply put, a fantastic little coffee joint.
After adding some caffeine to the mix, you'll be ready to tackle the 2.5 mile ride out to the beautiful Big Island Nature Preserve. Perhaps one of the most underutilized nature areas in Sandusky, Big Island has a fantastic canoe launch,  perfect for hopping off the bike for a bit of hiking through the lush wetlands and shoreline. Make sure to keep your eyes peeled when approaching the region however, as the site is not easily identifiable with much signage — Which is actually cool because it makes you feel like Ponce de Leon discovering new lands.
Assuming you've got a bit of late start because let's face it, you were probably having too much fun at Cedar Point or Put-in-Bay the day before, it's about lunch time and hiking around is sure to build up a bit of an appetite. Cameo Pizza is where you want to be. Another 2.5 miles and you'll find yourself within the confines of the absolute best, old school pie shop in Ohio. Serving rectangular slices since 1936, this place has the heritage to back up of their tasty pizza. Recently renovated outside and in, Cameo looks to be a Sandusky staple for quite some time.
What goes well with pizza on a hot summer day? Ice cream. And don't worry, it's okay to eat pizza and ice cream when your mode of transportation and transpiration is a bicycle. The legendary Toft Dairy is a mere 2.5 miles away from Cameo and features specialties like Peanut Butter Pretzel, Blueberry Waffle Cone and Yellow Cake Batter. Word of warning, they're not stingy with their servings. A small is a large and smalls don't really exist, unless of course you get the kid's cup. Though that's still large enough for a grown man.
From here, heading back towards the historic downtown via Monroe Street is a great option because you just may see something like this: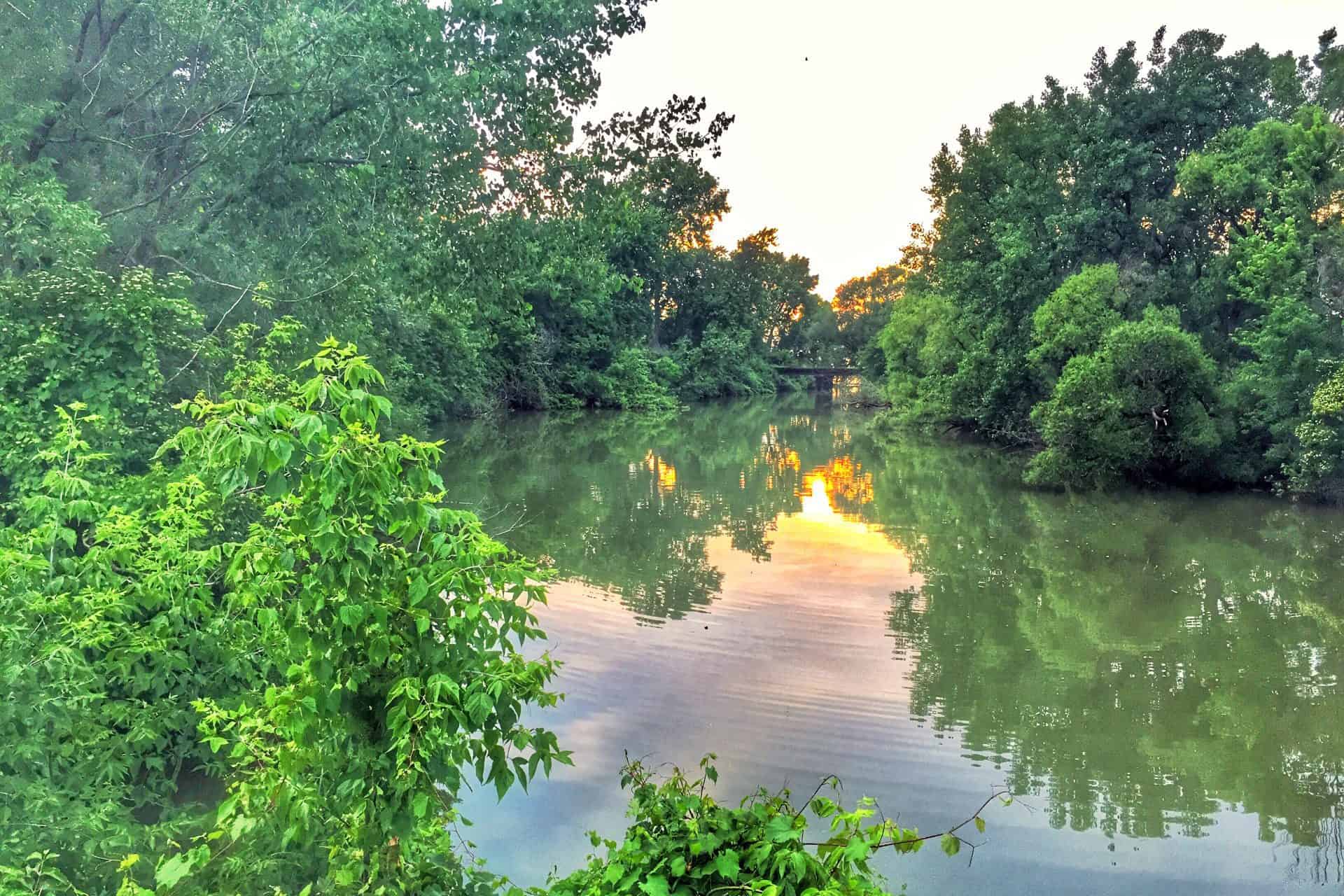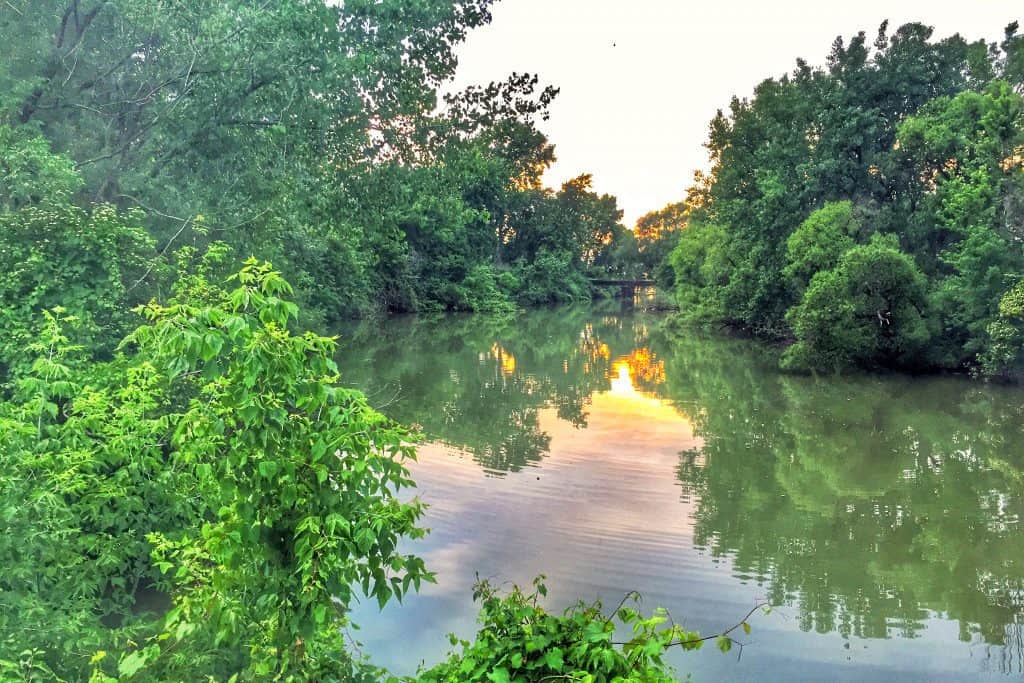 Tributaries, creeks and wetlands litter the area, making for some fantastic photo opportunities. This particular one is Mills Creek, which feeds Sandusky Bay not far from this site. Little gorgeous nature stops are everywhere, which is perfect for the 4-mile trek to the popular Shoreline Park.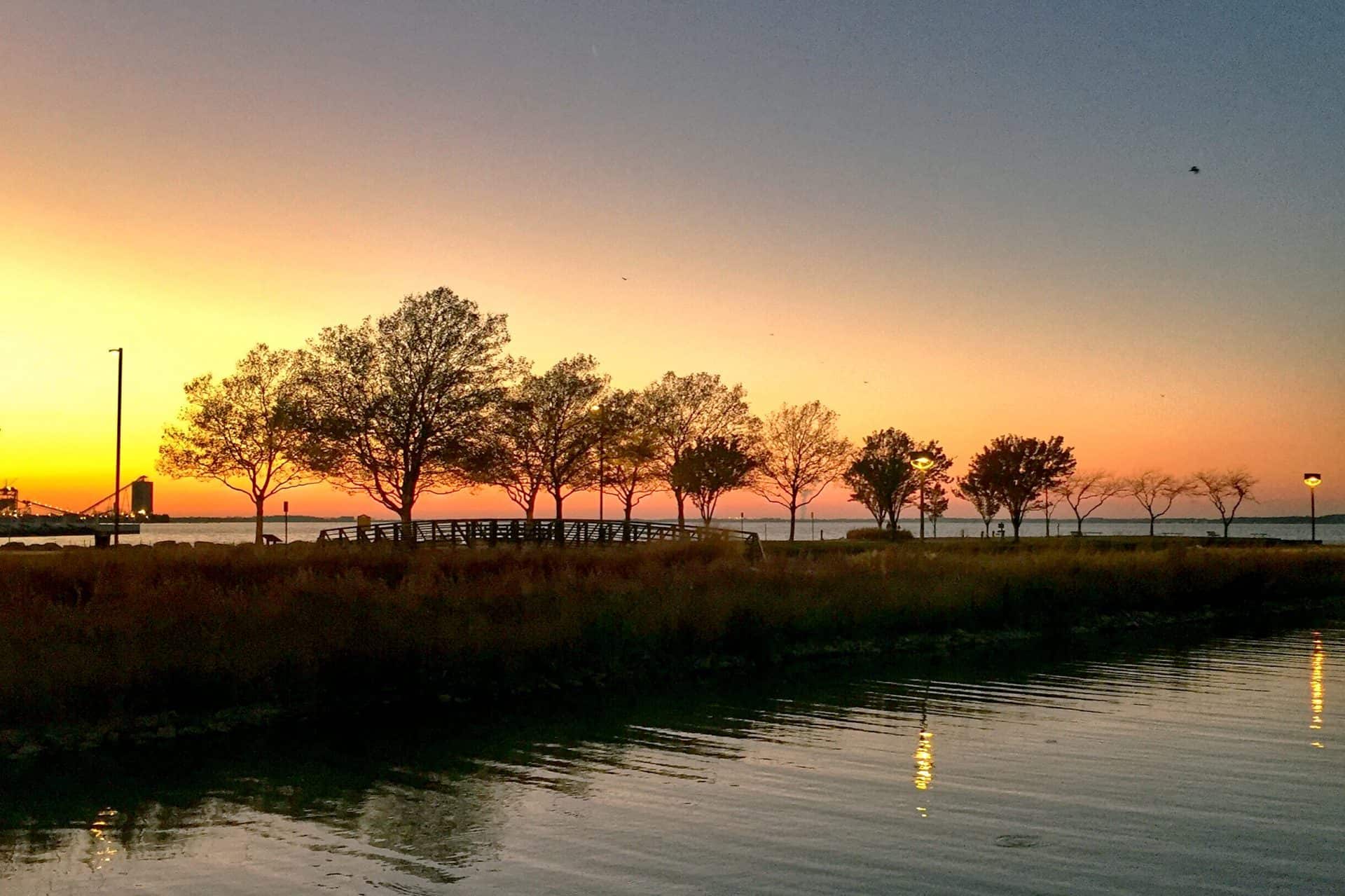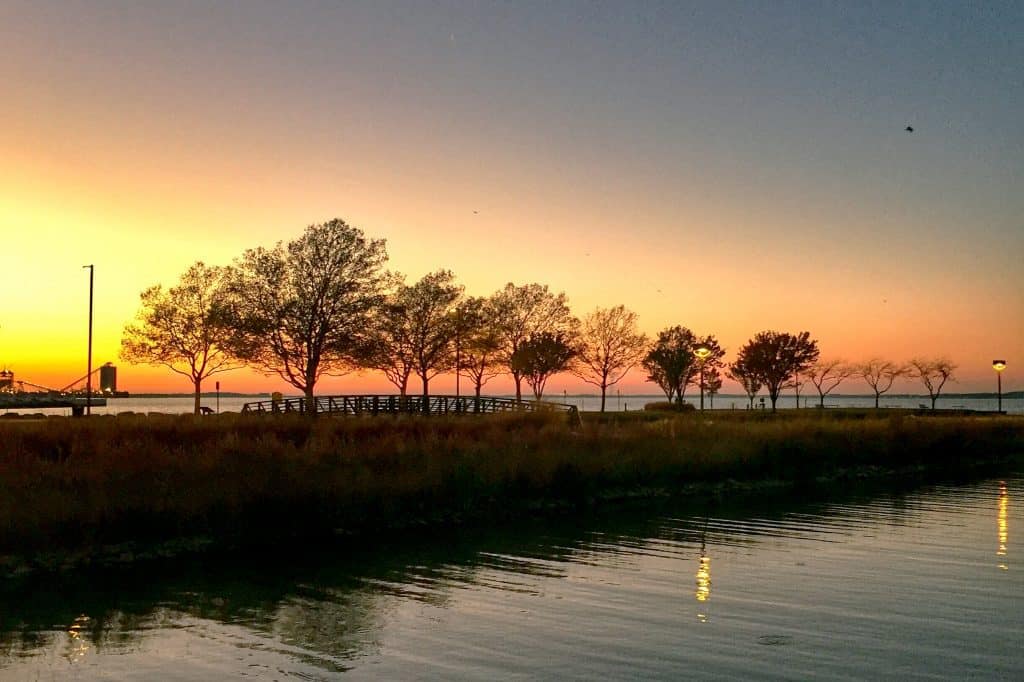 One of Sandusky's most frequented parks, Shoreline and its airy pedestrian bridges offer up some of the best scenery in the area. Situated on beautiful Sandusky Bay, you'll get a view of the entire region to the north, including the roller-coaster skyline of Cedar Point. And not that you'll be hungry, but just in case you are, Great Lakes Grinders calls Shoreline Park home in the summer months. You heard it here first, their original sandwiches are out of this world.
Who knows what time it is at this point because you're likely to get sidetracked, but if it's nearing nightfall, Volstead Bar is a covert, 24-seat old school speakeasy, perfect for a tasty nightcap.  Fancy a bourbon?  They have more than 60 choices.  Maybe gin?  You name it, they'll craft it.  Housed in what was an old winery and later a brothel, the building itself is shrouded in Sandusky lore and has seen an array of tenants throughout the years.  Combining these intriguing historical remnants with the speakeasy practices of the aforementioned years, Volstead Bar harks back to the days of Old Sandusky amidst the New Sandusky renaissance.
Not all the ethereal fun of a bike ride is relegated to staying within the Sandusky city limits, however. Just a few blocks further down Shoreline Drive you'll find the Jet Express, a bicycle-friendly, high-speed ferry boat designed to whisk visitors off to Kelleys Island and Put-in-Bay. Both spectacular Lake Erie islands, Kelleys is the larger island by land mass and a bit more laid-back than its counterpart, Put-in-Bay.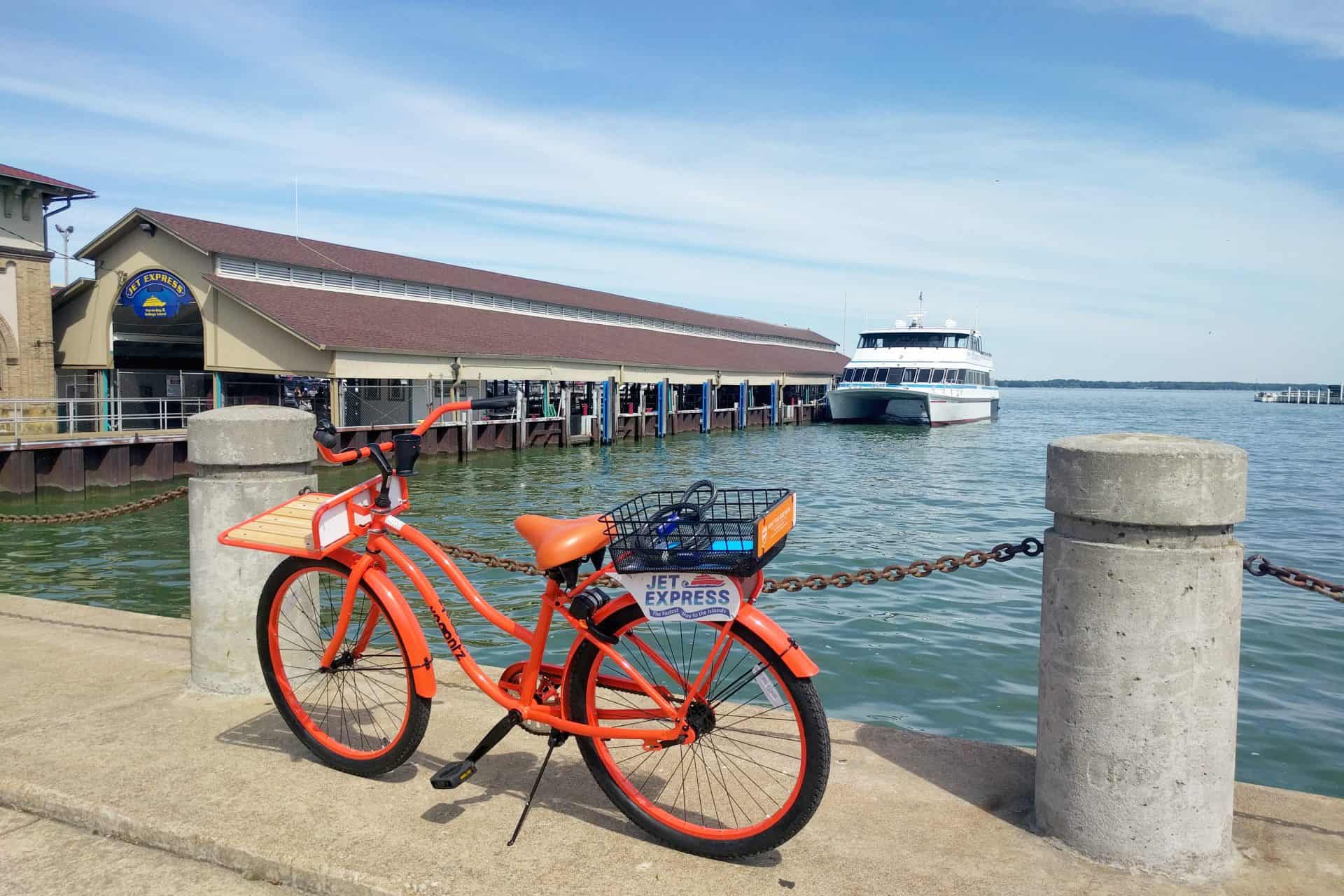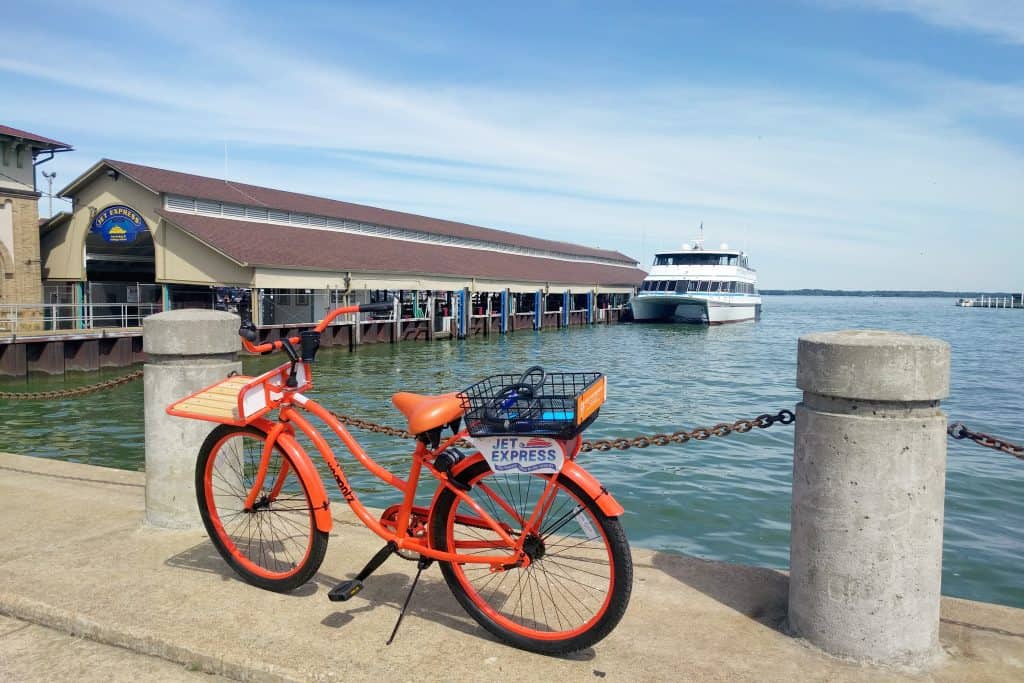 Noted for its Glacial Grooves, which are the best example in the world (there's even a section at The Smithsonian), Kelleys Island has all the beautiful scenery you'd come to expect from a Great Lakes island combined with the perfect amount of waterfront restaurants.
What Put-in-Bay lacks in land size, it makes up for with eateries, taverns and loads of activities. Bursting with midwestern flavor and energy, this "Key West of the Midwest" is chock-full of beautiful waterfront restaurants, colorful taverns and a variety of outdoor activities, such as kayaking through limestone cliffs and parasailing. Perry's International Peace Memorial also sits 352 feet above Lake Erie, giving onlookers an unimpeded view of the longest undefended border in the world (Canada and US).
Like most lists that catalogue cities we love, this one could've easily turned into a novel. Sandusky has so much to offer, it's pretty much impossible to cram all of it into one post. And while the possibilities are seemingly endless, sometimes it's not about what you find, but how you find it. So you can trust me on this one, the journey is way more rewarding on two wheels. Roll clean, ride safe, be healthy.
---
"Every time I see an adult on a bicycle, I no longer despair for the future of the human race."
H.G. Wells