Biking in Ghent was not always this easy. 20 years ago the city was congested and did not have the right infrastructure to help people more around. The local government decided the best thing to do was to roll out a plan to turn Ghent into a cycling city. Since then, the bike infrastructure has improved massively and Ghent has transformed into one of the best European cycling cities. So if you are new to cycling in Ghent, Donkey Republic has you covered with this introduction to the basic Belgian cycling rules and the best spots to visit when you first get on the saddle.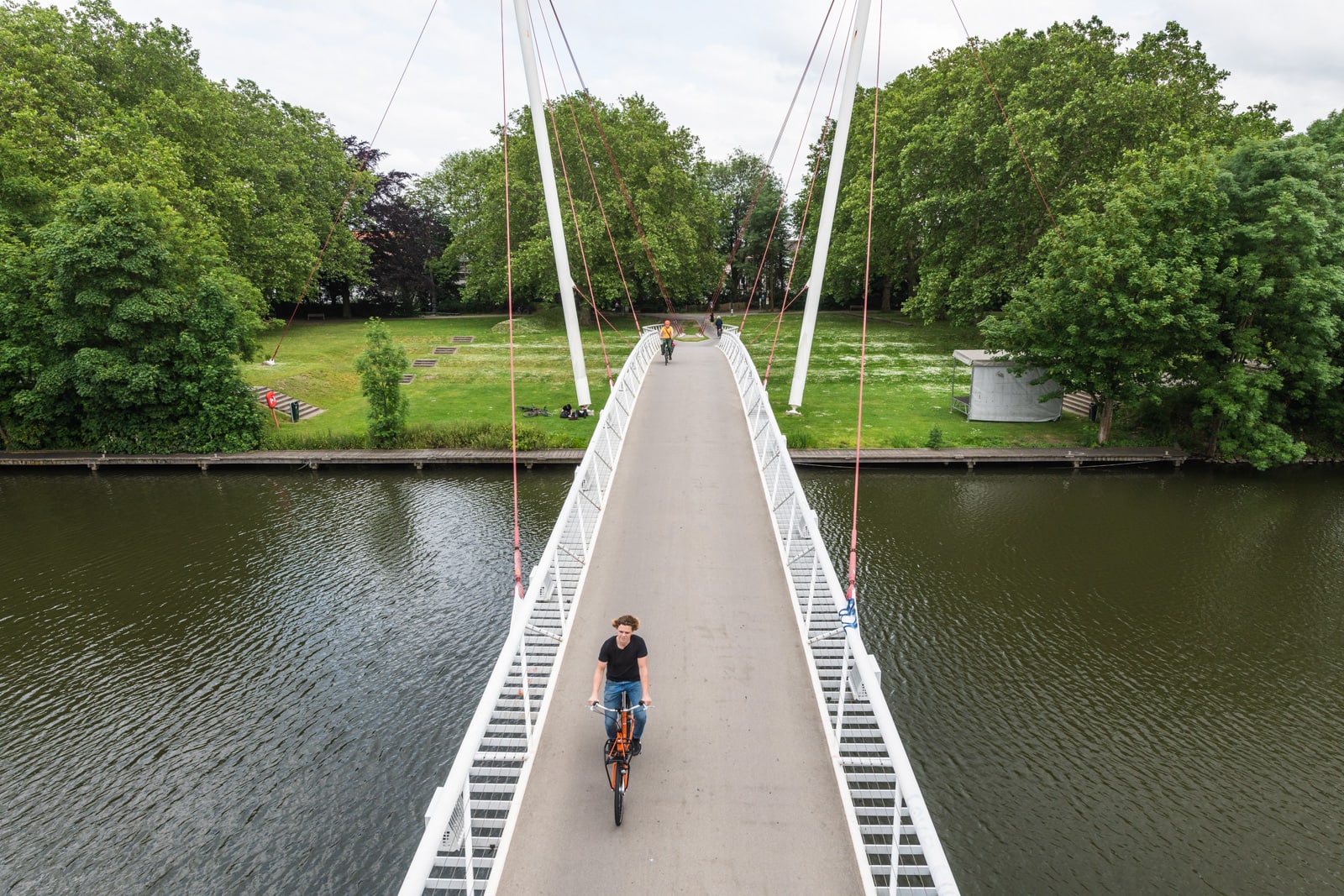 Safety first – Get to know the basic rules for biking in Ghent
When biking in Ghent, you should follow the basic Belgian cycling rules: 
Don't cycle while you are intoxicated because it is dangerous and if caught, you will be fined by the police.

You can cycle beside your friend as long as you are not blocking the way for people cycling opposite or behind you. 

Use your hands to signal when you are turning left or right
Must-haves on your bike: 
Two functioning brakes – front and rear

A functioning bell

Yellow or white front reflector, reflectors on the pedals  and reflective strip on each side of the wheels

Front and backlights, which not necessarily need to be installed on the bike; you can also wear them. If caught without functioning lights, you could receive a fine of €55

Wearing a helmet is not mandatory but highly recommended. 
Now that you know the basics of cycling rules, let's get onto the saddle and ride around Ghent's best spots: 
Ghent is one of the northern historical and architectural gems of Europe- with castles, sparkling canals, medieval architecture and really good beer of course! The easiest way to enjoy all of these things is by bike, so here are the top places you should not miss: 
The castle of the Counts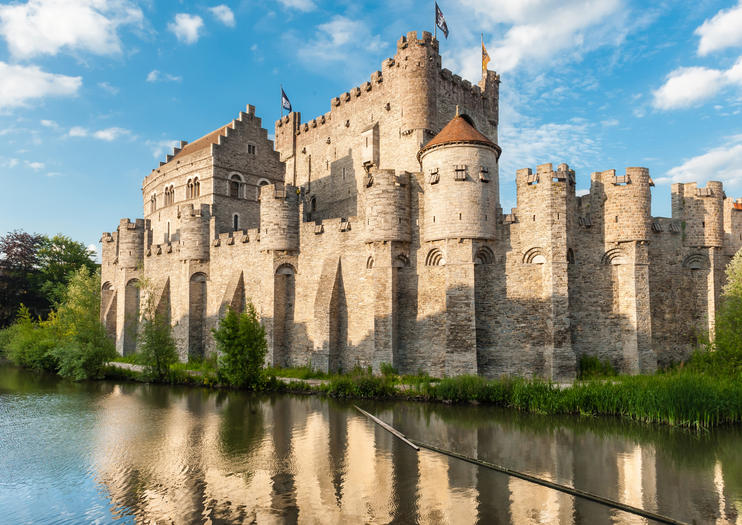 The castle is the only medieval castle in the Flanders. It is not only astonishing from the outside but visiting it will give you a vivid picture of the 12th-century heraldic culture.  
St Michael's Bridge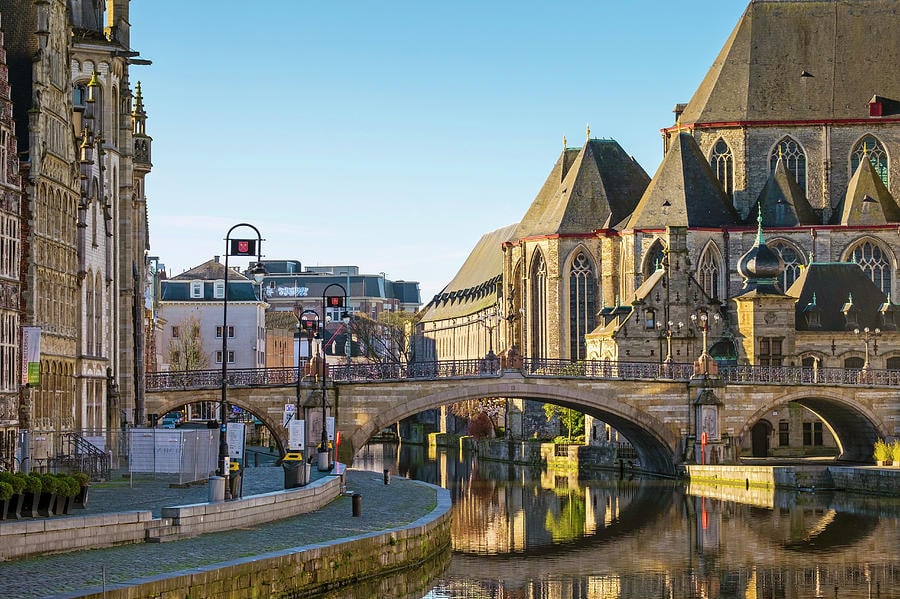 The picturesque scenery from Ghent's most famous bridge explains why people fall in love with the city so much. Slow down here and discover postcard-perfect views of Graslei and Korenlei, Old Fish Market, St Michael's Church, and Het Pand. 
Ghent Belfry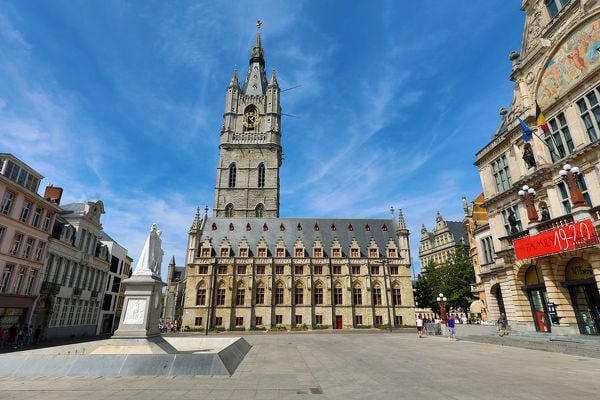 It isn't difficult to spot the biggest belfry in Belgium. The Ghent Belfry is the middle medieval tower out of the three standing in between St Bavo's Cathedral and St Nicholas' Church. Make sure to try and catch a carillon concert on the first Friday of each month from 8 – 9 pm.
 Grasley and Korenlei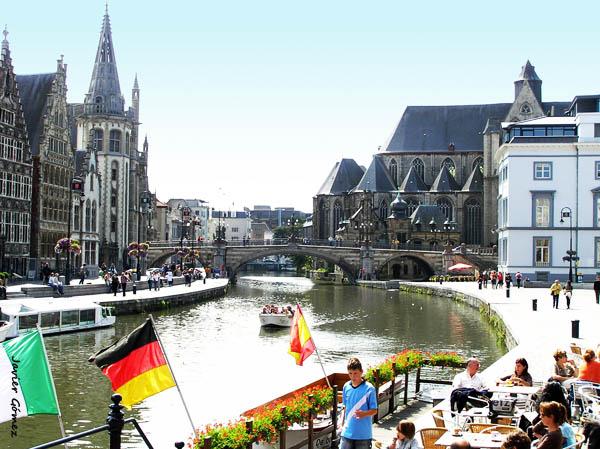 Since the 11th-century ships been docking at this beautiful canal. Its fascinating facades reflect in the river Lys, making this a perfect spot to relax at a café and watch the world go by. 
Patershol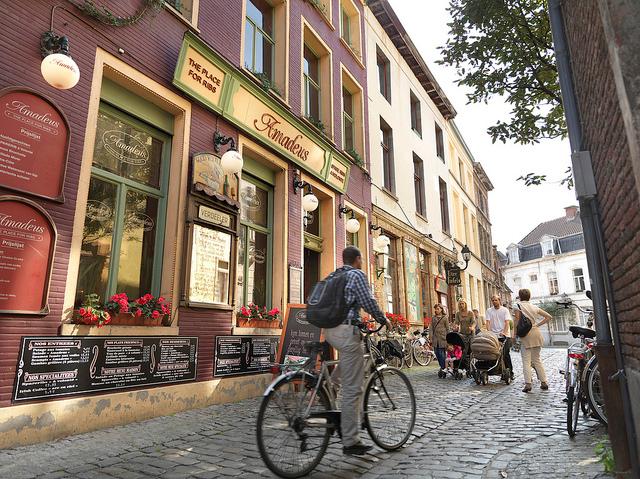 This area is a particularly charming spot in the city. Strolling on the cobblestoned streets, you might feel you are traveling back to the Middle Ages. The picturesque little streets are packed with unique, cosy restaurants, pubs and bars. If you are into culinary experiences, you'll find a wide variety of cuisines from Flemish to Indonesian.
+1 Donkey tip: Drink some World-famous Belgian beer with traditional kroakemandels 
Ghent is also known as the city of beers and is mostly famous for its hopless beers and herb flavoured ales. So, where should you go to drink one or two pints of the best beers in Ghent? Some favourite spots of the local Donkey Squad are:
De Dulle Griet, the beer drinkers heaven
't Velootje Bar, the weirdest bar in Belgium with hanging bikes on the wall. If you are a lover of bikes or ruin pubs, this place is a must-go!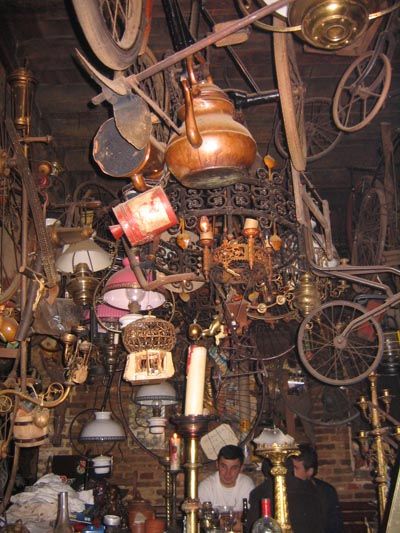 Lastly, don't forget the golden rule: drink responsibly and, as always, enjoy the Donkey ride!